Home Prices: What Happened in 2020? What Will Happen This Year?
The real estate market was on fire during the second half of 2020. Furthermore, Buyer demand was way up. The supply of homes available for sale hit record lows. The price of anything is determined by the supply and demand ratio, so home prices skyrocketed last year. Dr. Lynn Fisher, Deputy Director of the Federal Housing Finance Agency (FHFA) Division of Research and Statistics, explains:
"House prices nationwide recorded the largest annual and quarterly increase in the history of the FHFA Home Price Index. Low mortgage rates, and so pent up demand from homebuyers. With a limited housing supply propelled every region of the country to experience faster growth in 2020 compared to a year ago despite the pandemic."
Here are the year-end home price appreciation numbers from the FHFA and two other prominent pricing indexes:
The past year was truly a remarkable time for homeowners as prices were appreciating substantially. Lawrence Yun, Senior Economist at the National Association of Realtors (NAR), reveals:
"A typical homeowner in 2020, just by being a homeowner, would have accumulated around $24,000 in housing wealth."
What will happen with home prices this year?
Many experts believe buyer demand will soften somewhat as mortgage rates are poised to bump up slightly. Some also believe the inventory challenge will ease as more listings come to market this year. The experts are not predicting we're in a Housing Bubble either.
Based on this, most forecasters anticipate we'll see strong appreciation in 2021 – but not as strong as last year. Here are seven prominent groups and their projections: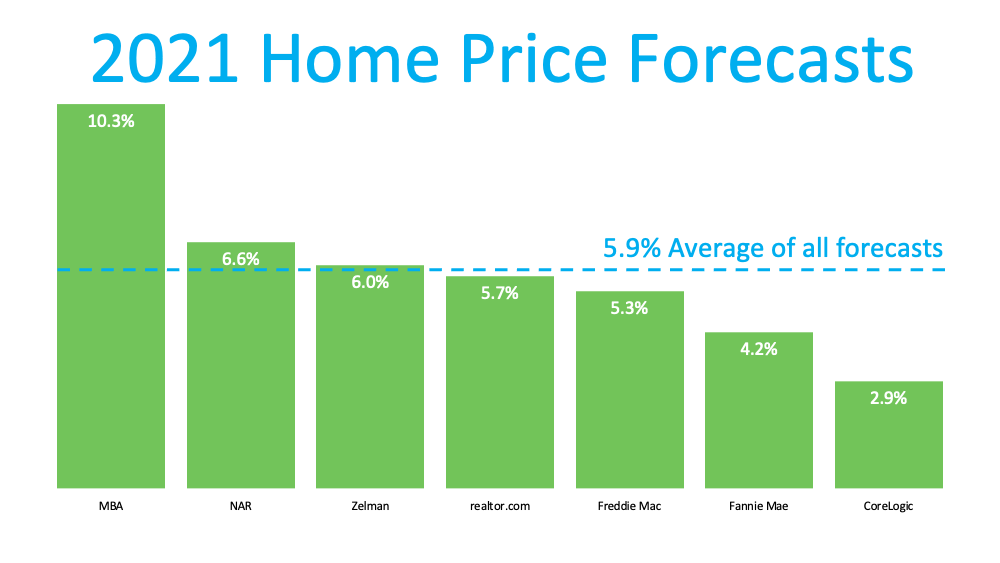 Bottom Line
Home price appreciation will be strong this year, but it won't reach the historic levels of 2020. Let's connect if you'd like to find out what your house is currently worth in our local market.
When You Sell, 🛑 STOP Doing This! 
No 2 homes are alike, and agents need to 🛑 marketing 1 size fits all. We no longer have an exposure (internet) problem.  Your home is buried on home search internet sites. The only way to compete on those platforms is the price.  If you want more money, you need to apply Influence.  Separate your home from the competition, so the Buyer sees value. It's a must to keep them focused on your property and not get lost in homes' inaccurate data on the public internet sites.  Remember MORE INFLUENCE = MORE💰. We have details on how you can utilize High Tech Marketing and Win!
In Closing
If you have any questions, contact us: Chatbot 🤖 at the bottom.  Contact me by Email 📩 or my Cell 📲 @ 248-343-2459.  With all the doom and gloom of the virus, one thing history has shown us, this will NOT define us.  Stay safe! Please share your thoughts below or what future article you would like to see. Your opinion is important to us…. this site is for you. ❣

Help me Find my Perfect Dream Home!
Tell me what you're looking for in your new Dream Home…I can help you find the newest and best homes on the market.
Need Help with the Right Mortgage?
See how you can save Thousands.

Have Questions?
Let us know what we can do to help you work your way through the Buying & Selling Puzzle.

Website Development, Production, and Content by Pam Sawyer @ Team Tag It Sold © 2017 All Rights Reserved