93% of Americans Said "Yes."
There is not a better time to buy up than now.  By buying up, you increase your future financial wealth through real estate.  A recent Survey of Consumer Finances study released by the Federal Reserve reveals that homeowners' net worth is forty times greater than that of renters. If you're wondering if homeownership is a good investment, the study clearly answers that question.  Great news, the answer is yes.
Better Investment Home or Stocks?
In a post on the Liberty Street Economics blog, the Federal Reserve Bank of New York notes; 93.3% of Americans believe buying a home is definitely or probably a better investment than buying stocks.
Here's how the results break down: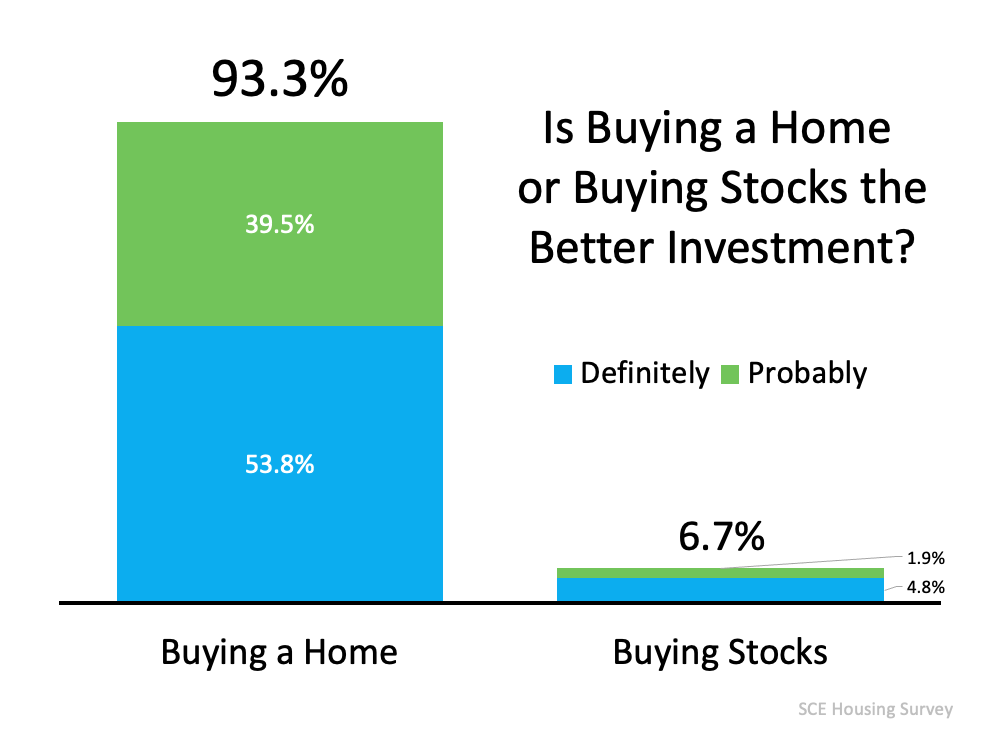 The survey also shows a wide range of reasons why Americans feel that way (respondents were able to pick more than one answer):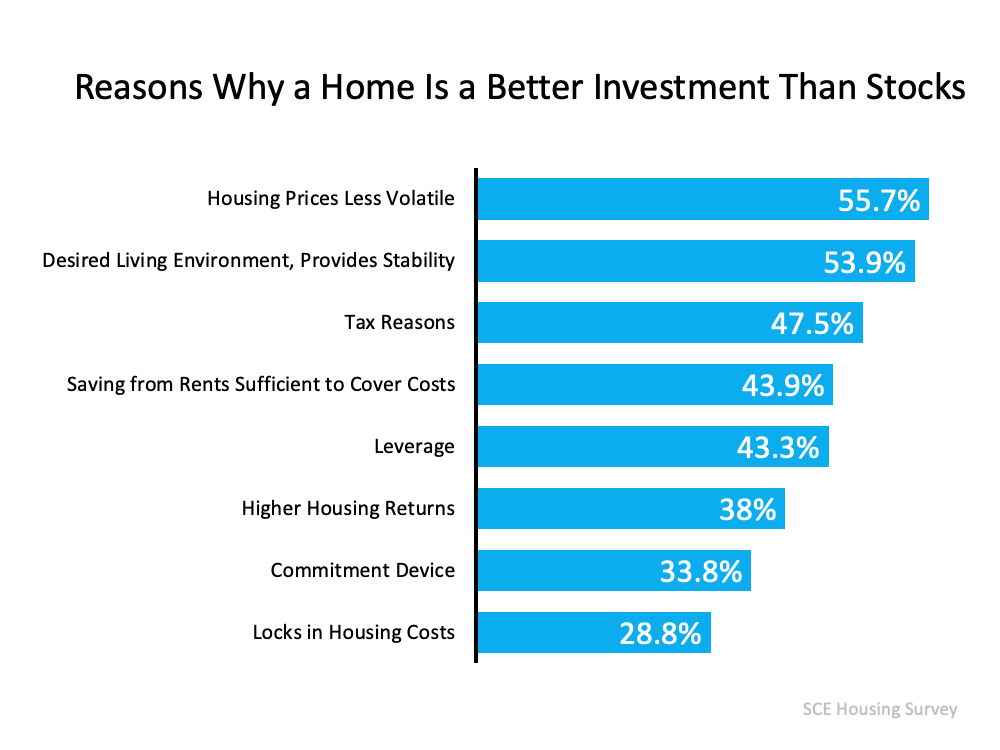 Bottom Line
The data show how strongly Americans believe in homeownership as an investment. That belief is warranted. The Liberty Street Economics blog put it best by saying:
"Housing represents the largest asset owned by most households and is a major means of wealth accumulation, particularly for the middle class."s
Helping You Build Your Future Wealth Through Real Estate
As we move forward…it's been tough as we navigated through all the changes. Putting your dream of a new home on HOLD shouldn't be one of them.  Now more than ever, knowledge will be your power. Know the Market You're In and your Negotiation Power. Check out Categories for additional updates regarding the Market | Buying | Selling & My Blueprint to Your 🔑 to 🏡 Buying & Selling Success
When You Sell, 🛑 STOP Doing This! 
No 2 homes are alike, and agents need to 🛑 marketing 1 size fits all. We no longer have an exposure problem (internet).  Your home is buried on public home search internet sites. The only way to compete on those platforms is the price.  If you want more money, you need to apply Influence.  Separate your home from the competition so the Buyer sees value. It's a must to keep them focused on your property and not get lost in homes' inaccurate data on the public internet sites.  Remember MORE INFLUENCE = MORE💰. We have details on how you can utilize High Tech Marketing and Win!
In Closing
If you have any questions, contact us: Chatbot 🤖 at the bottom.  Contact me by Email 📩 or my Cell 📲 @ 248-343-2459.  With all the doom and gloom of the virus, one thing history has shown us, this will NOT define us.  Stay safe! Please share your thoughts below or what future article you would like to see. Your opinion is important to us…. this site is for you. ❣

Could you help me Find my Perfect Ideal Home!
Please tell me what you're looking for in your new Ideal Home…I can help you find the newest and best homes on the market.
Need Help with the Right Mortgage?
See how you can save Thousands.

Have Questions?
Let us know what we can do to help you work your way through the Buying & Selling Puzzle.

Website Development, Production, and Content by Pam Sawyer @ Team Tag It Sold © 2017 All Rights Reserved