Are Interest Rates Expected to Rise Over the Next Year?
So far this year, mortgage rates continue to hover around 3%, encouraging many hopeful homebuyers to enter the housing market. However, a good chance rate will increase later this year and going into 2022. Ultimately making it more expensive to borrow money for a home loan. Here's a look at what several experts have to say.
"Our long-term view for mortgage rates in 2021 is higher. As the economic outlook strengthens, thanks to progress against coronavirus and vaccines plus a dose of stimulus from the government, this pushes up expectations for economic growth . . . ."
"In 2021, I think rates will be similar or modestly higher . . . mortgage rates will continue to be historically favorable."
"We forecast that mortgage rates will continue to rise through the end of next year. We estimate the 30-year fixed mortgage rate will average 3.4% in the fourth quarter of 2021, rising to 3.8% in the fourth quarter of 2022."
Below are the most recent mortgage rate forecasts from four top authorities – Freddie Mac, Fannie Mae, the Mortgage Bankers Association (MBA), and NAR: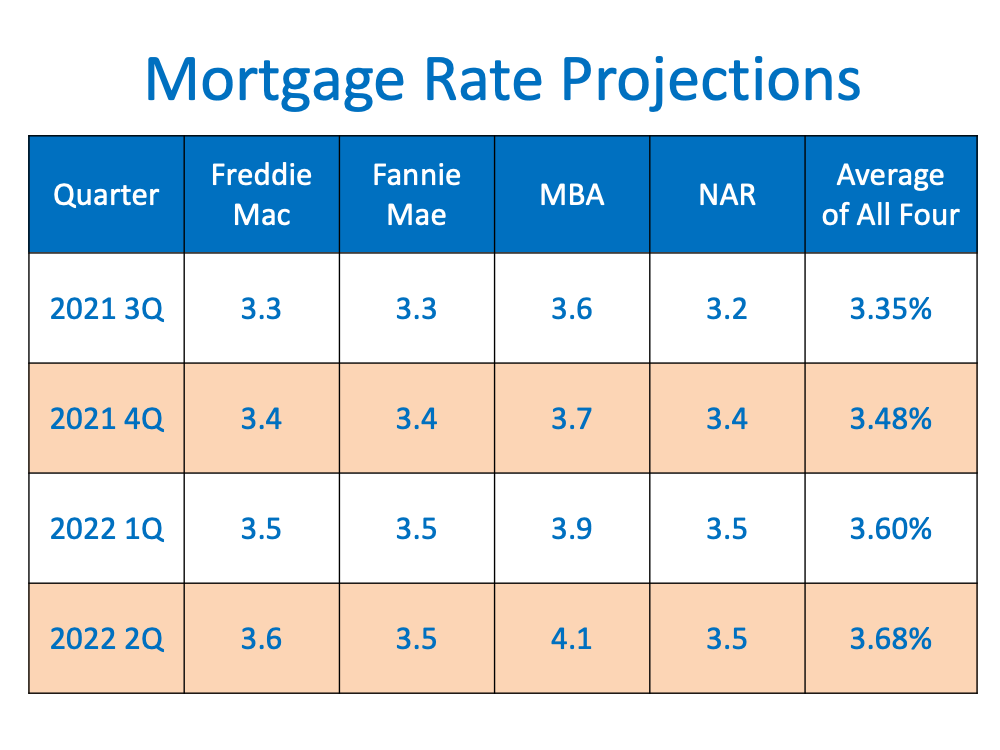 How Will the Increase Interest Rates Affect Your Monthly Payment?

Bottom Line
If you're planning to buy a home, purchasing before mortgage interest rates rise may help you save significantly over the life of your home loan. As the Mortgage Rates increase, we should see home prices stabilize.
Helping You Build Your Future Wealth Through Real Estate
As we move forward…it's been tough as we navigated through all the changes. Putting your dream of a new home on HOLD shouldn't be one of them.  Now more than ever, knowledge will be your power. Know the Market You're In and your Negotiation Power. Check out Categories for additional updates regarding the Market | Buying | Selling & My Blueprint to Your 🔑 to 🏡 Buying & Selling Success
 In Closing
If you have any questions, contact us: Chatbot 🤖 at the bottom.  Contact me by Email 📩 or my Cell 📲 @ 248-343-2459.  With all the doom and gloom of the virus, one thing history has shown us, this will NOT define us.  Stay safe! Please share your thoughts below or what future article you would like to see. Your opinion is important to us…. this site is for you ❣

Could you help me Find my Perfect Ideal Home!
Please tell me what you're looking for in your new Ideal Home…I can help you find the newest and best homes on the market.
Need Help with the Right Mortgage?
See how you can save Thousands.

Have Questions?
Let us know what we can do to help you work your way through the Buying & Selling Puzzle.

Website Development, Production, and Content by Pam Sawyer @ Team Tag It Sold © 2017 All Rights Reserved