Did you Know There are More Homes Available Now?
Are there more homes available now in the Metro Detroit MI Area?
There Are More Homes Available Now than There Were This Spring
There's a lot of talk lately about how challenging it can be to find a home to buy. Yes, the housing inventory is still low. Furthermore, there are a few essential things to understand about the supply of homes for sale.
The Number of Homes for Sale Usually Peaks in the Fall
In the residential real estate market, trends generally follow a predictable and seasonal pattern. Typically, the number of homes available for sale (or active monthly listings) peaks in the fall. But in a chapter where so little feels normal, the question becomes: should we expect a fall peak this year?
If we look at the active monthly listings for 2021 (shown in the chart below), we'll see that the number of homes on the market has increased relatively steadily since spring this year. The realtor.com data shows we still see an increase in active inventory month-over-month. While that gain is slightly smaller month-to-month (see August to September in the chart), September numbers are still up from the prior month.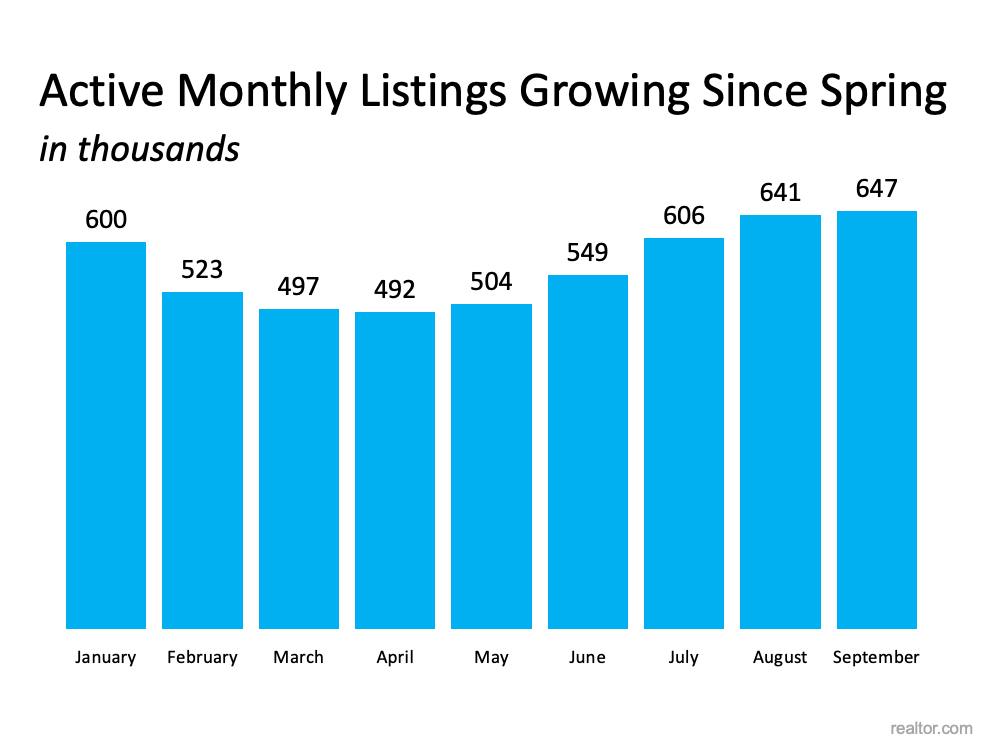 The Important Take Away
The latest monthly numbers show growth. At the end of September, buyers had more options to pick from than they did this spring. That's encouraging for buyers who may have paused their search months ago because they had trouble finding a home. Danielle Hale, Chief Economist at realtor.com, sums this up nicely:
"Put simply, this September buyers had more options than they've had all year and while that's typical of early fall, that's not what happened in 2020. Still, it's important to remember that while buyers may have an easier time this fall than they did in the spring, the market remains more competitive than it has been historically at this time of year." 
As Hale says, a fall peak in inventory is in line with typical seasonal trends. While it's impossible to say for sure what the future holds for housing inventory, we do know both buyers and sellers have opportunities this season based on the latest data.
What Does That Mean for You?
If you're thinking of buying a home, rest assured you do have more options now than you did earlier this year – and that's a welcome relief. That said, today's market is still highly competitive. This isn't the time to slow your search, and it's the season when the number of homes available for sale tends to peak. Focus on the additional options with renewed energy this season and be prepared for ongoing competition from other buyers.
If you're considering selling your house, realize that while growing, inventory is still low. Selling now means you'll be in a great position to negotiate with buyers – and competition among buyers is good news for your bottom line. Eager buyers will likely be motivated to act before the holidays, giving you the benefit of a fast sale.
Search for Your Ideal Home Better Than a Realtor Today
Get Your Home Buying & Selling Strategies in our E-Guide
Don't muddle through the home buying and selling process. Buying a new home is a dream for all of us, and it's an emotional and stressful process; it also involves the most significant financial transaction you probably will make in your lifetime.
Your Buyer guide
Your guide will help you buy your ideal home with confidence and save thousands in the process. You will be working with Selling Agents, loan officers, underwriters, title companies…1. Do you know the lingo? 2. What you should avoid after applying for your mortgage 3. Know your Negotiation Power 4. Get to know how agents think and handle negotiations if you find yourself in a multiple offer situation? 5. Read What they Right. Find out the answer by downloading your PDF E-book Buying Guide.
Your Seller Guide
Your guide will help you work through the selling process using the latest in high-tech market tools. Our goal is to separate your home from the competition, keep them focused on your house. The selling Guide is very detailed and works through step by step, so your guaranteed Top Dollar for your home.
More Homes Available Bottom Line
Whether you're buying or selling, there's still a chance to make your goals a reality this season. Let's connect to discuss what's happening with the local market and current trends and what they mean for you.
Helping You Build Your Future Wealth Through Real Estate
As we move forward, it's been challenging as we navigated through all the changes. Putting your dream of a new home on HOLD shouldn't be one of them. Now more than ever, knowledge will be your power. Know the Market You're In and your Negotiation Power. Check out Categories for additional updates regarding the Market | Buying | Selling & My Blueprint is Your 🔑 to 🏡 Buying & Selling Success
Have Questions?
If you have any questions, contact us: Chatbot 🤖 at the bottom. Contact me by Email 📩 or my Cell 📲 @ 248-343-2459. Would you mind sharing your thoughts below or what future article you would like to see? Your opinion is important to us…. this site is for you.🤩 To Keep up to date, Follow us on Facebook, Instagram, or YouTube.

Could you help me Find my Perfect Ideal Home!
Please tell me what you're looking for in your new Ideal Home…I can help you find the newest and best homes on the market.
Need Help with the Right Mortgage?
See how you can save Thousands.

Have Questions?
Let us know what we can do to help you work your way through the Buying & Selling Puzzle.

Website Development, Production, and Content by Pam Sawyer @ Team Tag It Sold © 2017 All Rights Reserved