Don't Be Fooled by Remarkable Real Estate Headlines.
Don't be impressed by the headlines reporting year-over-year housing numbers for the next several months (data covering March, April, May, and June). The data will most likely show eye-popping one-year increases.
While the year-over-year jumps will certainly be striking, consumers should take these numbers with a grain of salt, as the situation highlights a short-term quirk in the reporting of this data. The increases will essentially reflect two things: sharply lower housing numbers during last year's virus-related market collapse and the subsequent strong rebound. This will result in what will appear to be unbelievable growth.
Let's use single-family home sales as an example: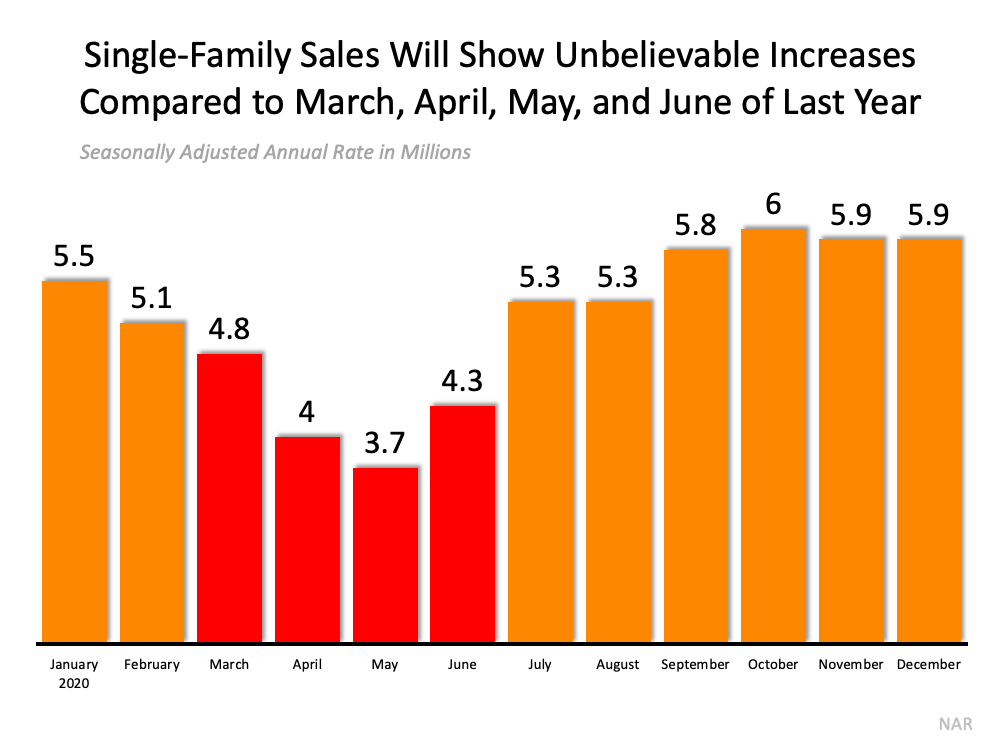 As the graph reveals, last spring's buying market was anything but typical. Instead of sales increasing, they fell sharply due to stay-at-home orders that virtually shut the real estate industry down.
Click Picture to Enlarge Local Market Trends
This spring's real estate market will bounce back with more normal seasonal sales increases. The percentage increase in sales will be astronomical – not because sales have skyrocketed, but instead because they will be compared to last year's low numbers.
Bottom Line
There are likely to be some sensational headlines about real estate over the coming months. However, don't be fooled. The actual story is that the real estate market is finally back to normal.
When You Sell, 🛑 STOP Doing This! 
No 2 homes are alike, and agents need to 🛑 marketing 1 size fits all. We no longer have an exposure problem (internet).  Your home is buried on public home search internet sites. The only way to compete on those platforms is the price.  If you want more money, you need to apply Influence.  Separate your home from the competition so the Buyer sees value. It's a must to keep them focused on your property and not get lost in homes' inaccurate data on the public internet sites. Having digital omnipresence on serval platforms is your key to success. Remember MORE INFLUENCE = MORE💰. We have details on how you can utilize High Tech Marketing and Win!
Helping You Build Your Future Wealth Through Real Estate
As we move forward…it's been tough as we navigated through all the changes. Putting your dream of a new home on HOLD shouldn't be one of them.  Now more than ever knowledge will be your power. Know the Market You're In and your Negotiation Power. Check out Categories for additional updates regarding the Market | Buying | Selling & My Blueprint to Your 🔑 to 🏡 Buying & Selling Success
 In Closing
If you have any questions, contact us: Chatbot 🤖 at the bottom.  Contact me by Email 📩 or my Cell 📲 @ 248-343-2459.  With all the doom and gloom of the virus, one thing history has shown us, this will NOT define us.  Stay safe! Please share your thoughts below or what future article you would like to see. Your opinion is important to us…. this site is for you ❣

Could you help me Find my Perfect Ideal Home!
Please tell me what you're looking for in your new Ideal Home…I can help you find the newest and best homes on the market.
Need Help with the Right Mortgage?
See how you can save Thousands.

Have Questions?
Let us know what we can do to help you work your way through the Buying & Selling Puzzle.

Website Development, Production, and Content by Pam Sawyer @ Team Tag It Sold © 2017 All Rights Reserved