See what the experts forecast on Mortgage Rates Today. Find out how you can track and time the Yo-Yo of mortgage rates. Find out when they will go up or down.
If you've been thinking of buying a home, you may have been watching what's happened with mortgage rates over the past year. It's true they've risen dramatically, but where will they go from here, especially as the market continues to slow?
As you think about your homeownership goals and decide if now's the time to make your move, the best place to turn to for that information is the professionals. Here's a summary of the latest mortgage rate forecasts from housing market experts.
Experts Project Mortgage Rates Will Stabilize
While mortgage rates continue to fluctuate due to ongoing inflationary pressures and economic uncertainty, experts project they'll start to stabilize in the months ahead. According to the latest projections, mortgage rates are expected to hover in the low to mid 5% range initially, and then potentially dip into the high 4% range by later next year (see chart below):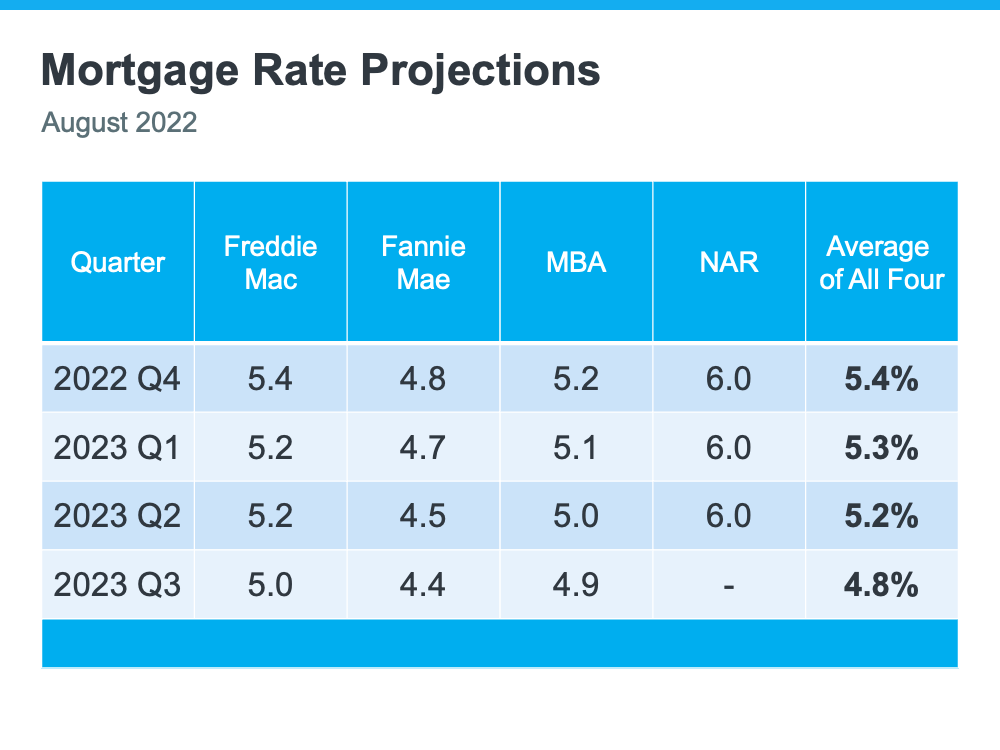 That could bring you some welcome relief. So far this year, mortgage rates have climbed over 2% due to the Federal Reserve's response to inflation, and that's made it more expensive to buy a home. And wondering if the rise in rates will continue is keeping some prospective buyers on the sidelines.
But now that experts say mortgage rates should stabilize, this gives you a bit more certainty about what they think the future holds, and that may help you feel more confident about your decision to buy a home.
💥Keep Up to Date: The Yo-Yo of Mortgage Rates and How to Plan💥
Just like the stock market, you need to know when the rates are at the lowest point and jump in before they go back up.
How to Track Where Mortgage Rates are Heading
Mortgage rates follow the 10-year Treasury Yield, not the Federal Reserve Interest rates.
Did you know you can track the trends and predict where they are heading so you can time the market?
We've been seeing huge swings up and down regarding Mortgage Rates just in a week. In a 2-week period, the swing was .50%+.

(Freddie Mac weekly Survey)

Did you know to closely track the rates after the Feds raise interest rates? The last hike brought the rates down to 4.99%. Get ready for the Fed's meeting on 9-20-21.
I update my Blog Post on Mondays. If I see huge changes throughout the week the graphs are updated. I've also provided the links and show you how to track and time the market.
Live 3-Year Graph for Home Prices and Trends by City
💥 Important 💥 Know Your Numbers…It represents your Money! This is Where You Track Home Prices and Housing Inventory Levels (Supply and Demand) updated monthly by the 15th. You have direct access to all data from the Multiple Listing Service because I programmed it that way 🤩
As a programmer, you have full access to everything in the multiple listing service on my website. You don't need a realtor to access the data. Before you start working through the 5 steps, start with understanding the difference between Price-Driven Approach vs Value-Driven Approach.
I recommend working through each of the 5 Steps
It has everything you need to determine the Market You're In and review your city's 3-year live trends regarding home prices. Better yet, you can even review Sold properties and not rely on the online estimates. I've provided additional videos regarding the housing market and how you can benefit from all the tools on this page. Whether you're selling or buying real estate now or later. I recommend keeping up to date and protecting your real estate investment. It's essential to follow the Housing Market Trends for Metro Detroit and know The Market You're In, and it's the only way you'll know your true Negotiation Power. 
Bottom Line What the Experts Forecast on Mortgage Rates
Whether you're looking to buy your first home, move up to a larger home, or even downsize, you need to know what's happening in the housing market so you can make the most informed decision possible. Let's connect to discuss your goals and determine the best plan for your move.
As we move forward, it's been challenging as we navigated through all the changes. Putting your dream of a new home on HOLD shouldn't be one of them. Now more than ever, knowledge will be your power. Know the Market You're In and your Negotiation Power. Check out Categories for additional updates regarding the Market | Buying | Selling

If You Need To Sell 1st… I Recommend Doing This for

MORE Money!
No 2 homes are alike, and agents need to 🛑 marketing ONE size fits all. We no longer have an exposure problem (internet). Your home is buried on public home search internet sites. The only way to compete on those platforms is the price. If you want more money, you need to apply Influence. Separate your home from the competition, so the Buyer sees value. Keeping them focused on your property and not getting lost in homes' inaccurate data on public internet sites is necessary. Having digital omnipresence on serval platforms is your key to success. Remember MORE INFLUENCE = MORE 💰. We have details on how you can utilize High Tech Marketing and Win!
Have Questions?
Contact information below 👇 including sending a text message or Chatbot 🤖 at the bottom right. Would you mind sharing your thoughts below or what future article you would like to see in the comments? Your opinion is important to us…. this site is for you.🤩 To Keep up to date request our 🏡 Chat Newsletter or Follow us on Facebook, Instagram, or YouTube.
<h4 style="text-align: center;"><span style="color: #b80404;"><strong>Scroll Down for Testimonials</strong></span></h4>
Let us know what we can do to help you work your way through the Buying & Selling Puzzle.
Have a Question 💥Send a Text 🤩
☎ ~

+1 (248) 343-2459
📩 Email
teamtagitsold@outlook.com
Website Development, Production, and Content by Pam Sawyer @ Team Tag It Sold © 2017 All Rights Reserved