Will Mortgage Interest Rates Go Up in 2022?
How will the increase in Mortgage Interest Rates in Metro Detroit MI affect home affordability?
Mortgage Interest Rates is one of several factors that impact how much you can afford if you're buying a home in Metro Detroit MI. When rates are low, they help you get more house for your money. Within the last year, mortgage rates have hit the lowest point ever recorded, and they've hovered in the historic-low territory. But even over the past few weeks, rates have started to rise. This past week, the average 30-year fixed rate was 3.14%.
What does this mean if you're thinking about making a move? Waiting until next year will cost you more in the long run. Here's a look at what several experts project for mortgage rates going into 2022.
"The average 30-year fixed-rate mortgage (FRM) is expected to be 3.0 percent in 2021 and 3.5 percent in 2022."
Doug Duncan, Senior VP & Chief Economist, Fannie Mae:
"Right now, we forecast mortgage rates to average 3.3 percent in 2022, which, though slightly higher than 2020 and 2021, by historical standards remains extremely low and supportive of mortgage demand and affordability." 
"Consensus forecasts predict that mortgage rates will hit 3.2 percent by the end of the year, and 3.7 percent by the end of 2022."
If rates rise even a half-point percentage over the next year, it will impact what you pay each month over the life of your loan – and that can really add up. So, the reality is, as prices and mortgage rates rise, it will cost more to purchase a home.
As you can see from the quotes above, industry experts project rates will rise in the months ahead. Here's a table that compares other expert views and gives an average of those projections: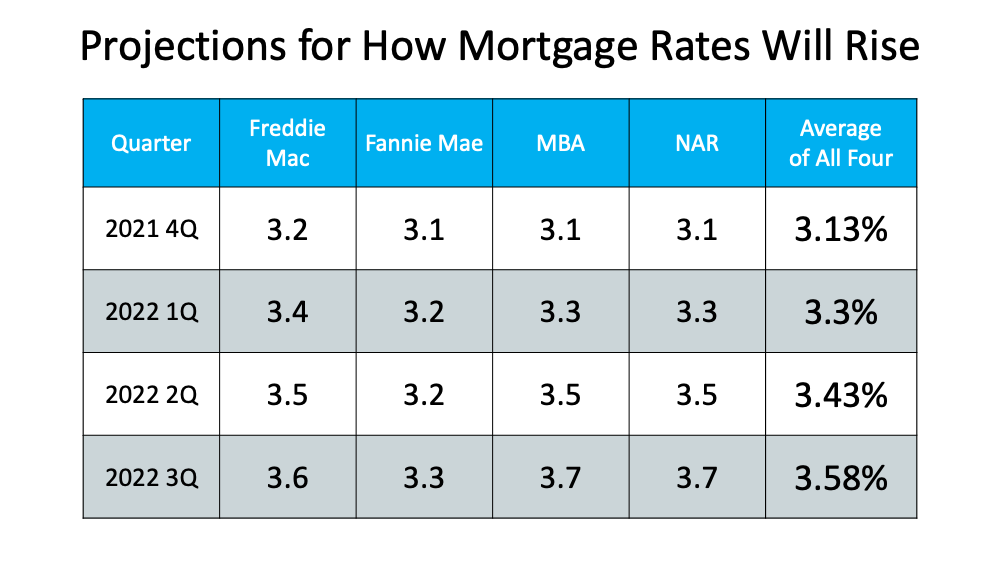 Whether you're thinking about buying your first home, moving up to your dream home, or downsizing because your needs have changed, purchasing before mortgage rates rise even higher will help you take advantage of today's homebuying affordability. That could be just the game-changer you need to achieve your homeownership goals.
Buyer's Purchasing Power
Unfortunately, as interest rates go up so will the payment.  This will affect the purchasing power of buyers moving into 2022.  As buyers work through the mortgage process, the increase in mortgage payment will affect their debt to income and how much they can afford for their mortgage approval level.  This will slow down the market in certain price points and could eliminate the bidding wars we've seen since 2020. I'm watching closely how this is going to affect home pricesmoving forward in 2022. Follow our blog post or sign up for our Weekly Newsletter.
Housing Market Trends and Predictions by City
Every month we update the live 3-year live trends by city. Equally important is how long it takes homes to sell in your City and Price Range. You also have access to custom data for Sold Homes, so you don't have to rely on Public Websites Estimates. Easy access and communication, call or text 248-343-2459. It's essential if you're Buying or Selling is to Know the Market You're In and Your Negotiation Power.
Mortgage Interest Rates Bottom Line
If you're thinking of buying or selling over the next year, it may be wise to make your move sooner rather than later – before mortgage rates climb higher. It could affect your borrowing power.
Peek into My Crystal Ball
As we move forward, it's been challenging as we navigated through all the changes. Putting your dream of a new home on HOLD shouldn't be one of them. Now more than ever, knowledge will be your negotiation power. There are 3 parts to making the most money on the sale of your property. 1. Know the Market You're In 2. High Tech Digital Marketing 3. My Blueprint to Your 🔑 to 🏡 Selling Success. No 2 homes are alike, and agents need to 🛑 marketing 1 size fits all. It's essential to separate your property from the competition. Equally important, you want to keep the buyer focused on your property and not get lost in the shuffle. Having a digital omnipresence on serval platforms is you 🔑 to your success.
Have Questions?
If you have any questions, contact us: Chatbot 🤖 at the bottom. Contact me by Email 📩 or my Cell 📲 @ 248-343-2459. Would you mind sharing your thoughts below or what future article you would like to see? Your opinion is important to us…. this site is for you.🤩 To Keep up to date request our 🏡 Chat Newsletter or Follow us on Facebook, Instagram, or YouTube.

Could you help me Find my Perfect Ideal Home!
Please tell me what you're looking for in your new Ideal Home…I can help you find the newest and best homes on the market.
Need Help with the Right Mortgage?
See how you can save Thousands.

Have Questions?
Let us know what we can do to help you work your way through the Buying & Selling Puzzle.

Website Development, Production, and Content by Pam Sawyer @ Team Tag It Sold © 2017 All Rights Reserved