How Much Do You Need for Your Down Payment?
Thinking of home buying? Do you know what you need for a down payment in Metro Detroit in 2022?
As you set out on your home buying journey, you likely have a plan in place, and you're working on saving for your purchase. But do you know how much you actually need for your down payment?
If you think you have to put 20% down, you may have set your goal based on a common misconception. Freddie Mac says:
"The most damaging down payment myth—since it stops the homebuying process before it can start—is the belief that 20% is necessary."
Unless specified by your loan type or lender, it's typically not required to put 20% down. According to the Profile of Home Buyers and Sellers from the National Association of Realtors (NAR), the median down payment hasn't been over 20% since 2005. It may sound surprising, but today, that number is only 13%. And it's even lower for first-time homebuyers, whose median down payment is only 7% (see graph below):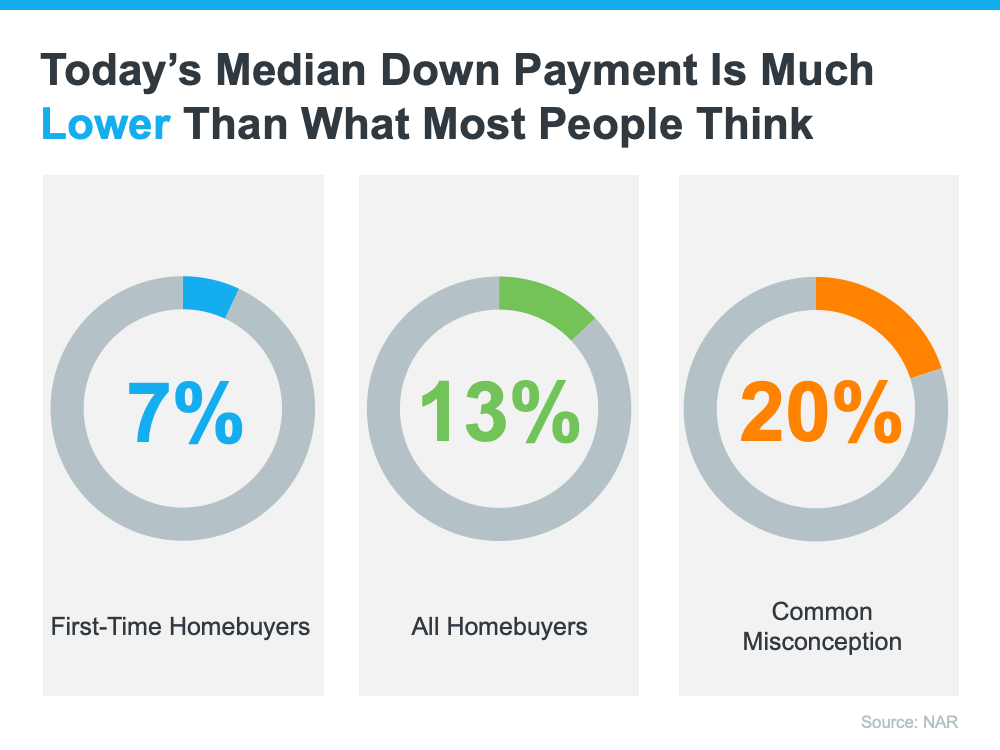 What Does This Mean for You?
While a down payment of 20% or more does have benefits, the typical buyer is putting far less down. That's good news for you because it means you could be closer to your homebuying dream than you realize.
If you're interested in learning more about low-down-payment options, there are several places to go. There are programs for qualified buyers with down payments as low as 3.5%. There are also options like VA loans and USDA loans with no down payment requirements for qualified applicants.
To understand your options, you need to do your homework. If you're interested in learning more about down payment assistance programs, information is available through sites like downpaymentresource.com. Be sure to also work with a real estate advisor from the start to learn what you may qualify for in the home buying process.
Find Out How You Can Save Thousands When Home Buying​
Watch the Video  ☝☝☝ and see how you can save thousands on your mortgage. It's your money, so we need to put it to work for you. We have our favorite and best loan officer to assist you and answer all your questions. Unlike some other lenders, Keller Mortgage isn't spending millions on marketing and advertising. Therefore, we pass those savings on to you by offering no fees and a low rate. Plus $1,000 Cash Credit at closing for loans $150k or more! Contact my Cell with any questions at 248-343-2459 or 👇👇👇 request help below. 
Your 🔑 To Home Selling and Buying Success ~ Safe PDF Guides
👈👈👈 

Watch Video for Sneak Peak
Don't muddle through the Home Buying and Selling Process. Buying a new home is a dream for all of us, and it's an emotional and stressful process. It also involves the most significant financial transaction you probably will make in your lifetime. Your Selling Guide…It will help you work through the selling process using the latest in high-tech market tools, so you make MORE MONEY. 
Our goal is to separate your home from the competition, keep Buyers focused on your house. The Selling Guide is very detailed and works step-by-step, so you're guaranteed Top Dollar for your home.
Home Buying Bottom Line
Remember: a 20% down payment isn't always required. If you want to purchase a home this year, let's connect to start the conversation and explore your down payment options.
Simplifying Real Estate Through Education
As we move forward, it's been challenging as we navigated through all the changes. Putting your dream of a new home on HOLD shouldn't be one of them. Now more than ever, knowledge will be your power. Know the Market You're In and your Negotiation Power. Check out Categories for additional updates regarding the Market | Buying | Selling
If You Need To Sell 1st… I Recommend

🛑

Doing This!
No 2 homes are alike, and agents need to 🛑 marketing ONE size fits all. We no longer have an exposure problem (internet). Your home is buried on public home search internet sites. The only way to compete on those platforms is the price. If you want more money, you need to apply Influence. Separate your home from the competition, so the Buyer sees value. Keeping them focused on your property and not getting lost in homes' inaccurate data on public internet sites is necessary. Having digital omnipresence on serval platforms is your key to success. Remember MORE INFLUENCE = MORE 💰. We have details on how you can utilize High Tech Marketing and Win!
Have Questions?
If you have any questions, contact us: Chatbot 🤖 at the bottom. Contact me by Email 📩 or my Cell 📲 @ 248-343-2459. Would you mind sharing your thoughts below or what future article you would like to see? Your opinion is important to us…. this site is for you.🤩 To Keep up to date, request our 🏡 Chat Newsletter or Follow us on Facebook, Instagram, or YouTube.

Could you help me Find my Perfect Ideal Home!
Please tell me what you're looking for in your new Ideal Home…I can help you find the newest and best homes on the market.
Need Help with the Right Mortgage?
See how you can save Thousands.

Have Questions?
Let us know what we can do to help you work your way through the Buying & Selling Puzzle.

Website Development, Production, and Content by Pam Sawyer @ Team Tag It Sold © 2017 All Rights Reserved