Maybe it's time to Increase Your Home Equity ~
Building financial wealth and stability remains one of the top reasons Americans choose to own a home. As a homeowner, your wealth often grows without you even realizing it through your home equity. In a recent paper published by the Urban Institute, Home Ownership is Affordable Housing; author Mike Loftin illustrates how homeowners increase their home equity and their wealth simply by making monthly mortgage payments:
"The principal portion that reduces the loan balance builds the homeowner's equity. In doing so, the principal payments behave like an automatic savings account. The principal payment is not money going out; it is money staying in."
But home equity – the difference between the value of your home and what you currently owe – isn't just built through your monthly principal payments. Home price appreciation plays a vital role in growing your equity and, ultimately, your wealth.
As Freddie Mac explains:
"Homeownership has cemented its role as part of the American Dream, providing families with a place that is their own and an avenue for building wealth over time. This 'wealth' is built, in large part, through the creation of equity…Building equity through your monthly principal payments and appreciation is a critical part of homeownership that can help you create financial stability."
Homeowners Continue To See Equity Increase
CoreLogic recently published their latest Homeowner Equity Insights Report, and it shows continued growth in equity amidst record home price appreciation. The report provides several key takeaways, all of which point to rising wealth for homeowners:
The average equity gain of mortgaged homes during the past year was $33,400
The current average equity of mortgaged homes is greater than $216,000
There was a 6% increase in total homeowner equity over the past year
Total U.S. homeowner equity has reached nearly $1.9 trillion
Here, you can see the equity gains by state: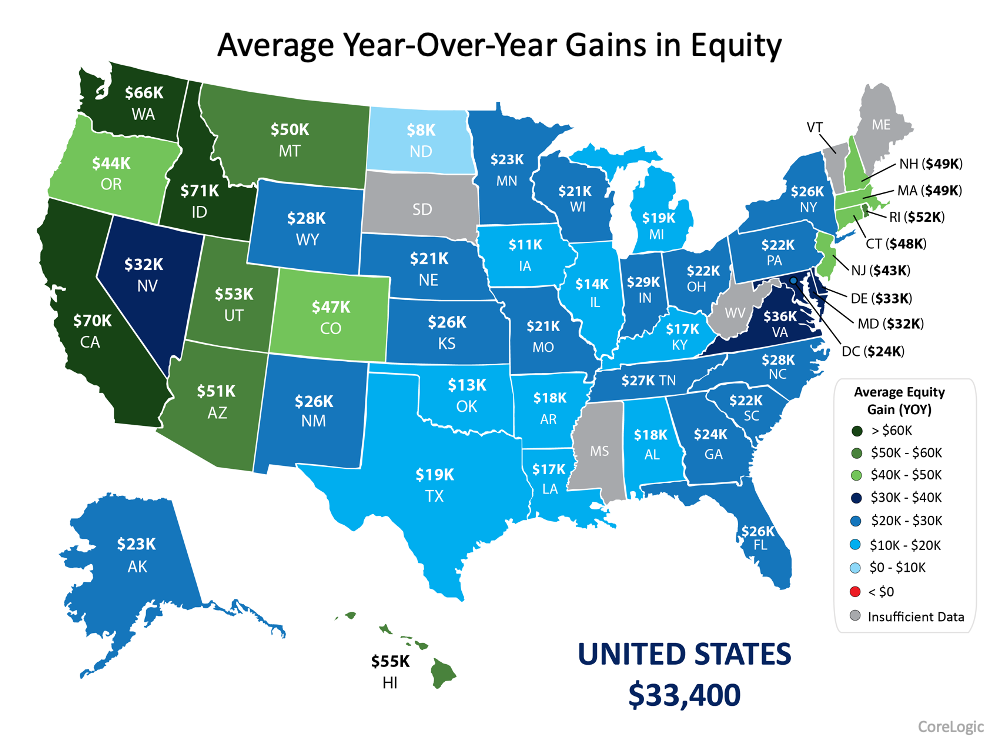 Equity Provides Homeowners with Flexibility
In addition to being a critical tool in building wealth, a homeowner's equity also provides significant flexibility. When you sell your house, the accumulated equity comes back to you in the sale. Recent increases in home equity coupled with record-low mortgage rates mean it could be the perfect time for homeowners looking to make a move.
Mark Fleming, Chief Economist at First American, notes:
"Existing homeowners today are sitting on record amounts of equity. As homeowners gain equity in their homes, the temptation grows to list their current home for sale and use the equity to purchase a larger or more attractive home."
Increasing equity also helps families facing challenges brought on by the pandemic. Frank Martell, President, and CEO of CoreLogic explain in the recent Homeowner Equity Insights Report:
"Homeowner equity has more than doubled over the past decade and become a crucial buffer for many weathering the challenges of the pandemic. These gains have become an important financial tool and boosted consumer confidence in the U.S. housing market, especially for older homeowners and baby boomers who've experienced years of price appreciation."
Bottom Line
Home equity has always been a powerful wealth-building tool, and homeowners continue to see their financial stability increase. Let's connect today so you can better understand how much equity you have in your current home or if you're ready to take the next step in building your savings as a homeowner.
When You Sell, 🛑 STOP Doing This! 
No 2 homes are alike, and agents need to 🛑 marketing 1 size fits all. We no longer have an exposure problem (internet).  Your home is buried on public home search internet sites. The only way to compete on those platforms is the price.  If you want more money, you need to apply Influence.  Separate your home from the competition, so the Buyer sees value. It's a must to keep them focused on your property and not get lost in homes' inaccurate data on the public internet sites. Having digital omnipresence on serval platforms is your key to success. Remember MORE INFLUENCE = MORE💰. We have details on how you can utilize High Tech Marketing and Win!
Helping You Build Your Future Wealth Through Real Estate
As we move forward…it's been tough as we navigated through all the changes. Putting your dream of a new home on HOLD shouldn't be one of them.  Now more than ever, knowledge will be your power. Know the Market You're In and your Negotiation Power. Check out Categories for additional updates regarding the Market | Buying | Selling & My Blueprint is Your 🔑 to 🏡 Buying & Selling Success
 In Closing
If you have any questions, contact us: Chatbot 🤖 at the bottom.  Contact me by Email 📩 or my Cell 📲 @ 248-343-2459.  With all the doom and gloom of the virus, one thing history has shown us, this will NOT define us.  Stay safe! Would you mind sharing your thoughts below or what future article you would like to see? Your opinion is important to us…. this site is for you.🤩

Could you help me Find my Perfect Ideal Home!
Please tell me what you're looking for in your new Ideal Home…I can help you find the newest and best homes on the market.
Need Help with the Right Mortgage?
See how you can save Thousands.

Have Questions?
Let us know what we can do to help you work your way through the Buying & Selling Puzzle.

Website Development, Production, and Content by Pam Sawyer @ Team Tag It Sold © 2017 All Rights Reserved