Home Prices – What's the Outlook for 2022: 
Home Prices – What is the Forecast for 2022 in Metro Detroit MI Area ~ 
One of the major storylines over the last year is how well the residential real estate market performed. Furthermore, one key metric in the spotlight is home price appreciation. According to the latest indexes, home prices are skyrocketing this year.
Here are the latest percentages showing the year-over-year increase in home price appreciation:
The dramatic increases are seen at every price point and in all regions of the country.
Home Prices Increases Are Across Every Price Point
According to the latest Home Price Index from CoreLogic, each price range is seeing at least a 19% increase year-over-year: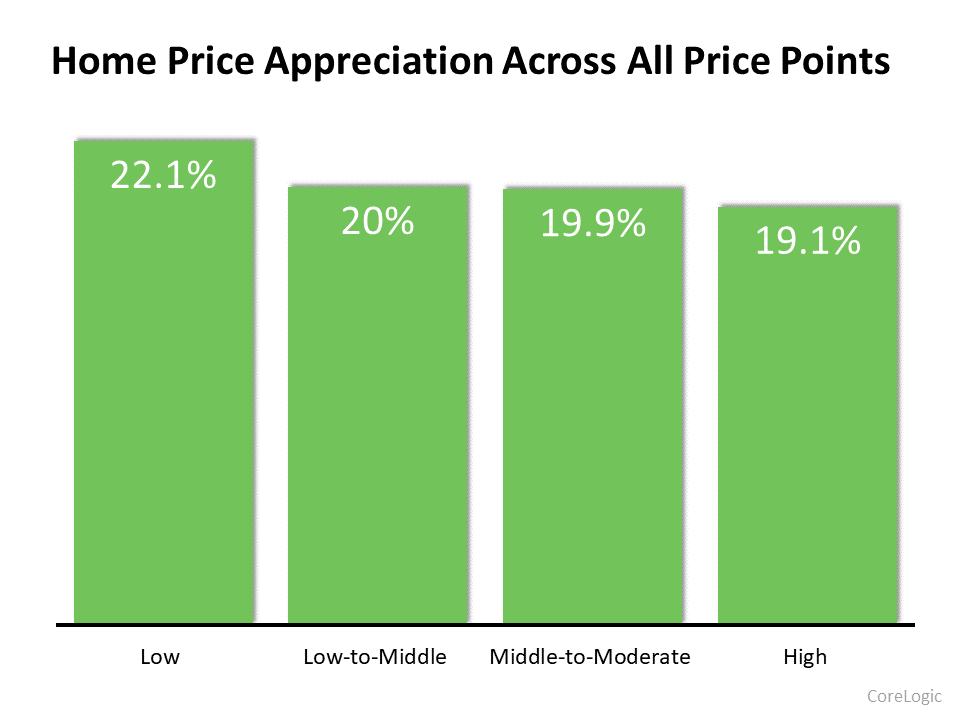 Increases Are Across Every Region in the Country
Every region in the country is experiencing at least a 14.9% increase in home price appreciation, according to the Federal Housing Finance Agency (FHFA):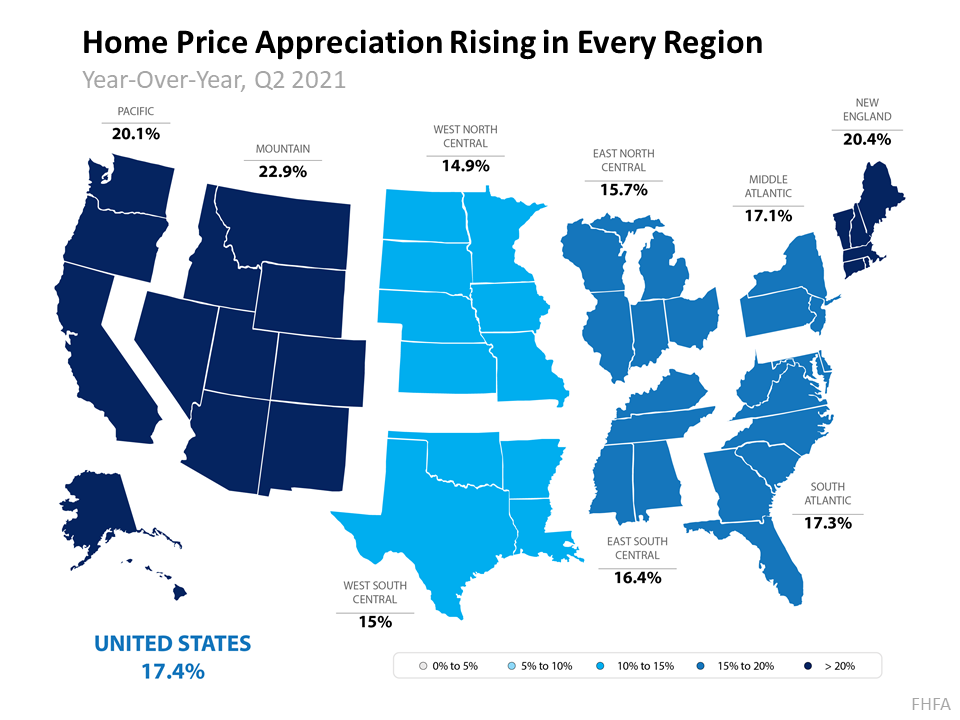 Increases Are Across Each of the Top 20 Metros in the Country
According to the U.S. National Home Price Index from S&P Case-Shiller, every major metro is seeing at least a 13.3% growth in prices (see graph below):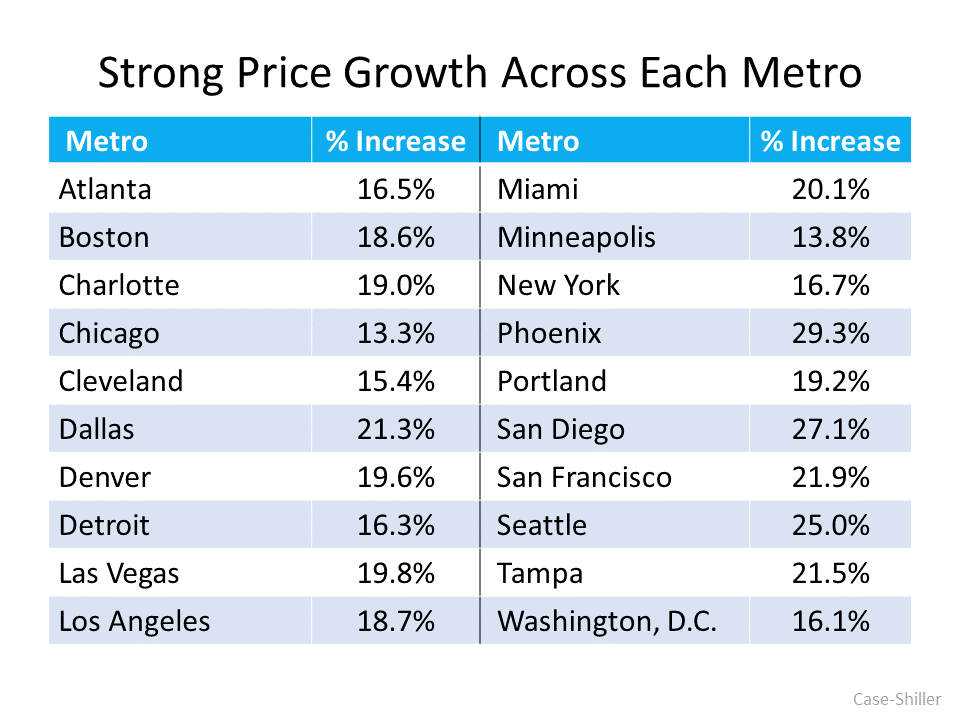 What About Price Appreciation in 2022?
Home Prices are the result of the balance between supply and demand. The demand for single-family homes has been strong over the last 18 months. The supply of houses available for sale was near historic lows. However, there's some good news on the supply side. Realtor.com reports:
"432,000 new listings hit the national housing market in August, an increase of 18,000 over last year."
There will, however, still be a shortage of supply compared to demand in 2022. CoreLogic reveals:
"Given the widespread demand and considering the number of standalone homes built during the past decade, the single-family market is estimated to be undersupplied by 4.35 million units by 2022."
Yet, most forecasts call for home price appreciation to moderate in 2022. The Home Price Expectation Survey, a survey of over 100 economists, investment strategists, and housing market analysts, calls for a 5.12% appreciation level next year. Here are the 2022 home appreciation forecasts from the four other major entities:
Price appreciation is expected to slow in 2022 when compared to the record highs of 2021. However, it is still likely to be greater than the annual average of 4.1% over the last 25 years.
Housing Market Trends and Predictions by City
Every month we update the live 3-year live trends by city. Equally important is how long it takes homes to sell in your City and Price Range. You also have access to custom data for Sold Homes, so you don't have to rely on Public Websites Estimates. Easy access and communication, just call or text 248-343-2459. It's important if your buying or Selling is to Know the Market You're In and Your Negotiation Power.
Bottom Line for Home Prices
If you owned a home over the past year, you've seen your household wealth grow substantially, and you'll see another nice boost in 2022. If you're thinking of buying, consider buying now as prices are forecast to continue increasing through at least next year.
🛑 I Recommend STOP Doing This!
No 2 homes are alike, and agents need to 🛑 marketing 1 size fits all. We no longer have an exposure problem (internet). Your home is buried on public home search internet sites. The only way to compete on those platforms is the price. If you want more money, you need to apply Influence. Separate your home from the competition, so the Buyer sees value. Keeping them focused on your property and not getting lost in homes' inaccurate data on public internet sites is necessary. Having digital omnipresence on serval platforms is your key to success. Remember MORE INFLUENCE = MORE💰. We have details on how you can utilize High Tech Marketing and Win!
Peek into My Crystal Ball
This is the 3rd time I've been involved in a housing crisis in the real estate business. We will be watching for a shift as our economy and interest rates start bouncing back. There are 3 parts to making the most money on the sale of your property.
Know the Market You're In ~ Live 3-year Market Trends.
My Blueprint is Your 🔑 to 🏡 Buying & Selling Success~ Education is critical.
Prepare a marketing plan that influences buyers.~ High Tech Digital Marketing
Have Questions?
If you have any questions, contact us: Chatbot 🤖 at the bottom. Contact me by Email 📩 or my Cell 📲 @ 248-343-2459. Would you mind sharing your thoughts below or what future article you would like to see? Your opinion is important to us…. this site is for

Could you help me Find my Perfect Ideal Home!
Please tell me what you're looking for in your new Ideal Home…I can help you find the newest and best homes on the market.
Need Help with the Right Mortgage?
See how you can save Thousands.

Have Questions?
Let us know what we can do to help you work your way through the Buying & Selling Puzzle.

Website Development, Production, and Content by Pam Sawyer @ Team Tag It Sold © 2017 All Rights Reserved