Housing Market Forecast 2022:  
Future of Home Prices in Metro Detroit MI area
Will Home Prices Continue to Rise?
If you're looking to buy or sell a house, chances are you've heard talk about today's rising home prices. And while this increase in home values is great news for sellers, you may be wondering what the future holds. Will prices continue to rise with time, or should you expect them to fall?
To answer that question, let's first understand a few terms you may be hearing right now.
It's important to note home prices have increased or appreciated for 114 straight months. To find out if that trend may continue, look to the experts. Pulsenomics surveyed over 100 economists, investment strategists, and housing market analysts, asking for their five-year projections. Experts say the market may see some slight deceleration in what lies ahead, but not depreciation.
Here's the forecast for the next few years: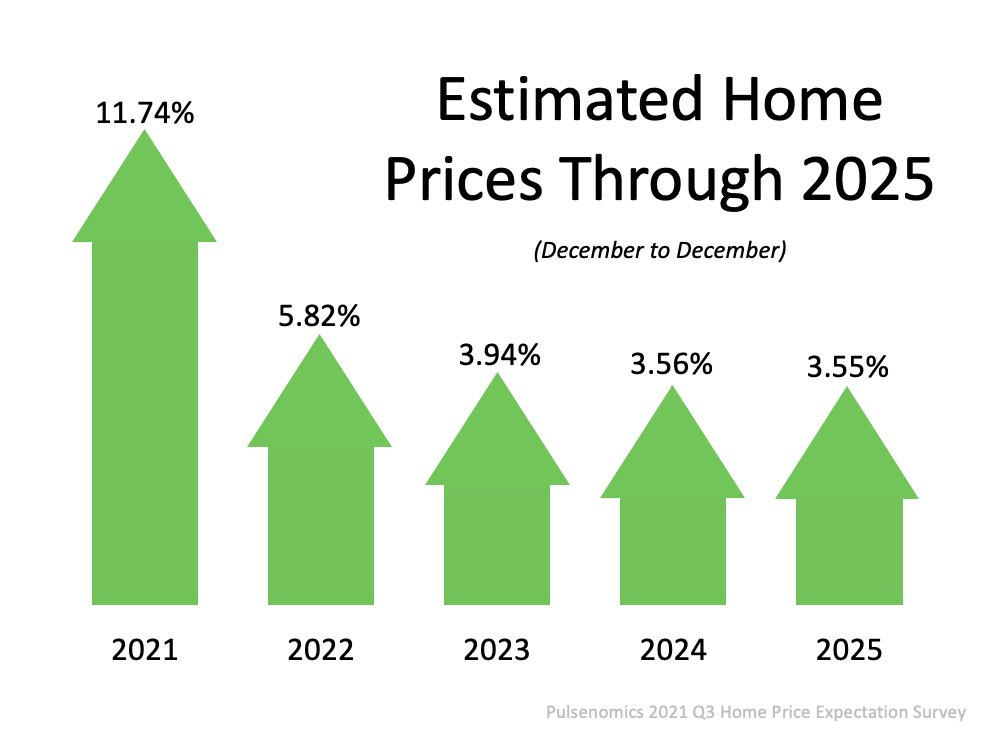 As the graph above shows, prices are expected to continue to rise, just not at the same pace we've seen over the last year. Over 100 experts agree, there is no expectation for price depreciation. As the arrows indicate, each number is an increase, which means prices will rise each year.
Bill McBride, the author of the blog Calculated Risk
also expects deceleration, but not depreciation: "My sense is the Case-Shiller National annual growth rate of 19.7% is probably close to a peak, and that year-over-year price increases will slow later this year."
". . . home price appreciation is on the cusp of flipping to a decelerating trend."
A recent article from realtor.com indicates you should expect:
". . . annual price increases will slow to a more normal level due to increased interest rates, . . ."
What Will Cause Deceleration?
The #1 cause will be the increase in mortgage interest rates.  Buyers can spend more for a new home because it costs less due to the 50-year low-interest rates.  As the rates increase, so will their payments. This will put buyers in a different purchase price bracket and slow down how many buyers can compete on the same home based on price. Moving forward, it will be important to follow my Monthly Housing Market Trends & Predictions, so you know the market you're in and your negotiation power.
What Does This Deceleration Mean for You?
What experts are projecting for the years ahead is more in line with the historical norm for appreciation. According to data from Black Knight, the average annual appreciation from 1995-2020 is 4.1%. As you can see from the chart above, the expert forecasts are closer to that pace, which means you should see appreciation at a level that's aligned with a more normal year.
If you're a buyer, don't expect a sudden or drastic drop in home prices – experts say it won't happen. Instead, think about your homeownership goals and consider purchasing a home before prices rise further.
If you're a seller, the continued home price appreciation is good news for the value of your house. Work with an agent to list your house for the right price based on market conditions.
Get Your Home Buying & Selling Strategies in our E-Guide
Don't muddle through the home buying and selling process. Buying a new home is a dream for all of us, and it's an emotional and stressful process; it also involves the most significant financial transaction you probably will make in your lifetime.
Your Buyer guide
Your guide will help you buy your ideal home with confidence and save thousands in the process. You will be working with Selling Agents, loan officers, underwriters, title companies…1. Do you know the lingo? 2. What you should avoid after applying for your mortgage 3. Know your Negotiation Power 4. Get to know how agents think and handle negotiations if you find yourself in a multiple offer situation? 5. Read What they Right. Find out the answer by downloading your PDF E-book Buying Guide.
Your Seller Guide
Your guide will help you work through the selling process using the latest in high-tech market tools. Our goal is to separate your home from the competition, keep them focused on your house. The selling Guide is very detailed and works through step by step, so your guaranteed Top Dollar for your home.
Bottom Line for Home Prices in Metro Detroit
Experts expect price deceleration, not price depreciation, over the coming years. Let's connect to talk through what's happening in the housing market today, where things are headed, and what it means for you. I recommend following the 3-year live trends by your location and keeping up to date on Current Market Conditions.  
Peek into My Crystal Ball
As we move forward, it's been challenging as we navigated through all the changes. Putting your dream of a new home on HOLD shouldn't be one of them.  Now more than ever, knowledge will be your negotiation power. There are 3 parts to making the most money on the sale of your property.  1. Know the Market You're In   2. High Tech Digital Marketing 3. My Blueprint to Your 🔑 to 🏡 Selling Success. No 2 homes are alike, and agents need to 🛑 marketing 1 size fits all. It's essential to separate your property from the competition. Equally important, you want to keep the buyer focused on your property and not get lost in the shuffle. Having a digital omnipresence on serval platforms is you 🔑 to your success.
Have Questions?
If you have any questions, contact us: Chatbot 🤖 at the bottom.  Contact me by Email 📩 or my Cell 📲 @ 248-343-2459. Would you mind sharing your thoughts below or what future article you would like to see? Your opinion is important to us…. this site is for you.🤩 To Keep up to date, Follow us on  Facebook, Instagram, or YouTube. 

Could you help me Find my Perfect Ideal Home!
Please tell me what you're looking for in your new Ideal Home…I can help you find the newest and best homes on the market.
Need Help with the Right Mortgage?
See how you can save Thousands.

Have Questions?
Let us know what we can do to help you work your way through the Buying & Selling Puzzle.

Website Development, Production, and Content by Pam Sawyer @ Team Tag It Sold © 2017 All Rights Reserved