The #1 Reason Not to Wait to Sell Your House for Sale
Many industries have been devastated by the economic shutdown caused by the COVID-19 virus. Real estate is not one of them.

Mark Fleming, Chief Economist for First American, just reported:
"Since hitting a low point during the initial stages of the pandemic, the only major industry to display immunity to the economic impacts of the coronavirus is the housing market. Housing has experienced a strong V-shaped recovery and is now exceeding pre-pandemic levels."
Buyer demand is still strong heading into the fall. ShowingTime, which tracks the average number of buyer showings on residential properties, just announced that buyer showings are up 61.9% compared to the same time last year. They went on to say:
"Normally, real estate activity begins to slow down in the late summer, but this year it peaked in July, August and into September."
There Is One Big Challenge
Purchaser demand is so high, the market is running out of available homes for sale. Just last week, realtor.com reported:
"Since the beginning of the COVID pandemic in March, nearly 400,000 fewer homes have been listed compared to last year, leaving a gaping hole in the U.S. housing inventory."
The National Association of Realtors (NAR) revealed that, while home sales are skyrocketing, the inventory of existing homes for sale is dropping dramatically. Below is a graph of existing inventory (September numbers are not yet available):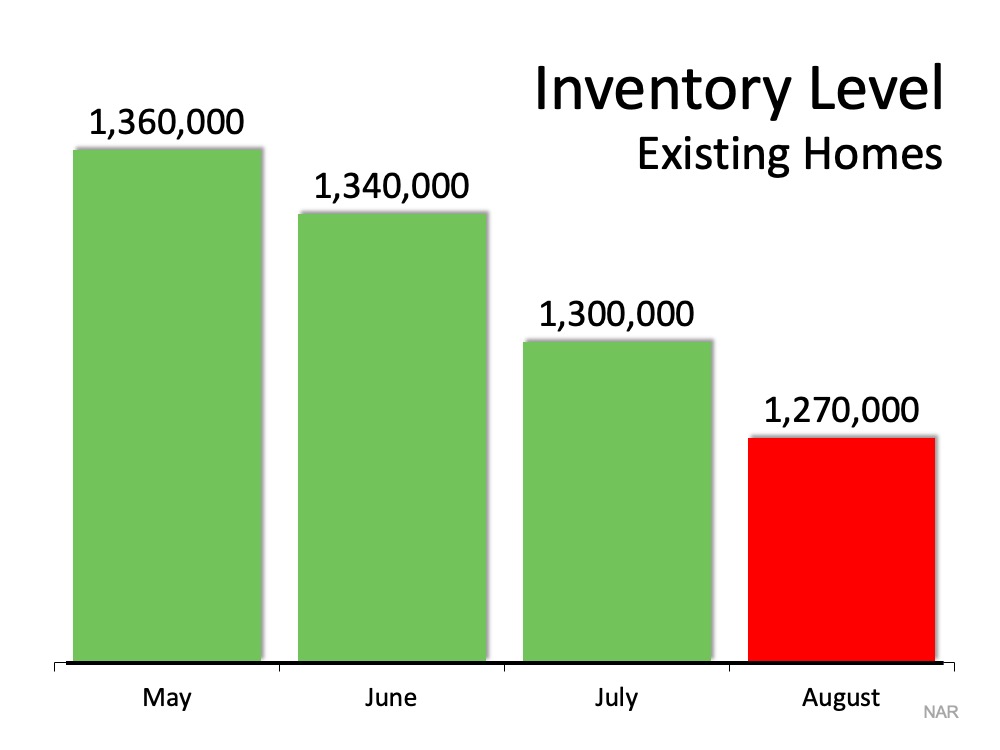 Homebuilders are increasing construction, but they cannot keep up with the high demand. Bill McBride, founder of the Calculated Risk blog, in discussing inventory of newly constructed houses, notes:
"The months of supply decreased to 3.3 months…This is the all-time record low months of supply."
What does this mean for sellers?
Anyone thinking of putting their home on the market should not wait. A seller will always negotiate the best deal when demand is high and supply is limited. That's exactly the situation in the real estate market today.
Next year, when the pandemic is hopefully behind us, there will be many more properties coming to the market. Don't wait for that increase in competition in your neighborhood. Now is the time to sell.
Bottom Line
With low interest rates and very low inventory, now is the best time to sell.  I am watching the market closely and we still have many unkowns moving into 2021.  Let's connect today to get your house on the market at this optimal time to sell.
First and Foremost, Safety First! 
As we move forward trying to navigate our way through our new surroundings. Putting your dream of a new a home on HOLD shouldn't be one of them.  Now more than ever knowledge will be your power. Know the Market You're In and your Negotiation Power.
In Closing
If you have any questions contact us: Chat Bot, in the bottom left bubble. Contact me by Email or my Cell @ 248-343-2459.  With the doom and gloom of the virus. One thing history has shown us, this will NOT define us.  Stay safe! Please comment below your thoughts or what future article you would like to see.  This site is for you❣

Help me Find my Perfect Dream Home!
Tell me what you're looking for in your new Dream Home…I can help you find the newest and best homes on the market.
Need Help with the Right Mortgage?
See how you can save Thousands.

Have Questions?
Let us know what we can do to help you work your way through the Buying & Selling Puzzle.

Website Development, Production, and Content by Pam Sawyer @ Team Tag It Sold © 2017 All Rights Reserved