Why Right Now May Be the Time to Sell Your House
The housing market made an incredible recovery in 2020 and is now positioned for an even stronger year in 2021. Record-low mortgage interest rates are a driving factor in this continued momentum, with average rates hovering at historic all-time lows.
According to the latest Realtors, Confidence Index Survey from the National Association of Realtors (NAR), buyer demand across the country is incredibly strong. That's not the case, however, on the supply side. Seller traffic is simply not keeping up. Here's a breakdown by state: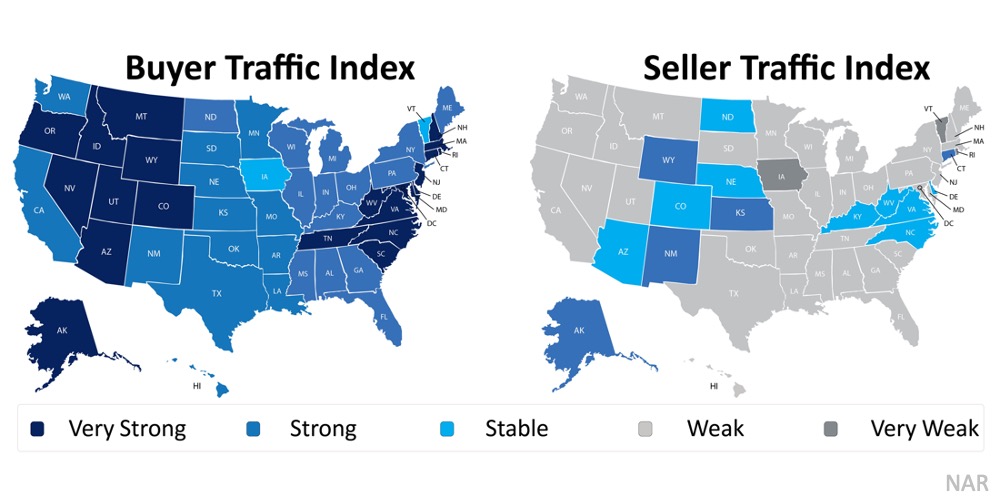 As the maps show, buyer traffic is high, but seller traffic is low. With so few homes for sale right now, record-low inventory is creating a mismatch between supply and demand.
NAR also just reported that the actual number of homes currently for sale stands at 1.28 million, down 22% from one year ago (1.64 million). Additionally, inventory is at an all-time low with 2.3 months supply available at the current sales pace. In a normal market, that number would be 6.0 months of inventory – significantly higher than it is today.
What does this mean for buyers and sellers?
Buyers need to remain patient in the search process. At the same time, they must be ready to act immediately once they find the right home since bidding wars are more common when so few houses are available for sale.
Sellers may not want to wait until spring to put their houses on the market, though. With such high buyer demand and such a low supply, now is the perfect time to sell a house on optimal terms.
Bottom Line
The real estate market is entering the year like a lion. There's no indication it will lose that roar, assuming inventory continues to come to market.
First and Foremost, Safety First! 
As we move forward trying to navigate our way through our new surroundings. Putting your dream of a new home on HOLD shouldn't be one of them.  Now more than ever knowledge will be your power. Know the Market You're In and your Negotiation Power. Check out Categories for additional updates regarding the Market | Buying & Selling.
In Closing
If you have any questions, contact us: Chatbot 🤖 at the bottom.  Contact me by Email 📩 or my Cell 📲 @ 248-343-2459.  With all the doom and gloom of the virus, one thing history has shown us, this will NOT define us.  Stay safe! Please share your thoughts below or what future article you would like to see. Your opinion is important to us…. this site is for you ❣

Help me Find my Perfect Dream Home!
Tell me what you're looking for in your new Dream Home…I can help you find the newest and best homes on the market.
Need Help with the Right Mortgage?
See how you can save Thousands.

Have Questions?
Let us know what we can do to help you work your way through the Buying & Selling Puzzle.

Website Development, Production, and Content by Pam Sawyer @ Team Tag It Sold © 2017 All Rights Reserved