Why It's Important to Price Your House Right Today
Even in today's sellers' market, setting the right price for your house is one of the most valuable things you can do. According to the U.S. Economic Outlook by the National Association of Realtors (NAR); existing home prices nationwide are forecasted to increase by 4.5% in 2021. This means experts anticipate home values will continue climbing next year. Danielle Hale, Chief Economist for realtor.com, notes:
"We expect price gains to ease somewhat in 2021 and end 5.7% above 2020 levels, decelerating steadily through the spring and summer. Then predicting gradually reaccelerating toward the end of the year."
How to Price Your House
When it comes to setting the right price for your house, the goal is to increase visibility. Separate yourself from the competition and drive more buyers your way. Instead of trying to win the negotiation with one buyer, you should price your house so that demand is maximized. Stop relying on Exposure and switch to Influence for MORE 💰.
As a seller in today's market, you might be thinking about pricing your house on the high end while so many of today's buyers are searching harder than ever just to find a home to purchase. But here's the thing – a high price tag does not mean you're going to cash in big on the sale. It's actually more likely to deter buyers.
Right now, even when there are so few houses for sale, your house is more likely to sit on the market longer. It may require a price drop that can send buyers running if it isn't priced just right from the very beginning. Know the difference between the Price vs. Value-Driven Approach.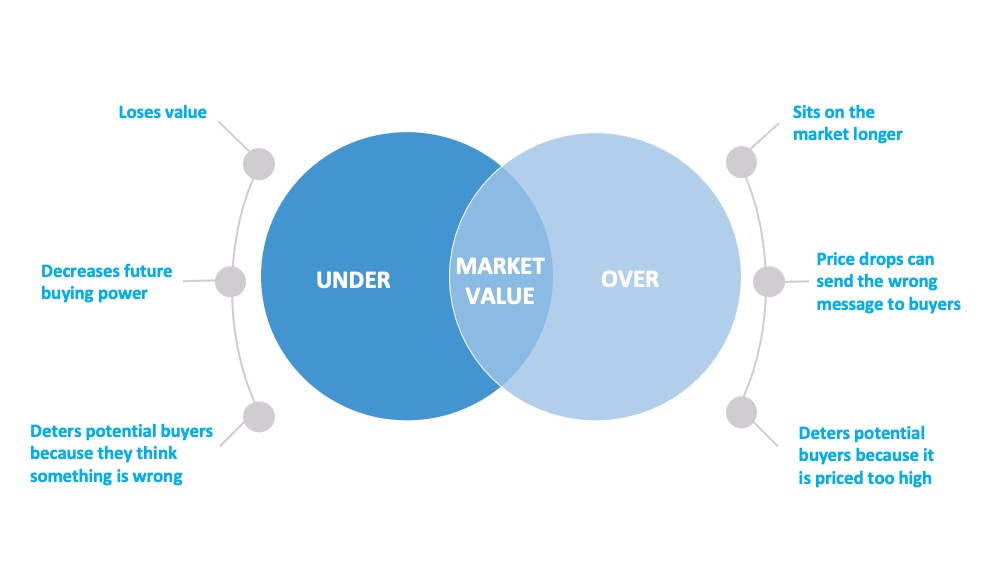 It's important to make sure your house is priced correctly. Do your homework in advance and read what agents write and their knowledge of pricing.  When you price it competitively from the start, you won't be negotiating with one buyer. Instead, you'll likely have multiple buyers competing for the house, potentially increasing the final sale price.
The key is to make sure your house is priced correctly. This way, it will be seen by the greatest number of buyers. More than one of them may be interested, and it will be more likely to sell at a competitive price.
Bottom Line
If you're curious about Your Homes Value, let's connect. It's important to price your house correctly from the start so you can maximize your exposure and your return. Don't leave money on the table for the buyer.
First and Foremost, Safety First! 
As we move forward trying to navigate our way through our new surroundings. Putting your dream of a new home on HOLD shouldn't be one of them.  Now more than ever knowledge will be your power. Know the Market You're In and your Negotiation Power. Check out Categories for additional updates regarding the Market | Buying & Selling.
In Closing
If you have any questions, contact us: Chatbot 🤖 at the bottom.  Contact me by Email 📩 or my Cell 📲 @ 248-343-2459.  With all the doom and gloom of the virus, one thing history has shown us, this will NOT define us.  Stay safe! Please share your thoughts below or what future article you would like to see. Your opinion is important to us…. this site is for you ❣

Help me Find my Perfect Dream Home!
Tell me what you're looking for in your new Dream Home…I can help you find the newest and best homes on the market.
Need Help with the Right Mortgage?
See how you can save Thousands.

Have Questions?
Let us know what we can do to help you work your way through the Buying & Selling Puzzle.

Website Development, Production, and Content by Pam Sawyer @ Team Tag It Sold © 2017 All Rights Reserved