Want to Build Wealth? Buy a Home This Year.
Every year, households across the country make the decision to rent for another year or take the leap into homeownership. They look at their earnings and savings and then decide what makes the most financial sense. That equation will most likely take into consideration monthly housing costs, tax advantages, and other incremental expenses. Using these measurements, recent studies show that it's still more affordable to own than rent in most of the country.
There is, however, another financial advantage to owning a home that's often forgotten in the analysis – the wealth built through equity when you own a home.
Odeta Kushi, Deputy Chief Economist for First American, discusses this point in a recent blog post. She explains:
"Once you include the equity benefit of price appreciation, owning made more financial sense than renting in 48 out of the 50 top markets, with the only exceptions being San Francisco and San Jose, Calif."
What has this equity piece meant to homeowners in the past?
ATTOM Data Solutions, the curator of one of the nation's premier property databases, just analyzed the typical home-price gain owners nationwide enjoyed when they sold their homes. Here's a breakdown of their findings: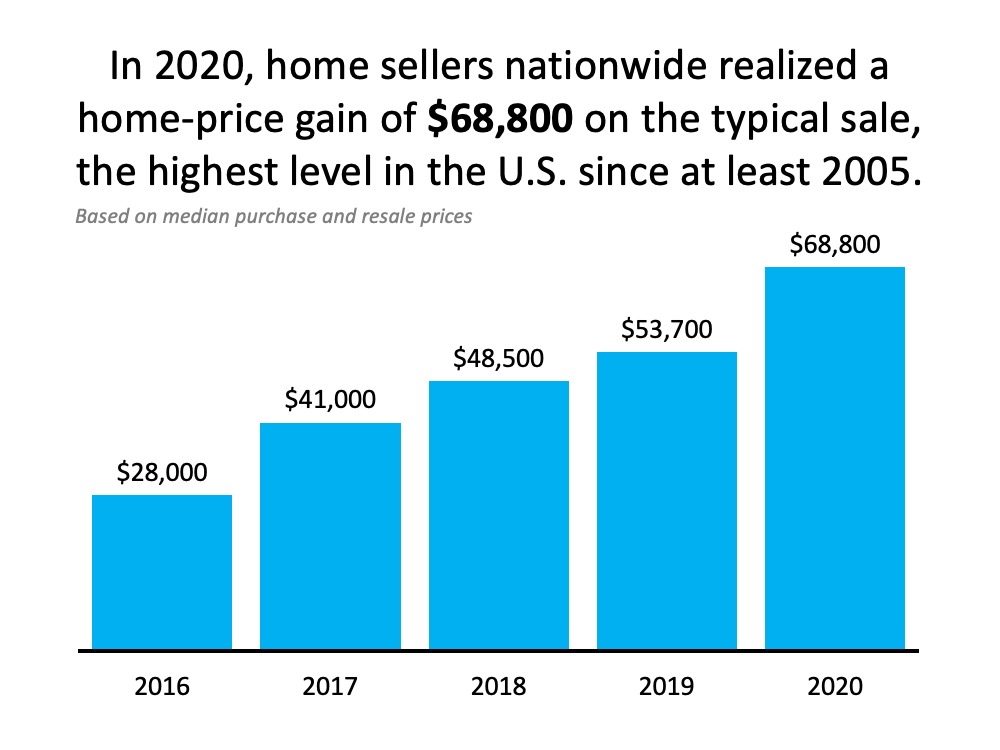 The typical gain in the sale of the home (equity) has increased significantly over the last five years.
CoreLogic, another property data curator, also weighed in on the subject. According to their latest Homeowner Equity Insights Report, the average homeowner gained $17,000 in equity in just the last year alone.
What does the future look like for homeowners when it comes to equity?
Here are the seven major home price appreciation forecasts for 2021: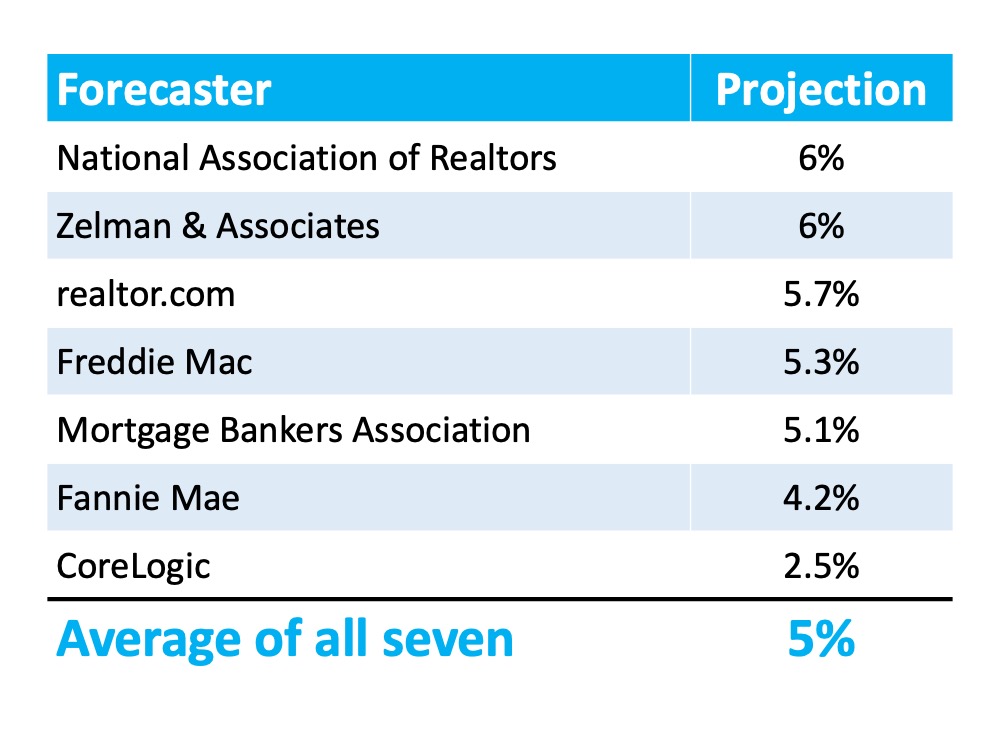 The National Association of Realtors (NAR) just reported that today, the median-priced home in the country sells for $309,800. If homes appreciate by 5% this year (the average of the forecasts), the homeowner will increase their wealth by $15,490 in 2021 through increased equity.
Bottom Line
As you make your plans for the coming year, be sure to consider the equity benefits of home price appreciation as you weigh the financial advantages of buying over renting. When you do, you may find this is the perfect time to jump into homeownership.
Find Your Ideal Home
Thinking of life change and moving is part of that dream? You can track new listing on market for 14 days or less.  Search better than a Realtor! This is a live feed so bookmark.  You also can customize and save favorites. 
First and Foremost, Safety First! 
As we move forward trying to navigate our way through our new surroundings. Putting your dream of a new a home on HOLD shouldn't be one of them.  Now more than ever knowledge will be your power. Know the Market You're In and your Negotiation Power.
In Closing
If you have any questions contact us: Chatbot, in the bottom right.  Contact me by Email or my Cell @ 248-343-2459.  With all the doom and gloom of the virus, one thing history has shown us, this will NOT define us.  Stay safe! Please share your thoughts below or what future article you would like to see. Your opinion is important to us…. this site is for you ❣

Help me Find my Perfect Dream Home!
Tell me what you're looking for in your new Dream Home…I can help you find the newest and best homes on the market.
Need Help with the Right Mortgage?
See how you can save Thousands.

Have Questions?
Let us know what we can do to help you work your way through the Buying & Selling Puzzle.

Website Development, Production, and Content by Pam Sawyer @ Team Tag It Sold © 2017 All Rights Reserved