The experts are weighing in on the Housing Market Forecast for the 2nd half of 2022 including Metro Detroit MI by City. Find out the Real Estate Predictions 2022. 
The housing market is at a turning point, and if you're thinking of buying or selling a home, that may leave you wondering: is it still a good time to buy a home? Should I make a move this year? To help answer those questions, let's turn to the experts for projections on what the second half of the year holds for residential real estate.
Where Mortgage Rates Will Go Depends on Inflation
While one of the big questions on all buyers' minds is where will mortgage rates go in the months ahead, no one has a crystal ball to know exactly what'll happen in the future. What housing market experts know for sure is that the record-low mortgage rates during the pandemic were an outlier, not the norm. The biggest concern for home buyers and home sellers… Are We in a Housing Bubble and Will We See a Crash. I have the answer in the full blog post.
This year, rates are jumping all over the place between 2-3% higher due to the Federal Reserve's response to rising inflation. If inflation continues to rise, it's likely that mortgage rates will respond. Greg McBride, Chief Financial Analyst at Bankrate, explains it well:
"Until inflation peaks, mortgage rates won't either. Without improvement on the inflation front, we don't know where the interest rate ceiling will be."
Whether you're buying your first home or selling your current house to make a move, today's mortgage rate is an important factor to consider. When rates rise, they impact affordability and your purchasing power. That's why it's crucial to work with a team of professionals, so you have expert advice to help you make an informed decision about your best move.
Click the Picture to Access July's 2022 eReport
The Supply of Homes for Sale Projected To Continue Increasing
This year, particularly this spring, the number of homes for sale has grown. That's partly due to more homeowners listing their houses, but also because higher mortgage rates have helped ease the intensity of buyer demand. Moderating buyer demand slows down the pace of home sales, which in turn helps inventory rise.
Experts say that growth will continue. Recently, realtor.com updated its 2022 inventory forecast. In the latest release, they increased their projections for inventory gains dramatically, going from a 0.3% increase at the beginning of the year to a 15.0% jump by the end of 2022 (see graph below):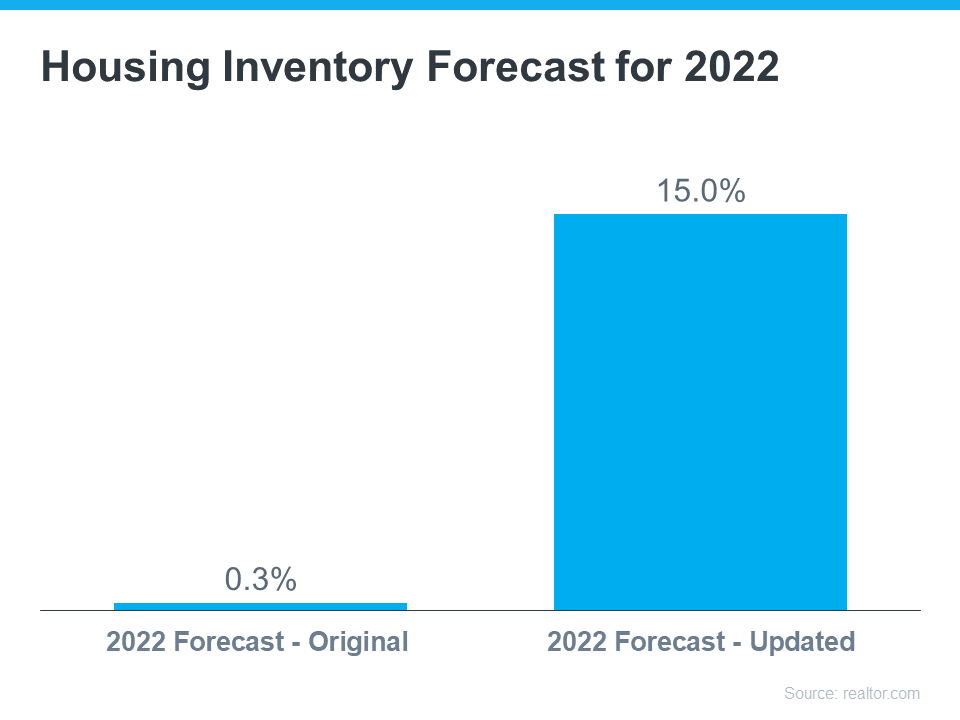 More homes to choose from is great news if you're craving more options for your home search – just know that there isn't a sudden surplus of inventory on the horizon. The housing supply is still low, so you'll need to partner with an agent to stay on top of what's available in your market and move fast when you find the one. It's not going to be easy to find a home, but it certainly won't be as difficult as it has been over the past two years.
Home Price Forecasts Call for Ongoing Appreciation
Due to the imbalance between the number of homes for sale and the number of buyers looking to make a purchase, the pandemic led to record-breaking increases in home prices. According to CoreLogic, homes appreciated by 15% in 2021, and they've continued to rise this year.
Even though the housing supply is increasing today, there are still more buyers than there are homes for sale, and that's maintaining the upward pressure on home prices. That's why experts are not calling for prices to decline, rather they're forecasting they'll continue to climb, just at a more moderate pace this year. On average, homes are projected to appreciate by about 8.5% in 2022 (see graph below):
Selma Hepp, Deputy Chief Economist at CoreLogic, explains why the housing market will see deceleration, but not depreciation, in prices:
"The current home price growth rate is unsustainable, and higher mortgage rates coupled with more inventory will lead to slower home price growth but unlikely declines in home prices."
For current homeowners looking to sell, know your home's value isn't projected to fall, but waiting to make your purchase does mean your next home could cost more as home prices continue to appreciate. That's why, if you're thinking about buying your first home or you're ready to make a move, it may make sense to do so now before prices climb higher. But rest assured, once you buy a home, that price appreciation will help grow the value of your investment.
Metro Detroit Real Estate Home Prices and Trends by City
💥 Important 💥 This is Where You Track Home Prices and Housing Inventory Levels (Supply and Demand) updated monthly by the 15th.
It has everything you need to determine the Market You're In and review your city's 3-year live trends regarding home prices. Better yet, you can even review Sold properties and not rely on the online estimates. I've provided additional videos regarding the housing market and how you can benefit from all the tools on this page. Whether you're selling or buying real estate now or later. I recommend keeping up to date and protecting your real estate investment.  It's essential to follow the Housing Market Trends for Metro Detroit and know The Market You're In, and it's the only way you'll know your true Negotiation Power. 
Some Highlights
• The housing market is shifting away from the intensity of the past two years. Here's what experts project for the remainder of 2022.
Step #1 ~ Do You Homework to find the Best Lender and Program for You
💥 Important 💥 We've seen many changes lately with high mortgage rates and now lenders are designing special programs to help you and compete for your business… Great News!
✅ Do ~ Find out your FICA Score not your credit score. Check with your banking institution, they usually provide free FICA Scores.
✅ Do ~ Pull a free credit report from you bank or Free Credit Agency
✅ Do ~ Call around and check out and get quotes for rates and what type of programs different lenders have available. Give the lenders your FICA score to get quotes.
✅ Do ~Call around and check out and get quotes for rates and what type of programs different lenders have available. Give the lenders your FICA score to get quotes.
🛑 DON'T ~give out your Social Security Number as they will pull your credit. Wait until you select a lender and a program that works best for you then make an application. You are getting rough quotes for now based on the FICA score you obtained, it doesn't have to be exact for now. You're in the weeding-out phase of your search.
✅ DO ~ contact me with any question you may have via my cell at 248-343-2459
🙋‍♀️~ Not sure where to start? Get Your Do's and Don'ts during the loan process. I do have lenders I've pre-screened based on low fees, special programs, rates, and best service. Let's connect and discuss your options. You can also check with your Bank or Credit Union. Just don't give out your SS# so they can't pull credit until you're ready.
Step #2 ~ Your 🔑 To Home Selling and Buying Success ~ Safe e-Guides
💥 Important 💥 Your Guides also have educational videos and links regarding where home prices are heading, mortgage rates, Housing Market Trends, and more.
Watch Video for Sneak Peak
Don't muddle through the Home Buying and Selling Process. Buying a new home is a dream for all of us, and it's an emotional and stressful process.
It also involves the most significant financial transaction you probably will make in your lifetime. Your Buying Guide…will walk you through tips, strategies, and how to understand the numbers to strengthen your negotiation power.
Your Selling Guide…It will help you work through the selling process using the latest in high-tech market tools, so you make MORE Money. Our goal is to separate your home from the competition, and keep Buyers focused on your house. The Selling Guide is very detailed and works step-by-step, so you're guaranteed Top Dollar for your home.
Bottom Line: Experts Housing Market Forecast for the 2nd half of the year 2022
Whether you're a home buyer or seller, you need to know what's happening in the housing market, so you can make the most informed decision possible. Let's connect to discuss your goals and what lies ahead, so you can determine the best plan for your move.
As we move forward, it's been challenging as we navigated through all the changes. Putting your dream of a new home on HOLD shouldn't be one of them. Now more than ever, knowledge will be your power. Know Your Local Home Prices and Trends by Ctiy and your Negotiation Power. Check out Categories for additional updates regarding the Market | Buying | Selling

If You Need To Sell 1st… I Recommend

🛑

Doing This!
No 2 homes are alike, and agents need to 🛑 marketing ONE size fits all. We no longer have an exposure problem (internet). Your home is buried on public home search internet sites. The only way to compete on those platforms is the price. If you want more money, you need to apply Influence. Separate your home from the competition, so the Buyer sees value. Keeping them focused on your property and not getting lost in homes' inaccurate data on public internet sites is necessary. Having digital omnipresence on serval platforms is your key to success. Remember MORE INFLUENCE = MORE 💰. We have details on how you can utilize High Tech Marketing and Win!
Have Questions?
If you have any questions, contact us: Chatbot 🤖 at the bottom. Contact me by Email 📩 or my Cell 📲 @ 248-343-2459. Would you mind sharing your thoughts below or what future article you would like to see? Your opinion is important to us…. this site is for you.🤩 To Keep up to date request our 🏡 Chat Newsletter or Follow us on Facebook, Instagram, or YouTube.
Scroll Down for Testimonials
Let us know what we can do to help you work your way through the Buying & Selling Puzzle.
Have a Question 💥Send a Text 🤩
☎ ~

+1 (248) 343-2459
📩 Email
teamtagitsold@outlook.com
Website Development, Production, and Content by Pam Sawyer @ Team Tag It Sold © 2017 All Rights Reserved