Will the Housing Market Maintain Its Momentum?
Last week's Existing Home Sales Report from the National Association of Realtors (NAR) shows sales have dropped by 3.7% compared to the month before. This is the second consecutive month that sales have slumped. Some see this as evidence that the red-hot real estate market may be cooling. However, there could also be a simple explanation of why existing home sales have slowed – there aren't enough homes to buy. There are currently 410,000 fewer single-family homes available for sale than there were at this time last year.
Lawrence Yun, Chief Economist at NAR, explains in the report:
"The sales for March would have been measurably higher, had there been more inventory. Days-on-market are swift, multiple offers are prevalent, and buyer confidence is rising."
Yun's insight was supported the next day when the Census Bureau released its Monthly New Residential Sales Report. It shows that newly constructed home sales are up 20.7% over the previous month.
Buyer demand remains strong. With more of the adult population becoming vaccinated and job creation data showing encouraging signs, existing-home inventory is expected to grow in the coming months.
What will this mean for home sales going forward?
Fannie Mae, Freddie Mac, and the Mortgage Bankers Association (MBA) have all forecasted that total home sales (existing homes and new construction) will continue their momentum both this year and next. Here's a graph showing those projections: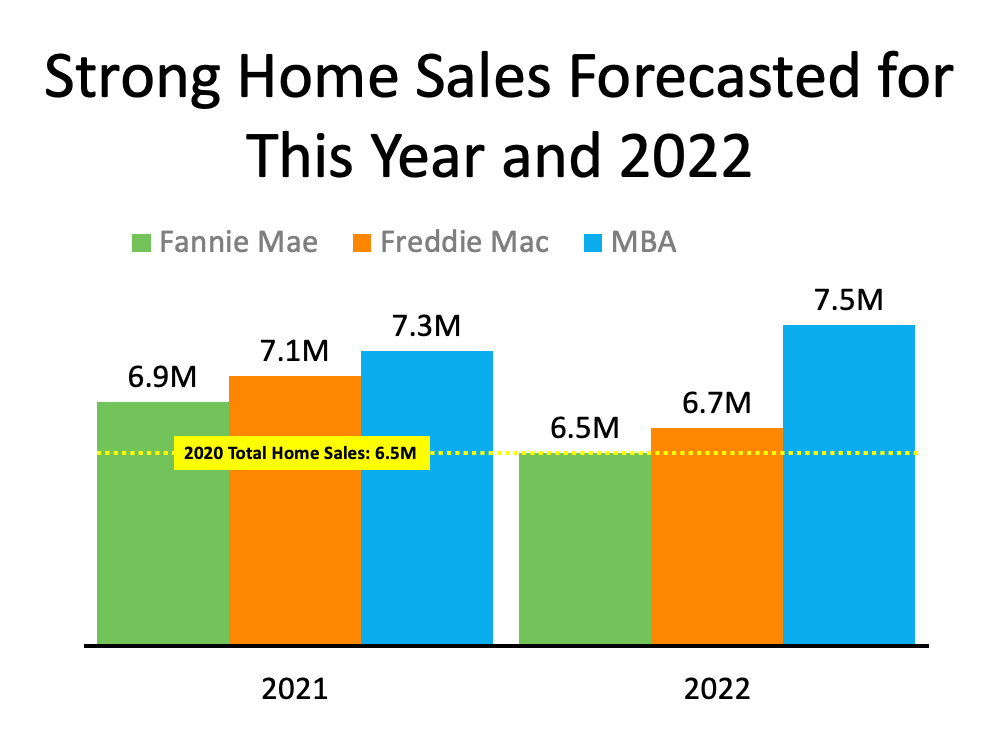 What does it mean for Interest Rates?
Freddie, Fannie, Mortgage Bankers Association, and National Association all have predicted mortgage interest rates will continue the 50-year low trend. Here is a graph with their predictions.
Bottom Line
Living through a pandemic has caused many to re-evaluate the importance of a home and the value of homeownership. The residential real estate market will benefit from both as we move forward.
When You Sell, 🛑 STOP Doing This! 
No 2 homes are alike, and agents need to 🛑 marketing 1 size fits all. We no longer have an exposure problem (internet).  Your home is buried on public home search internet sites. The only way to compete on those platforms is the price.  If you want more money, you need to apply Influence.  Separate your home from the competition so the Buyer sees value. It's a must to keep them focused on your property and not get lost in homes' inaccurate data on the public internet sites. Having digital omnipresence on serval platforms is your key to success. Remember MORE INFLUENCE = MORE💰. We have details on how you can utilize High Tech Marketing and Win!
Helping You Build Your Future Wealth Through Real Estate
As we move forward…it's been tough as we navigated through all the changes. Putting your dream of a new home on HOLD shouldn't be one of them.  Now more than ever knowledge will be your power. Know the Market You're In and your Negotiation Power. Check out Categories for additional updates regarding the Market | Buying | Selling & My Blueprint to Your 🔑 to 🏡 Buying & Selling Success
 In Closing
If you have any questions, contact us: Chatbot 🤖 at the bottom.  Contact me by Email 📩 or my Cell 📲 @ 248-343-2459.  With all the doom and gloom of the virus, one thing history has shown us, this will NOT define us.  Stay safe! Please share your thoughts below or what future article you would like to see. Your opinion is important to us…. this site is for you ❣

Could you help me Find my Perfect Ideal Home!
Please tell me what you're looking for in your new Ideal Home…I can help you find the newest and best homes on the market.
Need Help with the Right Mortgage?
See how you can save Thousands.

Have Questions?
Let us know what we can do to help you work your way through the Buying & Selling Puzzle.

Website Development, Production, and Content by Pam Sawyer @ Team Tag It Sold © 2017 All Rights Reserved