How Much Time Do You Need To Save for a Down Payment?
One of the biggest hurdles homebuyers face is saving for a down payment. As you're budgeting and planning for your home purchase, you'll want to understand how much you'll need to put down and how long it will take you to get there. The process may actually move faster than you think.
Using data from the U.S. Department of Housing and Urban Development (HUD)
Using Apartment List, we can estimate how long it might take someone earning the median income and paying the median rent to save up for a down payment on a median-priced home. Since saving for a down payment can be a great time to practice budgeting for housing costs, this estimate also uses the concept that households should not pay more than 28% of their total income on monthly housing expenses.
According to the data, the national average for the time it would take to save for a 10% down payment is right around two and a half years (2.53). Residents in Iowa can save for a down payment the fastest, doing so in just over one year (1.31). The map below illustrates this time (in years) for each state: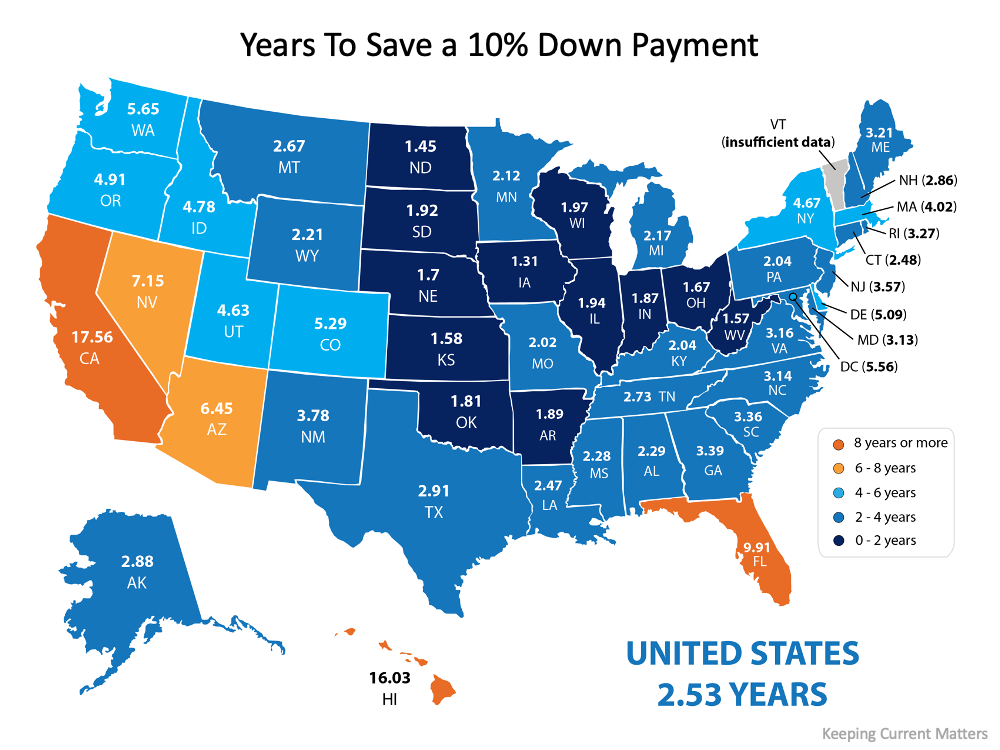 What if you only need to save 3%?
What if you're able to take advantage of one of the 3% down payment programs available? It's a common misconception that you need a 20% down payment to buy a home. Still, there are actually more affordable options and down payment assistance programs available, especially for first-time buyers. The reality is, saving for a 3% down payment may not take several years. In fact, it could take less than a year in most states, as shown in the map below: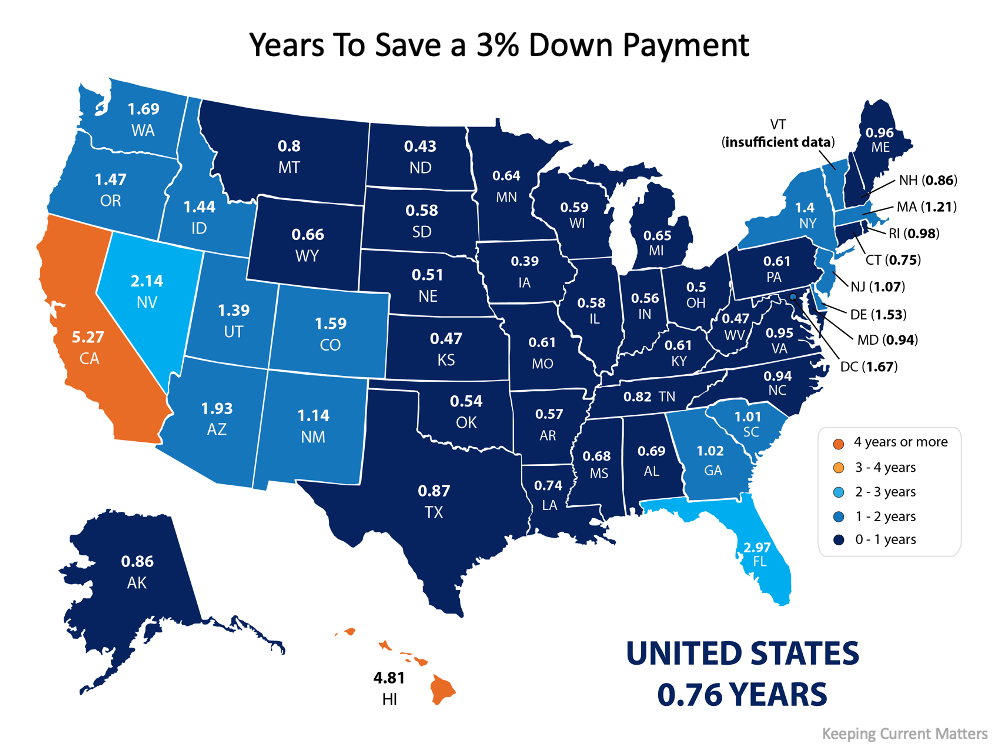 Bottom Line
Wherever you are in the process of saving for a down payment, you may be closer to your dream home than you think. Let's connect to explore the down payment options available in our area and how they support your plans.
Helping You Build Your Future Wealth Through Real Estate
As we move forward…it's been tough as we navigated through all the changes. Putting your dream of a new home on HOLD shouldn't be one of them.  Now more than ever knowledge will be your power. Know the Market You're In and your Negotiation Power. Check out Categories for additional updates regarding the Market | Buying | Selling & My Blueprint to Your 🔑 to 🏡 Buying & Selling Success
 In Closing
If you have any questions, contact us: Chatbot 🤖 at the bottom.  Contact me by Email 📩 or my Cell 📲 @ 248-343-2459.  With all the doom and gloom of the virus, one thing history has shown us, this will NOT define us.  Stay safe! Please share your thoughts below or what future article you would like to see. Your opinion is important to us…. this site is for you ❣

Could you help me Find my Perfect Ideal Home!
Please tell me what you're looking for in your new Ideal Home…I can help you find the newest and best homes on the market.
Need Help with the Right Mortgage?
See how you can save Thousands.

Have Questions?
Let us know what we can do to help you work your way through the Buying & Selling Puzzle.

Website Development, Production, and Content by Pam Sawyer @ Team Tag It Sold © 2017 All Rights Reserved