If you looking to buy a home in Metro Detroit, you need to know how Mortgage Rates Impacts Your Home Purchase Power and your budget. 
If you're planning to buy a home, it's critical to understand the relationship between mortgage rates and your purchasing power. Purchasing power is the amount of home you can afford to buy that's within your financial reach. Mortgage rates directly impact the monthly payment you'll have on the home you purchase. So, when rates rise, so does the monthly payment you're able to lock in on your home loan. In a rising-rate environment like we're in today, that could limit your future purchasing power.
Today, the average 30-year fixed mortgage rate is above 5%, and in the near term, experts say that'll likely go up in the months ahead. You have the opportunity to get ahead of that increase if you buy now before that impacts your purchasing power.
Mortgage Rates Play a Large Role in Your Home Search
The chart below can help you understand the general relationship between mortgage rates and a typical monthly mortgage payment within a range of loan amounts. Let's say your budget allows for a monthly mortgage payment in the $2,100-$2,200 range. The green in the chart indicates a payment within that range, while the red is a payment that exceeds it (see chart below):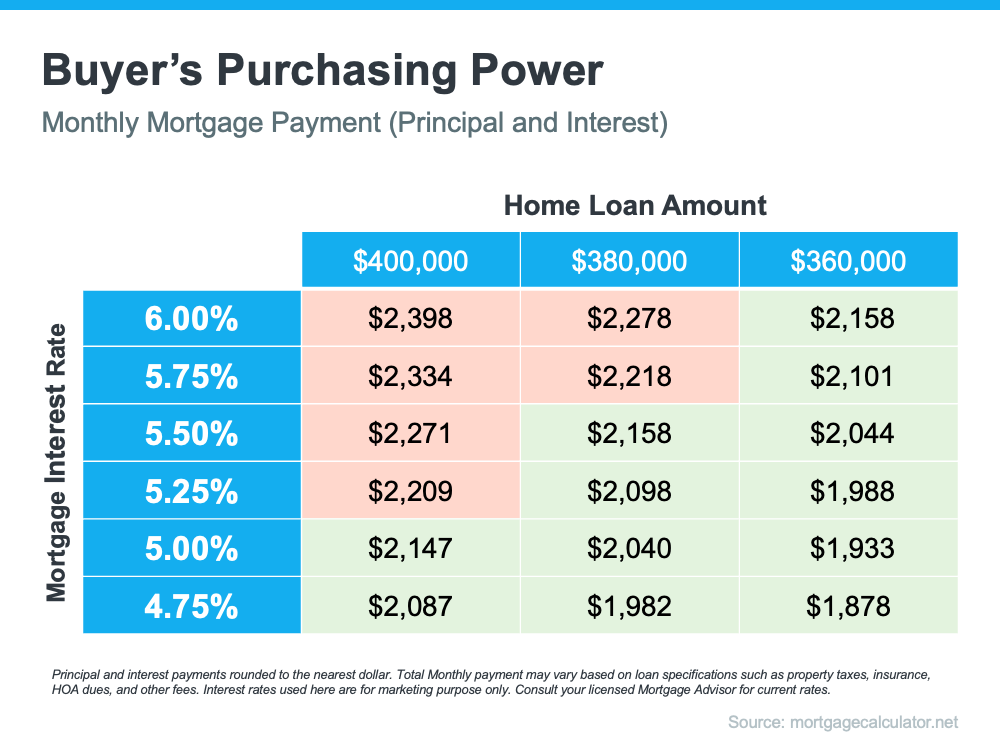 As the chart shows, you're more likely to exceed your target payment range as mortgage rates increase unless you pursue a lower home loan amount. If you're ready to buy a home, use this as your motivation to purchase now so you can get ahead of rising rates before you have to make the decision to decrease what you borrow in order to stay comfortably within your budget.
Work with Trusted Advisors To Know Your Budget and Make a Plan
It's critical to keep your budget top of mind as you're searching for a home. Danielle Hale, Chief Economist at realtor.com, puts it best, advising that buyers should:
"Get preapproved with where rates are today, but also consider what would happen if rates were to go up, say another quarter of a point, . . . Know what that would do to your monthly costs and how comfortable you are with that, so that if rates do move higher, you already know how you need to adjust in response."
No matter what, the best strategy is to work with your real estate advisor and a trusted lender to create a plan that takes rising mortgage rates into consideration. Together, you can look at your budget based on where rates are today and craft a strategy so you're ready to adjust as rates change.
Find Out How To Save Thousand in Closing Cost
💥 Important 💥 Find a lender that won't charge you for bank fees and will pay you to refinance with them when mortgage rates go down. If you don't have one I do. Watch the Video
We are just in a little pump in the road for mortgage rates and you're in shock over the huge increase. As a solution to help you over the pump, as a Keller Williams agent I can help you save thousands in closing costs with our Keller Mortgage Zero Plus 3 ways.
1.When you buy you save thousands 2. You can offer potential buyers for your home Zero Plus so they can save thousands. This is a great incentive to keep them focused on your property and not your competition. 3. When mortgage rates go down you can save thousands again and lower your monthly payment…Win ~ Win.  It's your money, we need to put it to work for you, not the lender.
Your 🔑 To Home Selling and Buying Success ~ Safe e-Guides
Watch Video for Sneak Peak
Don't muddle through the Home Buying and Selling Process. Buying a new home is a dream for all of us, and it's an emotional and stressful process.
It also involves the most significant financial transaction you probably will make in your lifetime. Your Buying Guide…will walk you through tips, strategies, and how to understand the numbers to strengthen your negotiation power.
Your Selling Guide…It will help you work through the selling process using the latest in high-tech market tools, so you make MORE Money. Our goal is to separate your home from the competition, keep Buyers focused on your house. The Selling Guide is very detailed and works step-by-step, so you're guaranteed Top Dollar for your home.
Bottom Line: How Mortgage Rates Impact Home Purchase
Even small increases in mortgage rates can impact your purchasing power. If you're in the process of buying a home, it's more important than ever to have a strong plan. Let's connect so you have a trusted real estate advisor and a lender on your side who can help you strategize to achieve your dream of homeownership this season.
As we move forward, it's been challenging as we navigated through all the changes. Putting your dream of a new home on HOLD shouldn't be one of them. Now more than ever, knowledge will be your power. Know the Market You're In and your Negotiation Power. Check out Categories for additional updates regarding the Market | Buying | Selling
If You Need To Sell 1st… I Recommend

🛑

Doing This!
No 2 homes are alike, and agents need to 🛑 marketing ONE size fits all. We no longer have an exposure problem (internet). Your home is buried on public home search internet sites. The only way to compete on those platforms is the price. If you want more money, you need to apply Influence. Separate your home from the competition, so the Buyer sees value. Keeping them focused on your property and not getting lost in homes' inaccurate data on public internet sites is necessary. Having digital omnipresence on serval platforms is your key to success. Remember MORE INFLUENCE = MORE 💰. We have details on how you can utilize High Tech Marketing and Win!
Have Questions?
If you have any questions, contact us: Chatbot 🤖 at the bottom. Contact me by Email 📩 or my Cell 📲 @ 248-343-2459. Would you mind sharing your thoughts below or what future article you would like to see? Your opinion is important to us…. this site is for you.🤩 To Keep up to date request our 🏡 Chat Newsletter or Follow us on Facebook, Instagram, or YouTube