In today's Metro Detroit housing market, the housing supply and demand have created a hot mess for home buying and great news for home selling by creating a bidding war environment.

There are far more buyers looking for homes than sellers listing their houses in today's housing market. Based on the concept of supply and demand, this means home prices will naturally rise. Why is that? When more people are trying to buy an item than there are making that item available for sale, that drives prices up. And that's precisely the case in today's housing market. So, knowing what's happening with the inventory of homes for sale and the demand for housing is crucial for today's buyers and sellers.
Nationally, Demand Is High, and Supply Is Very Low
The latest buyer and seller activity data from the National Association of Realtors (NAR) indicates buyer traffic heavily outweighs seller traffic today, as shown in the maps below. There are far darker blues (strong buyer activity) on the left and much lighter blues (weak seller activity). In other words, this shows how the demand for homes is significantly greater than what's available to purchase.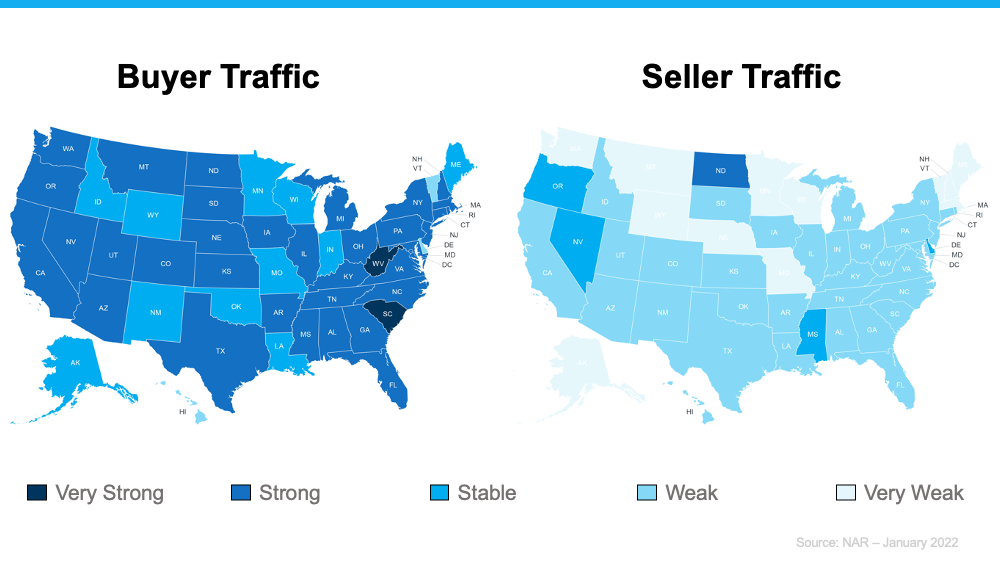 What Does This Mean if You're a Seller?
Supply is struggling to keep pace with demand. In fact, the inventory of homes for sale recently hit an all-time low. That gives you an incredible advantage when you sell your house. With so few listings, it's likely more potential buyers will view your home – especially if you work with an agent to price it right. That means there's a high chance you'll receive multiple offers or buyers will enter a bidding war for your house. And that dynamic can drive the sale price of your home up.

What Does This Mean if You're a Buyer?
As a buyer with fewer options available, you're likely to see more competition, so you need to win strategically. First, make sure you have a trusted professional on your side. Your real estate agent will help you understand your local market and work with you to act quickly when the time is right. Even when it's challenging to find a home, you can still succeed as a buyer today if you have a trusted advisor on your side every step of the way.
🎯Important 🎯 Know Your Numbers and Negotiation Power
👈👈👈 Video will help you through the process
To succeed in an ever-changing market, I believe education is key. I don't know about you. 
I don't want to spend more than I must when I buy. More importantly, I want every penny I'm due when I'm selling as well. So, know the trends.
Peek into my Crystal Ball ~ With a massive spike in interest rates, it will be crucial to Know the Market You're In. I've provided 3-year live Home Price trends by city and price range. Also, 3-year live graph regarding the housing inventory and how strong your negotiation is. You also have access to custom data for Sold Homes, so you don't have to rely on Public Websites Estimates.
Your🔑 to Home Selling and Buying Success
 Watch Video for Sneak Pea👉👉👉
Don't muddle through the Home Buying and Selling Process.
Buying a new home is a dream for all of us, and it's an emotional and stressful process. It also involves the most significant financial transaction you probably will make in your lifetime. Your Selling Guide…It will help you work through the selling process using the latest in high-tech market tools, so you make MORE MONEY.
Our goal is to separate your home from the competition, keep Buyers focused on your house. The Selling Guide is very detailed and works step-by-step, so you're guaranteed Top Dollar for your home.
 Bottom Line ~ Housing Supply and Demand in Today's Market
Whether you're a home buyer, seller, or both, knowledge truly is power. Let's connect today so you can better understand what's happening in our local market and achieve your home buying and selling goals this year.
Simplifying Real Estate Through Education
As we move forward, it's been challenging as we navigated through all the changes. Putting your dream of a new home on HOLD shouldn't be one of them. Now more than ever, knowledge will be your power. Know the Market You're In and your Negotiation Power. Check out Categories for additional updates regarding the Market | Buying | Selling
If You Need To Sell 1st… I Recommend

🛑

Doing This!
No 2 homes are alike, and agents need to 🛑 marketing ONE size fits all. We no longer have an exposure problem (internet). Your home is buried on public home search internet sites. The only way to compete on those platforms is the price. If you want more money, you need to apply Influence. Separate your home from the competition, so the Buyer sees value. Keeping them focused on your property and not getting lost in homes' inaccurate data on public internet sites is necessary. Having digital omnipresence on serval platforms is your key to success. Remember MORE INFLUENCE = MORE 💰. We have details on how you can utilize High Tech Marketing and Win!
Have Questions?
If you have any questions, contact us: Chatbot 🤖 at the bottom. Contact me by Email 📩 or my Cell 📲 @ 248-343-2459. Would you mind sharing your thoughts below or what future article you would like to see? Your opinion is important to us…. this site is for you.🤩 To Keep up to date request our 🏡 Chat Newsletter or Follow us on Facebook, Instagram, or YouTube