Looking to Buy a Home in Metro Detroit MI for 1st Time Homebuyers? We can help you close that gap today and start you on the path to homeownership. No more renting 🤩
As we celebrate Black History Month, we reflect on the past and present experiences of Black Americans. This includes the path toward investing in a home of their own. And while equitable access to housing has come a long way, homeownership can be a steeper climb for households of color. It's an important experience to talk about, along with how it can make all the difference for diverse homebuyers to work with the right real estate experts.
Let's Close the Gap
We know it's more challenging for some to buy a home because there's still a measurable gap between the overall average U.S. homeownership rate and that of non-white groups. Today, the lowest homeownership rate persists in the Black community (see graph below):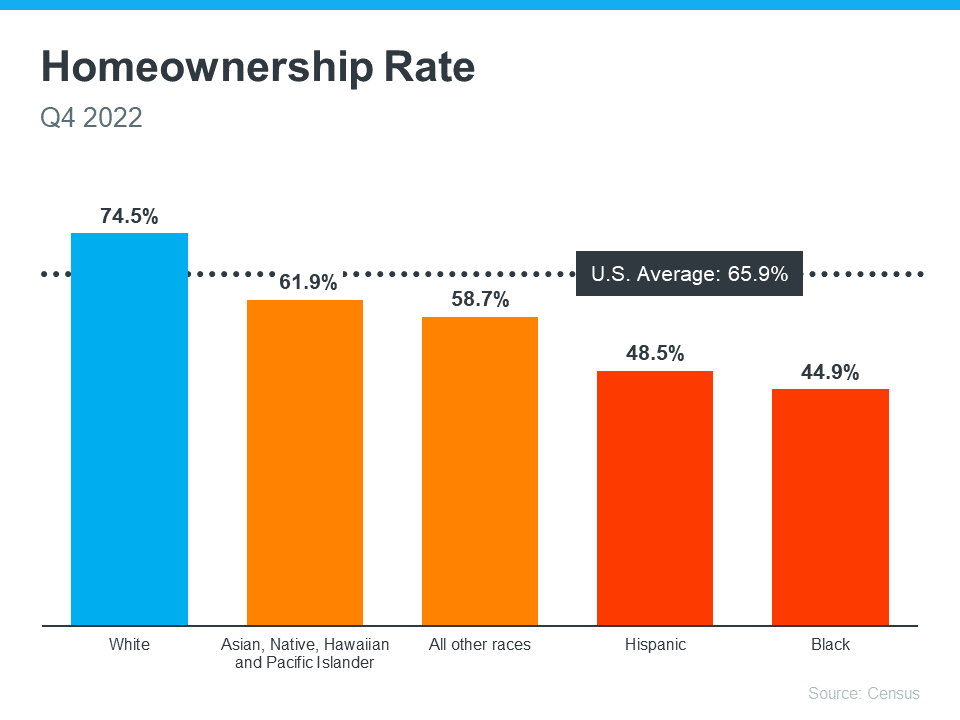 Best Way to Build your Finacial Wealth ~ Buy a Home
Homeownership is an essential piece for building household wealth that can be passed down to future generations. However, there are obstacles in the home buying process that can negatively impact certain groups. This can delay or prevent many from achieving homeownership, challenging their ability to benefit from everything owning a home offers. A recent report from the National Association of Realtors (NAR) explains:
". . . not all [households] have the same opportunities to homeownership, with many of them facing more constraints in their effort to achieve the American Dream. . . . Given that homeownership contributes to wealth accumulation and the homeownership rate is lower in minority groups, data shows that the net worth for these groups is also lower."
Getting the Right Support and Access to Resources
However, with the right support and resources, there are solutions if you're part of this community and planning to buy a home. Jacob Channel, Senior Economist at LendingTree, shares:
"The problem does exist. We have data that back that up. But there are solutions, and Black homebuyers shouldn't lose faith that they'll never be able to become homeowners."
That's why it's so important for members of diverse groups to have the right team of experts on their sides throughout the home buying process. . It's important to find the right professional who is an experienced advisor who understands the local market and gives the best advice. They're also compassionate allies who will advocate for your best interests every step of the way.
Bottom Line to Closing the Homeownership Gap Today
Access to housing improves every day, but there are still equity challenges that some buyers face. Let's connect to make sure you have an advocate on your side as you walk the path to homeownership.
If you find this information useful, like it and share it with your friends and family.
Step #1

~

Do You Homework to find the Best Lender and Program for You
💥 Important 💥 We've seen many changes lately with high mortgage rates and now lenders are designing special programs to help you and compete for your business… Great News!
✅ Do ~ Find out your FICA Score not your credit score. Check with your banking institution, they usually provide free FICA Scores. 🛑 Don't give a lender your SS# to pull credit until you found the program that works best for you.
Important Do's and Don'ts
. ✅ Do ~ Pull a free credit report from your bank or Free Credit Agency. ✅ Do ~ Call around and find independent banks that are setting their own rates. Check with your Credit Union as well. ✅ Give the lenders your FICA score to get quotes. 🛑 DON'T ~give out your Social Security Number as they will pull your credit. Wait until you select a lender and a program that works best for you then make an application. You're getting rough quotes for now based on the FICA score you obtained, it doesn't have to be exact for now. You're in the weeding-out phase of your search. ✅ DO ~ contact me with any questions you may have via my cell at 248-343-2459
🙋‍♀️~ Not sure where to start?
Get Your Do's and Don'ts during the loan process. I do have lenders I've pre-screened based on low fees, special programs, rates, and best service. Let's connect and discuss your options. You can also check with your Bank or Credit Union. Just don't give out your SS# so they can't pull credit until you're ready.
Step #2

~

Your

🔑 To Home Selling and Buying Success ~ Safe e-Guides
💥 Important 💥 Your Guides also have educational videos and links regarding where home prices are heading, mortgage rates, Housing Market Trends, and more.
Watch the Video for Sneak Peak

▶
Don't muddle through the Home Buying and Selling Process. Buying a new home is a dream for all of us, and it's an emotional and stressful process. Education will be key, so get your safe PDF Guides 1st.
Step #3

~

💥

Search Better Than a Realtor💥 on a Platform that was Designed by One.
Find Your Ideal Home Here ~ Pre-loaded Home Search: Newly Listed ~ Coming Soon ~ SOLD ~ Luxury~ Waterfront ~ and More🤩
I've programmed the home search platform so you now have direct access to the Multiple Listing Service so you can search BETTER than a Realtor.
Better yet, you can customize your features, and tech support and you can schedule an appointment right online. To learn more about how to modify your search with our custom options…Watch Video Here.
As we move forward, it's been challenging as we navigated through all the changes. Putting your dream of a new home on HOLD shouldn't be one of them. Now more than ever, knowledge will help you set up your Negotiation Power. Check out Categories for additional updates regarding the Market | Buying | Selling

If You Need To Sell 1st…
Keep Buyer Focused on your Property vs the competition
Marketing Your Home
No 2 homes are alike, and agents need to 🛑 marketing ONE size fits all. We no longer have an exposure problem (internet). Your home is buried on public home search internet sites. The only way to compete on those platforms is the price. If you want more money, you need to apply Influence. Separate your home from the competition, so the Buyer sees value. Keeping them focused on your property and not getting lost in homes' inaccurate data on public internet sites is necessary. Having digital omnipresence on serval platforms is your key to success. Remember MORE INFLUENCE = MORE 💰. We have details on how you can utilize High Tech Marketing and Win!
Have Questions?
If you have any questions, contact us: Chatbot 🤖 at the bottom. Contact me by Email 📩 or my Cell 📲 @ 248-343-2459. Would you mind sharing your thoughts below or what future article you would like to see? Your opinion is important to us…. this site is for you.🤩 To Keep up to date request our 🏡 Chat Newsletter or Follow us on Facebook, Instagram, or YouTube.
Scroll Down for Testimonials
Have a Question ~ Tech Support?
☎ ~

+1 (248) 343-2459
📩 Email
teamtagitsold.com
Website Development, Production, and Content by Pam Sawyer @ Team Tag It Sold © 2017 All Rights Reserved