No two homes are alike and neither are real estate agents. Let's review how to find the right real estate agent to sell your home in Metro Detroit MI.
With today's real estate market moving as fast as it is, working with the right estate professional is more essential than ever. They have the skills, experience, and expertise it takes to navigate the highly detailed and involved process of selling a home. That may be why the percentage of people who list their houses on their own, known as a FSBO or For Sale By Owner, has reached its lowest point since 1985 (see graph below):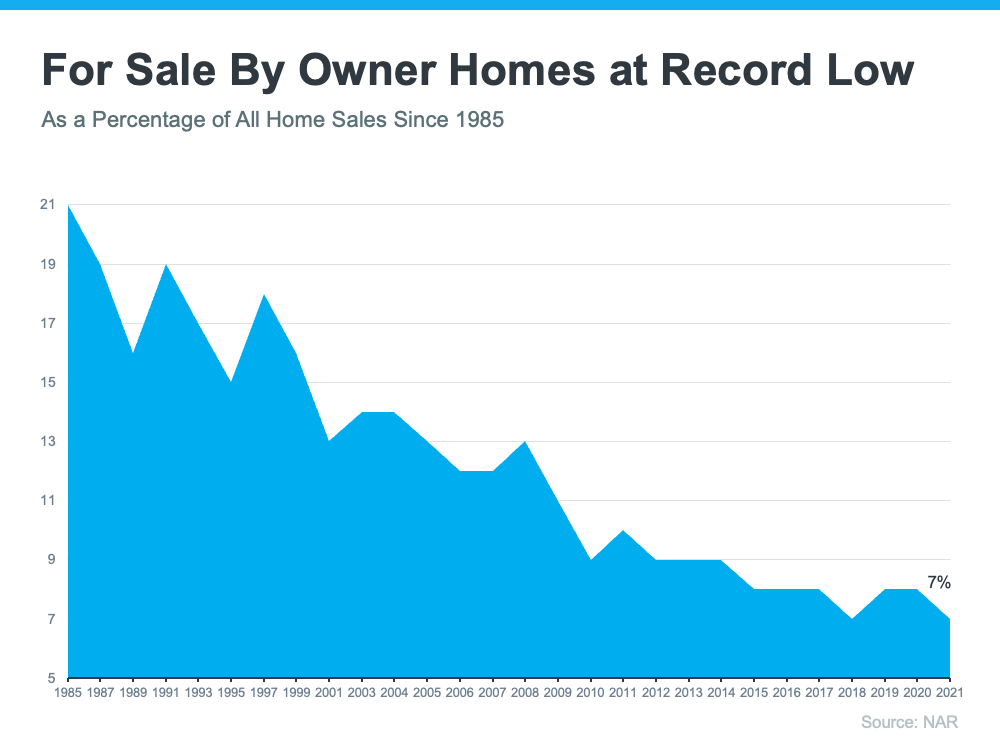 Here are five reasons why selling with a real estate professional makes more sense, even today.
1. They Know What Buyers Want To See
Before you decide which projects and repairs to take on, connect with a real estate professional. They have first-hand experience with today's buyers, what they expect, and what you need to do to make sure your house shows well.
If you don't lean on their expertise, you may spend your time and money on something that isn't essential. That's because, in today's low-inventory market, buyers are willing to take on more of the renovation work themselves. A survey from Freddie Mac finds that:
". . . nearly two-in-five potential homebuyers would consider purchasing a home requiring renovations." 
A professional can help you decide what you need to tackle. It's not canned advice you could find online – it's recommendations specific to your house and your area.
2. Find the Right Agent to  Maximize Your Buyer Pool
Marketing your home is still key and having a strong plan is more important than ever. The market has shifted to more homes available for sale and Home Buyers are shifting their budgets due to an increase in the Mortgage rates.  You no longer can rely on just posting your house on multiple listing services and public websites. This has created a huge problem with exposure. You are competing based on price alone, not value. No 2 homes are alike and neither should your marketing plan. You need to market where buyers shop and that includes Social Media and YouTube. Request an 8-week marketing plan and review how they are going to attract buyers to your home and separate you from the competition. Click the link for step by step guide.  INFLUENCE Buyers = MORE 💰
Real estate professionals have an assortment of tools at their disposal, such as social media followers, agency resources, and the MLS to ensure your house is viewed by the most buyers. The problem, most agents don't know how to use them or use them correctly According to realtor.com:
"Only licensed real estate agents can list homes on the MLS, which is a one-stop online shop of sorts for getting a house seen by thousands of agents and home buyers. . . . This is certainly one of many good reasons why the majority of home sellers decide to employ the services of a listing agent rather than going it alone."
Without access to these tools, your buyer pool is limited. And you want more buyers to view your house since buyer competition can drive your final sales price higher.
3. They Understand the Fine Print
Today, more disclosures and regulations are mandatory when selling a house. That means the number of legal documents you'll need to juggle is growing. That's why Investopedia says:
"One of the biggest risks of FSBO is not having the experience or expertise to navigate all of the legal and regulatory requirements that come with selling a home."
A real estate professional knows exactly what needs to happen, what all the paperwork means, and how to work through it efficiently. They'll help you review the documents and avoid any costly missteps that could occur if you try to handle them on your own. More importantly, keep you updated and informed on the current market conditions and strengthen your negotiation power. You don't need a realtor to track the Multiple Listing Service Home Price live 3-year Trends. I've programmed my site to give you direct access to my site so you can follow the Metro Detroit Home Prices and Trends .  You have access below as well so you can keep reading.
4. Find Out How  Trained they are regarding Negotiations ~ Ask Questions
I recommend reading what they write and do they have a negotiation plan upfront in writing. Are they educating you on the current housing trends? Just like no 2 homes are alike neither are real estate agents. To help you get started you can review Simplifying Real Estate ~ blog posts and videos. If you sell without a professional, you'll also be solely responsible for all the negotiations. That means you'll have to coordinate with:
The buyer, who wants the best deal possible
The buyer's agent will use their expertise to advocate for the buyer
The inspection company, which works for the buyer and will almost always find concerns with the house
The appraiser assesses the property's value to protect the lender
Instead of going toe-to-toe with all these parties alone, lean on an expert. They'll know what levers to pull, how to address everyone's concerns, and when you may want to get a second opinion. 
5. They Know How To Set the Right Price for Your House
If you sell your house on your own, you may over or undershoot your asking price. That could mean you'll leave money on the table because you priced it too low or your house will sit on the market because you priced it too high. Pricing a House requires expertise. Investopedia explains it like this:
". . . There is no easy or universal way to determine market value for real estate."
More importantly, know the difference between Price-Driven vs Value-Driven approaches. Most realtors use price-driven only. Appraisers use a value-driven approach, and you need to review price and value to determine you're not leaving any money on the table for the buyer and to make sure the buyer does have enough funds to cover the sale in a bidding war.
Step #1 ~ How to Sell Your Home:  INFLUENCE = More

💰
Even in a Sellers' Market, Marketing your Home is very important … ask McDonalds. You need to stay in front of all potential buyers. They may not even know they want to move.  I've sold many homes over the years to buyers that we not looking for or planning to move. So they were not working with a realtor or going on the public website either. They saw the value and paid top dollar because the home was perfect for them. 
Step #2 ~Live 3-Year Graph for Home Prices and Trends by City
💥 Important 💥 This is Where You Track Home Prices and Housing Inventory Levels (Supply and Demand)
It has everything you need to determine the Market You're In and review your City's 3-year live trends regarding prices. Better yet, you can even review Sold properties and not rely on online estimates. I've provided additional videos regarding the housing market and how you can benefit from all the tools on this page. Whether you're selling or buying real estate now or later. I recommend keeping up to date and protecting your real estate investment.  It's essential to follow the Housing Market Trends for Metro Detroit and know The Market You're In, and it's the only way you'll know your true Negotiation Power. 
Step #3 ~ Your 🔑 To Home Selling and Buying Success ~ Safe e-Guides
💥 Important 💥 Your Guides also have educational videos and links regarding where home prices are heading, mortgage rates, Housing Market Trends, and more.
👈👈👈

Watch Video for Sneak Peak
Don't muddle through the Home Buying and Selling Process. Buying a new home is a dream for all of us, and it's an emotional and stressful process.
It also involves the most significant financial transaction you probably will make in your lifetime. Your Buying Guide…will walk you through tips, strategies, and how to understand the numbers to strengthen your negotiation power.
Your Selling Guide…It will help you work through the selling process using the latest in high-tech market tools, so you make MORE Money. Our goal is to separate your home from the competition, keep Buyers focused on your house. The Selling Guide is very detailed and works step-by-step, so you're guaranteed Top Dollar for your home.
Step #4 ~ Look up Sold Data by your location. 
💥 Important 💥 Modify your search and select home criteria closest to the features and benefits of your home. 
When I started in real estate 22 years ago, I found many homeowners and home buyers were relying on their agent regarding Price vs finding an agent that will help them work through the education process regarding Value. See the difference between Price Driven Approach vs Value Driven. One thing I learned is that numbers do represent your money. Either you leave money on the table for the buyer when you sell or spend more than you should when you buy. Agents pick the houses and bring you the comps and recommend a price based on the data they pulled; vs. you have the access to the data and work through the process of value together and you select the best price for your home, not the agent. You have options to double-check the numbers, it's your money.
Bottom Line to Finding the Right Real Estate Agent to Sell Your Home 
There's a lot that goes into selling your house. Start online and before you schedule appointments to interview agents, go to their website and read what they write. Instead of tackling it alone, let's connect so you have and go over some questions you may have and help you work through the entire process.
As we move forward, it's been challenging as we navigated through all the changes. Putting your dream of a new home on HOLD shouldn't be one of them. Now more than ever, knowledge will be your power. Know the Market You're In and your Negotiation Power. Check out Categories for additional updates regarding the Market | Buying | Selling

If You Need To Sell 1st… I Recommend

🛑

Doing This!
No 2 homes are alike, and agents need to 🛑 marketing ONE size fits all. We no longer have an exposure problem (internet). Your home is buried on public home search internet sites. The only way to compete on those platforms is the price. If you want more money, you need to apply Influence. Separate your home from the competition, so the Buyer sees value. Keeping them focused on your property and not getting lost in homes' inaccurate data on public internet sites is necessary. Having digital omnipresence on serval platforms is your key to success. Remember MORE INFLUENCE = MORE 💰. We have details on how you can utilize High Tech Marketing and Win!
Have Questions?
Contact information below 👇 including sending a text message or Chatbot 🤖 at the bottom right. Would you mind sharing your thoughts below or what future article you would like to see in the comments? Your opinion is important to us…. this site is for you.🤩 To Keep up to date request our 🏡 Chat Newsletter or Follow us on Facebook, Instagram, or YouTube.
Scroll Down for Testimonials
Let us know what we can do to help you work your way through the Buying & Selling Puzzle.
Have a Question ~ Tech Support?
☎

~

+1 (248) 343-2459
📩 Email
teamtagitsold.com
Website Development, Production, and Content by Pam Sawyer @ Team Tag It Sold © 2017 All Rights Reserved