Even though interest rates have increased, it will be important to know how to navigate the housing market in Metro Detroit. 
If you're thinking of buying a home today, you already know that the number of homes available for sale is low. But what does that really mean for you? As a buyer, low housing supply coupled with high buyer demand means you should be prepared to navigate a highly competitive market where homes sell fast and get multiple offers. Realtor.com has this to say:
"Homes also flew off the market at record pace as buyers put offers in the moment properties came up for sale…."
In a bidding war situation, doing everything you can to get ahead of the competition is a wise move. That's because when you find a house and submit an offer, it'll likely be up against strong offers from other buyers. According to the latest Realtors Confidence Index from the National Association of Realtors (NAR), homes today are receiving an average of 3.9 offers. That's the most offers we've seen in January for the last 5 years (see graph below):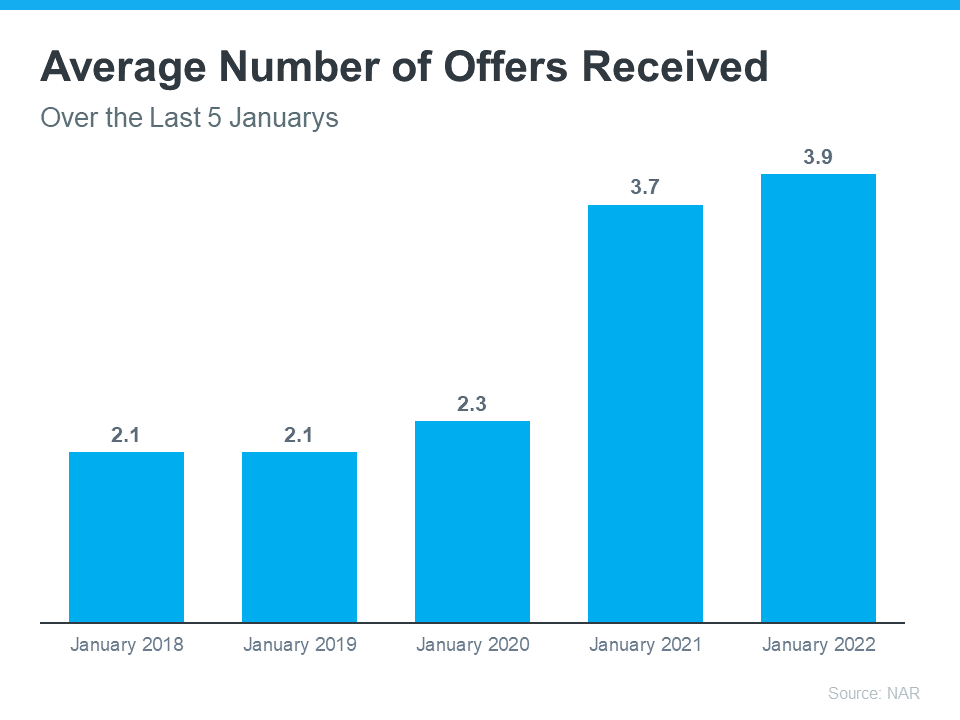 To help you navigate bidding wars with multiple offers, an expert real estate advisor is key. They know what's worked for other buyers, what sellers are looking for, and how to help you prepare when it comes time to make an offer. Here are three tips to keep in mind that will help you make the best offer possible.
1. Know Your Numbers
To start, it's essential to understand the Housing Market numbers including House Prices and Inventory Trends. You'll have a  monthly mortgage budget. Now you need to know the housing market so you can find your ideal home that fits your budget and strengthen your Negotiation Power.
2. Do Your Homework
As a home buyer, you don't want to settle for less than what you want and this is how you won't.  Knowing your budget and what you can afford is critical to your success as a homebuyer. The best way to understand your numbers is to work with a lender so you can get pre-approved for a loan. Pre-approval shows sellers you're serious, which can give you a competitive edge. You should also know making an offer at the home's asking price may not be enough. Homes today often sell for more than their listing price. An agent can help you understand the market value of the home and what other homes are selling for in your area.

💥 IMPORTANT 💥Know the Market and Protect Your Money ❗
To succeed in an ever-changing market, I believe education is key. I don't know about you; I don't want to spend more than I must when I buy. More importantly, I want every penny I'm due when I'm selling as well. So, know the trends.
Take a Peek into my Crystal Ball ~ With a massive spike in interest rates, it will be crucial to Know the Market You're In. I've provided 3-year live Home Price trends by city and price range. Also, 3-year live graph regarding the housing inventory and how strong your negotiation is. You also have access to custom data for Sold Homes, so you don't have to rely on Public Websites Estimates. 
3. Be Ready To Move Fast
Speed and the pace of sales are contributing factors to today's competitive housing market. When homes are selling fast, it's important to stay on top of the market and be ready to move quickly. We will review the numbers in advance and know what homes are selling for and their values in your desired locations.  Knowing what homes are worth will help you put together your best offer as soon as you find the home you want to buy. Also, I will help you stay up to date on the latest listings.
4. Make a Strong but Fair Offer
When you're up against other offers, putting your best offer forward from the start is key. Lean on your agent to write a strong offer and use their expertise on which levers you can pull to make your offer as enticing as possible. One option is to wave some of your contract contingencies (conditions you set that the seller must meet for the purchase to be finalized). Just remember there are certain contingencies you don't want to give up, like the home inspection.
Your 🔑 To Home Selling and Buying Success ~ Safe PDF Guides
👈👈👈

Watch Video for Sneak Peak
Don't muddle through the Home Buying and Selling Process. Buying a new home is a dream for all of us, and it's an emotional and stressful process.
It also involves the most significant financial transaction you probably will make in your lifetime. Your Buying Guide…will walk you through tips, strategies, and how to understand the numbers to strengthen your negotiation power.
Your Selling Guide…It will help you work through the selling process using the latest in high-tech market tools, so you make MORE Money. Our goal is to separate your home from the competition, keep Buyers focused on your house. The Selling Guide is very detailed and works step-by-step, so you're guaranteed Top Dollar for your home.
Bottom Line How To Navigate the Housing Market. 
No matter what, make sure your agent is your best resource for making an offer that stands out in a competitive market. Read what they write. Ask questions about the market and see what their knowledge truly is. Not all real estate agents are created equal, and I recommend interviewing agents for the job of helping you buy a new home or sell your existing one. Let's connect to talk through what you can expect as a buyer and how to kick off a successful home search.
Simplifying Real Estate Through Education
As we move forward, it's been challenging as we navigated through all the changes. Putting your dream of a new home on HOLD shouldn't be one of them. Now more than ever, knowledge will be your power. Know the Market You're In and your Negotiation Power. Check out Categories for additional updates regarding the Market | Buying | Selling
If You Need To Sell 1st… I Recommend

🛑

Doing This!
No 2 homes are alike, and agents need to 🛑 marketing ONE size fits all. We no longer have an exposure problem (internet). Your home is buried on public home search internet sites. The only way to compete on those platforms is the price. If you want more money, you need to apply Influence. Separate your home from the competition, so the Buyer sees value. Keeping them focused on your property and not getting lost in homes' inaccurate data on public internet sites is necessary. Having digital omnipresence on serval platforms is your key to success. Remember MORE INFLUENCE = MORE 💰. We have details on how you can utilize High Tech Marketing and Win!
Have Questions?
If you have any questions, contact us: Chatbot 🤖 at the bottom. Contact me by Email 📩 or my Cell 📲 @ 248-343-2459. Would you mind sharing your thoughts below or what future article you would like to see? Your opinion is important to us…. this site is for you.🤩 To Keep up to date request our 🏡 Chat Newsletter or Follow us on Facebook, Instagram, or YouTube