Appraisal Gap Explained:
How to overcome the appraisal gap in Metro Detroit MI ~ 
Appraisal Gap &  Economy 101
When supply is low, and demand is high, prices naturally rise. The appraisal gap is due to bidding wars and the high demand and low inventory of available homes. Buyers are willing to pay more for a house than what it's worth, and that's what's happening in today's housing market. Home prices are appreciating at near-historic rates, which creates some challenges when it comes to home appraisals.
In recent months, it's become increasingly common for an appraisal to come in below the contract price on the house. Shawn Telford, Chief Appraiser for CoreLogic, explains it like this:
"Recently, we observed buyers paying prices above listing price and higher than the market data available to appraisers can support. This difference is known as 'the appraisal gap . . . .'"
Why does an Appraisal Gap happen?
Basically, with the heightened buyer demand, purchasers are often willing to pay over asking to secure the home of their dreams. If you've ever toured a house you've fallen in love with, you understand. Once you start to picture yourself and your furniture in the rooms, you want to do everything you can to land the property, including putting in a high offer to try to beat out other would-be buyers.
When the appraiser comes in, they look at things a bit more objectively. Their job is to assess the home's inherent value, so they're going to study the facts. Dustin Harris, Appraiser Coach, drives this point home:
"It's important for everyone to understand that the appraiser's job in the end is to remain that unbiased third party, to truly tell the client what that home is worth in the current market, regardless of what decisions have been made on the price side of things."
In simple terms, while homebuyers may be willing to pay more, appraisers are there to assess the home's market value. Their goal is to make sure the lender isn't loaning more money than the home is worth. It's objective rather than emotional.
In a highly competitive market like today's, having a discrepancy between the two numbers isn't unusual. Here's a look at the increasing rate of appraisal gaps, according to data from  CoreLogic (see graph below):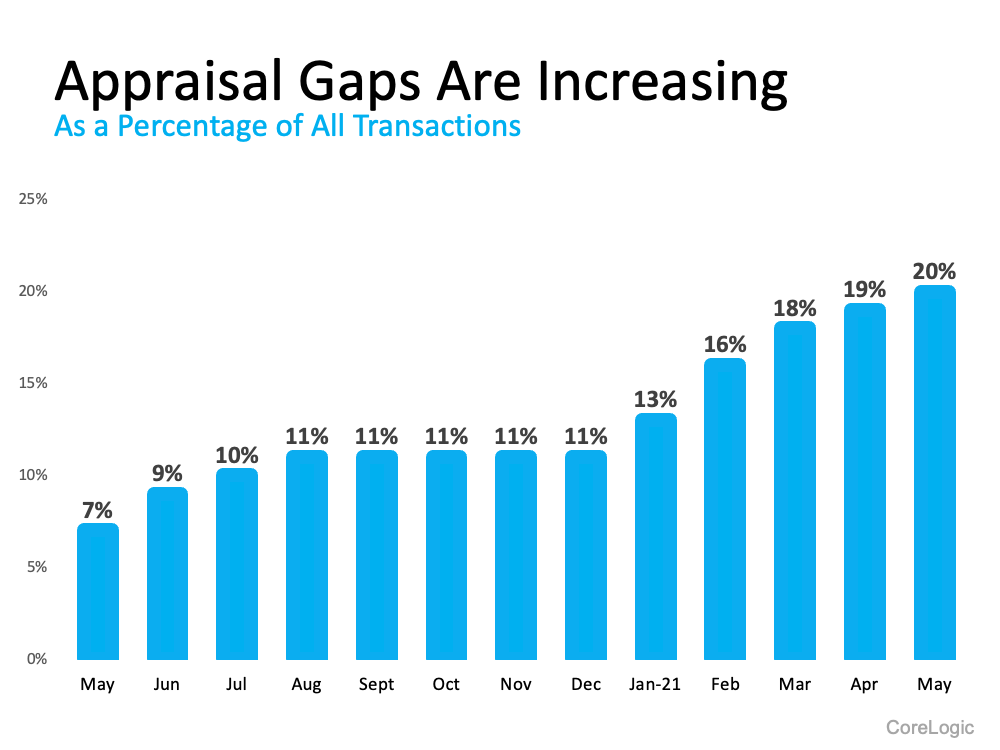 What does the Appraisal Gap mean for you?
Ultimately, knowledge is power. The best thing you can do is understand appraisal gaps may impact your transaction if you're buying or selling. If you encounter an appraisal below your contract price, know that the most common approach in today's sellers' market is for the seller to ask the buyer to make up the price difference. Buyers, be prepared to bring extra money to the table if you really want the home.
Above all else, lean on your real estate agent. Whether you're a buyer or seller, your trusted advisor is your ally if you come up against an appraisal gap. We'll help you understand your options and handle any additional negotiations that need to happen.
Get Your Home Buying & Selling Strategies in our E-Guide
Don't muddle through the home buying and selling process. Buying a new home is a dream for all of us, and it's an emotional and stressful process; it also involves the most significant financial transaction you probably will make in your lifetime.
Your Buyer guide
Your guide will help you buy your ideal home with confidence and save thousands in the process. You will be working with Selling Agents, loan officers, underwriters, title companies…1. Do you know the lingo? 2. What you should avoid after applying for your mortgage 3. Know your Negotiation Power 4. Get to know how agents think and handle negotiations if you find yourself in a multiple offer situation? 5. Read What they Right. Find out the answer by downloading your PDF E-book Buying Guide.
Your Seller Guide
Your guide will help you work through the selling process using the latest in high-tech market tools. Our goal is to separate your home from the competition, keep them focused on your house. The selling Guide is very detailed and works through step by step, so your guaranteed Top Dollar for your home.
Bottom Line regarding the Appraisal Gap
To today's real estate market, it's essential to stay informed on the latest trendLetLet's connect, so you have an ally to help you navigate an appraisal gap to get the best possible outcome.
Peek into My Crystal Ball
As we move forward, it's been challenging as we navigated through all the changes. Putting your dream of a new home on HOLD shouldn't be one of them. Now more than ever, knowledge will be your negotiation power. There are 3 parts to making the most money on the sale of your property. 1. Know the Market You're In 2. High Tech Digital Marketing 3. My Blueprint to Your 🔑 to 🏡 Selling Success. No 2 homes are alike, and agents need to 🛑 marketing 1 size fits all. It's essential to separate your property from the competition. Equally important, you want to keep the buyer focused on your property and not get lost in the shuffle. Having a digital omnipresence on serval platforms is you 🔑 to your success.
Have Questions?
If you have any questions, contact us: Chatbot 🤖 at the bottom. Contact me by Email 📩 or my Cell 📲 @ 248-343-2459. Would you mind sharing your thoughts below or what future article you would like to see? Your opinion is important to us…. this site is for you.🤩 To Keep up to date, Follow us on Facebook, Instagram, or YouTube.

Could you help me Find my Perfect Ideal Home!
Please tell me what you're looking for in your new Ideal Home…I can help you find the newest and best homes on the market.
Need Help with the Right Mortgage?
See how you can save Thousands.

Have Questions?
Let us know what we can do to help you work your way through the Buying & Selling Puzzle.

Website Development, Production, and Content by Pam Sawyer @ Team Tag It Sold © 2017 All Rights Reserved