Depending on where you live in Metro Detroit MI, we've seen huge equity gains due to the low inventory and bidding wars. Home Prices have skyrocketed in the last 2 years. Your home equity can help fuel your move. 
If you own a home, your net worth likely just got a big boost thanks to rising home equity. Equity is the current value of your home minus what you owe on the loan. And today, based on recent home price appreciation, you're building that equity far faster than you may expect – here's how it works.
Because there's an ongoing imbalance between the number of homes available for sale and the number of buyers looking to make a purchase, home prices are on the rise. That means your home is worth more in today's market because it's in high demand. As Patrick Dodd, President, and CEO of CoreLogic, explains:
"Price growth is the key ingredient for the creation of home equity wealth. . . . This has led to the largest one-year gain in average home equity wealth for owners. . . ."
Basically, because your home value has likely climbed so much, your equity has increased too. According to the latest Homeowner Equity Insights from CoreLogic, the average homeowner's equity has grown by $64,000 over the last 12 months.
While that's the nationwide number, if you want to know what's happening in your area, look at the map below. It breaks down the average year-over-year equity growth for each state using the data from CoreLogic.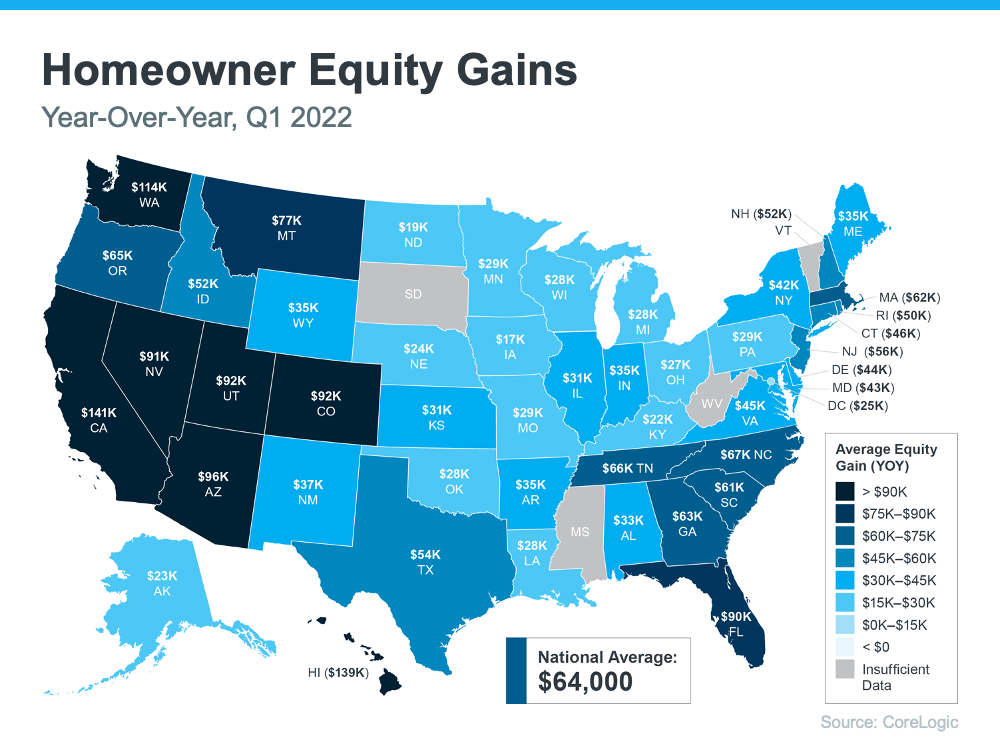 The Opportunity Your Rising Home Equity Provides
In addition to building your overall net worth, equity can also help you achieve other goals like buying your next home. When you sell your current house, the equity you built up comes back to you in the sale. In a market where homeowners are gaining so much equity, it may be just what you need to cover a large portion – if not all – of the down payment on your next home.
So, if you've been holding off on selling or you're worried about being priced out of your next home because of today's ongoing home price appreciation, rest assured your equity can help fuel your move.
Metro Detroit Home Prices and Trends
💥 Important 💥 This is Where You Track Home Prices and Housing Inventory Levels (Supply and Demand) updated monthly on by the 15th
Video Provided:
Whether you are Home Buying or Home Selling, this should be your starting point. Remember, the numbers in the graph and trends represent your money. I update this report on the 15th of the month.
It has everything you need to determine the Market You're In and review your city's 3-year live trends regarding home prices. Better yet, you can even review Sold properties and not rely on the online estimates. I've provided additional videos regarding the housing market and how you can benefit from all the tools on this page. Whether you're selling or buying real estate now or later. I recommend keeping up to date and protecting your real estate investment.  It's essential to follow the Housing Market Trends for Metro Detroit and know The Market You're In, and it's the only way you'll know your true Negotiation Power. 
Yes, we've been handed a Mortgage Rate Curve Ball ~ Find Out How I Can Save You Thousands in Closing Cost  
💥 Important 💥 Find a lender that won't charge you for bank fees and will pay you to refinance with them when mortgage rates go down. If you don't have one, I do.
Watch the Video and Save
We are just in a little pump in the road for mortgage rates and you're in shock over the huge increase. As a solution to help you over the pump, as a Keller Williams agent I can help you save thousands in closing costs with our Keller Mortgage Zero Plus 3 ways.
1.When you buy you save thousands 2. You can offer potential buyers for your home Zero Plus so they can save thousands. This is a great incentive to keep them focused on your property and not your competition. 3. When mortgage rates go down you can save thousands again and lower your monthly payment…Win ~ Win.  It's your money, we need to put it to work for you, not the lender. NMLS # 140234
Your 🔑 To Home Selling and Buying Success ~ Safe e-Guides
💥 Important 💥 Your Guides also have educational videos and links regarding where home prices are heading, mortgage rates, Housing Market Trends and more.
Watch Video for Sneak Peak
Don't muddle through the Home Buying and Selling Process. Buying a new home is a dream for all of us, and it's an emotional and stressful process.
It also involves the most significant financial transaction you probably will make in your lifetime. Your Buying Guide…will walk you through tips, strategies, and how to understand the numbers to strengthen your negotiation power.
Your Selling Guide…It will help you work through the selling process using the latest in high-tech market tools, so you make MORE Money. Our goal is to separate your home from the competition, keep Buyers focused on your house. The Selling Guide is very detailed and works step-by-step, so you're guaranteed Top Dollar for your home.
Bottom Line: Take advantage of your Huge Home Equity Gains
If you're planning to make a move, the equity you've gained can make a big impact. To find out just how much equity you have in your current home and how you can use it to fuel your next purchase, let's connect so you can get a professional equity assessment report on your house.
As we move forward, it's been challenging as we navigated through all the changes. Putting your dream of a new home on HOLD shouldn't be one of them. Now more than ever, knowledge will be your power. Know the Market You're In and your Negotiation Power. Check out Categories for additional updates regarding the Market | Buying | Selling
If You Need To Sell 1st… I Recommend

🛑

Doing This!
No 2 homes are alike, and agents need to 🛑 marketing ONE size fits all. We no longer have an exposure problem (internet). Your home is buried on public home search internet sites. The only way to compete on those platforms is the price. If you want more money, you need to apply Influence. Separate your home from the competition, so the Buyer sees value. Keeping them focused on your property and not getting lost in homes' inaccurate data on public internet sites is necessary. Having digital omnipresence on serval platforms is your key to success. Remember MORE INFLUENCE = MORE 💰. We have details on how you can utilize High Tech Marketing and Win!
Have Questions?
If you have any questions, contact us: Chatbot 🤖 at the bottom. Contact me by Email 📩 or my Cell 📲 @ 248-343-2459. Would you mind sharing your thoughts below or what future article you would like to see? Your opinion is important to us…. this site is for you.🤩 To Keep up to date request our 🏡 Chat Newsletter or Follow us on Facebook, Instagram, or YouTube