Housing Affordability vs Unaffordable, There is an Important Distinction: 
Housing Affordability in Metro Detroit MI ~ 
It's impossible to research the subject of buying a home without coming across scary headlines.  Furthermore, we see they are declaring that the homes are less affordable. Buyers are concerned home buying is becoming a crisis. However, when we add context to the most recent affordability statistics.  Though homes are less affordable than they have been over the last few years. Here's why they are more affordable than they historically have been.
Housing Affordability and Buyer's Purchasing Power
Even though housing prices have gone through the roof, low-interest rates have kept your monthly payment down.  The graph below demonstrates a monthly payment of  1,633  (principal and interest only)  at an interest rate of 2.75% you can afford a $400,000.00 home.  As interest rates increase your purchasing power decreases and now your purchasing power will shift to $360,000 at a 3.5% interest rate.
Interest Rate Projections for 2022
We know the Feds have been stating they will stop propping up the economy and purchasing Treasury Bonds starting in November.  Depending on don't the type of loan the Banks have their own predictions of what they think the rates will increase too.  We know they will go up, what we don't know is how fast. For now, homes are affordable but that may change as we move into 2022.

Black Knight ~ Premier Provider of data and Analytics predictions. 
Black Knight just released their latest Monthly Mortgage Monitor which includes a new analysis of the affordability situation. Here's what the report reveals:
"The monthly payment required to purchase the average priced home with a 20% down 30-year fixed rate mortgage increased by nearly 20% (+$210) over the first nine months of 2021. It now requires 21.6% of the median household income to make the monthly mortgage payment on the average home purchase. The least affordable housing has been since 30-year rates rose to nearly 5% back in late 2018."
Basically, the report shows that homes are less affordable today than at any other time in the last three years. However, in a previous report earlier this year, Black Knight calculated that the percentage of the median household income to make the monthly mortgage payment on the average home purchase over the last 25 years was 23.6% (see graph below):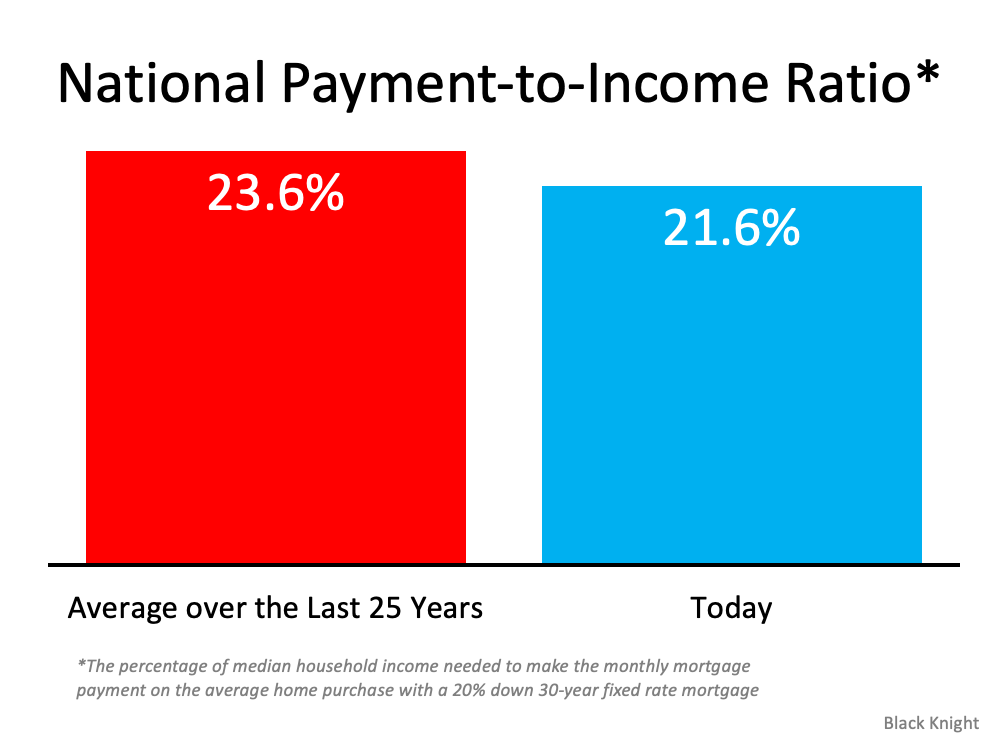 Today's payment-to-income ratio is more affordable than the average over the last 25 years. Given that context, we can see that American households still have the same ability to be homeowners as their parents did 20 years ago.
 Todd Teta, Chief Product, and Technology Officer
This confirms the recent analysis of ATTOM Data resources where explained:
"The typical median-priced home around the U.S. remains affordable to workers earning an average wage, despite prices that keep going through the roof. Super-low interests and rising pay continue to be the main reasons why."
Get Your Home Buying & Selling Strategies in our E-Guide
Don't muddle through the home buying and selling process. Buying a new home is a dream for all of us, and it's an emotional and stressful process; it also involves the most significant financial transaction you probably will make in your lifetime.
Your Buyer guide
Your guide will help you buy your ideal home with confidence and save thousands in the process. You will be working with Selling Agents, loan officers, underwriters, title companies…1. Do you know the lingo? 2. What you should avoid after applying for your mortgage 3. Know your Negotiation Power 4. Get to know how agents think and handle negotiations if you find yourself in a multiple offer situation? 5. Read What they Right. Find out the answer by downloading your PDF E-book Buying Guide.
Your Seller Guide
Your guide will help you work through the selling process using the latest in high-tech market tools. Our goal is to separate your home from the competition, keep them focused on your house. The selling Guide is very detailed and works through step by step, so your guaranteed Top Dollar for your home.
Bottom Line Regarding  Housing Affordability
It's true that it's less affordable to buy a home today than it has been the last few years. However, it's more affordable to buy today than the average over the last 25 years. In other words, homes are less affordable, but they're not unaffordable. That's an important distinction.
Helping You Build Your Future Wealth Through Real Estate
As we move forward, it's been challenging as we navigated through all the changes. Putting your dream of a new home on HOLD shouldn't be one of them.  Now more than ever, knowledge will be your power. Know the Market You're In and your Negotiation Power. Check out Categories for additional updates regarding the Market | Buying | Selling & My Blueprint is Your 🔑 to 🏡 Buying & Selling Success
Have Questions?
If you have any questions, contact us: Chatbot 🤖 at the bottom.  Contact me by Email 📩 or my Cell 📲 @ 248-343-2459. Would you mind sharing your thoughts below or what future article you would like to see? Your opinion is important to us…. this site is for you.🤩 To Keep up to date, Follow us on  Facebook, Instagram, or YouTube. 

Could you help me Find my Perfect Ideal Home!
Please tell me what you're looking for in your new Ideal Home…I can help you find the newest and best homes on the market.
Need Help with the Right Mortgage?
See how you can save Thousands.

Have Questions?
Let us know what we can do to help you work your way through the Buying & Selling Puzzle.

Website Development, Production, and Content by Pam Sawyer @ Team Tag It Sold © 2017 All Rights Reserved