How a Change in Mortgage Rate Impacts Your Homebuying Budget
Mortgage rates are on the rise this year, but they're still incredibly low compared to the historical average. However, anytime there's a change in the mortgage rate, it affects what you can afford to borrow.  As Sam Khater, Chief Economist at Freddie Mac, shares:
"Since January, mortgage rates have increased half a percentage point from historic lows and home prices have risen, leaving potential homebuyers with less purchasing power." (See graph below):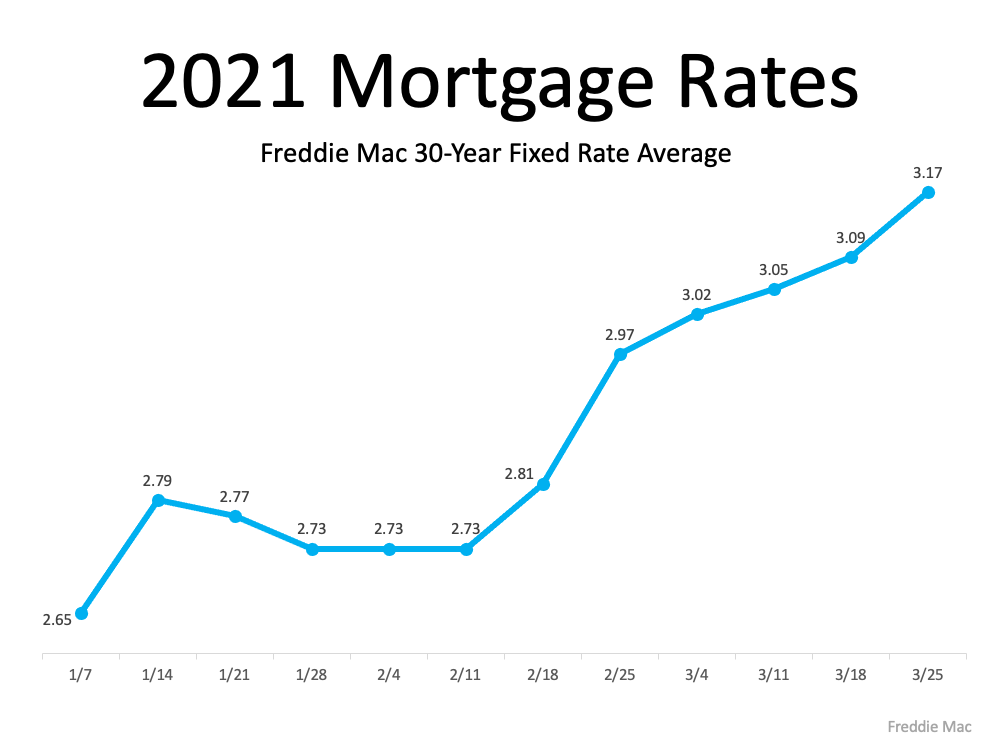 Know Your Budget First
When buying a home, it's important to determine a monthly budget to plan for and understand what you can afford. However, even a small increase in the mortgage rate can make a big difference when you need to stick to your budget.
According to the National Association of Realtors (NAR), today, the median existing-home price is $313,000. Using $300,000 as a simple number close to the median price.  Below are examples of how a mortgage rate change impacts your monthly principal and interest payments.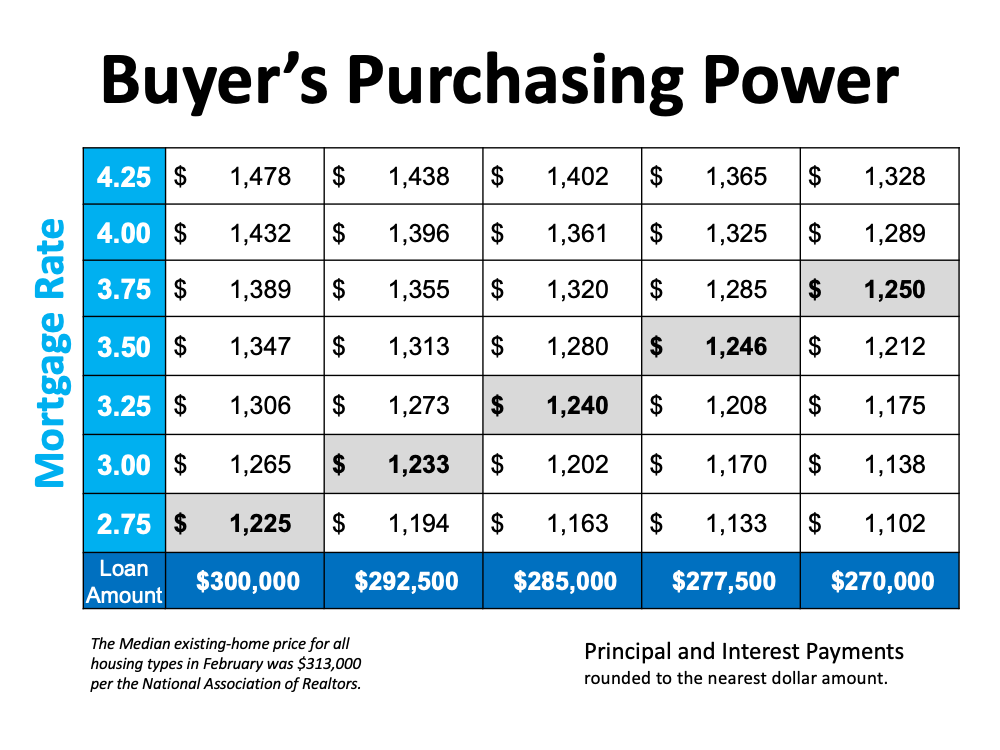 Your Purchasing Power
If, for example, you're getting ready to buy a home and know your budget allows for a monthly payment of $1200-1250 (marked in gray on the table above). Unfortunately, every time the mortgage rate increases, the loan amount will decrease to keep your monthly cost in range. This means you may have to look for lower-priced homes as mortgage rates go up to keep you on budget.
In essence, it's ideal for closing on a home loan when mortgage rates are low, so you can afford to borrow more money. This gives you more purchasing power when you buy a home. Mark Fleming, Chief Economist at First American, explains:
"Monthly payments have remained manageable despite soaring home prices because of low mortgage rates. In fact, monthly payments remain below the $1,250 to $1,260 range. 

Although they remain low, mortgage rates have begun to increase and are expected to rise further later in the year. Thus, affordability will test buyer demand in the months ahead and likely help slow the pace of price growth."
Today's mortgage rates are still very low, but experts project they'll continue to rise modestly this year. As a result, every moment counts for homebuyers who want to secure the lowest mortgage rate they can to afford the home of their dreams.
Bottom Line
Thanks to low mortgage rates, the spring housing market's in bloom for buyers – but these favorable conditions may not last long. Let's connect today to start the home buying process while your purchasing power is still holding strong.
Helping You Build Your Future Wealth Through Real Estate
As we move forward…it's been tough as we navigated through all the changes. Putting your dream of a new home on HOLD shouldn't be one of them.  Now more than ever knowledge will be your power. Know the Market You're In and your Negotiation Power. Check out Categories for additional updates regarding the Market | Buying | Selling & My Blueprint to Your 🔑 to 🏡 Buying & Selling Success
When You Sell, 🛑 STOP Doing This! 
No 2 homes are alike, and agents need to 🛑 marketing 1 size fits all. We no longer have an exposure (internet) problem.  Your home is buried on home search internet sites. The only way to compete on those platforms is the price.  If you want more money, you need to apply Influence.  Separate your home from the competition, so the Buyer sees value. It's a must to keep them focused on your property and not get lost in homes' inaccurate data on the public internet sites.  Remember MORE INFLUENCE = MORE💰. We have details on how you can utilize High Tech Marketing and Win!
In Closing
If you have any questions, contact us: Chatbot 🤖 at the bottom.  Contact me by Email 📩 or my Cell 📲 @ 248-343-2459.  With all the doom and gloom of the virus, one thing history has shown us, this will NOT define us.  Stay safe! Please share your thoughts below or what future article you would like to see. Your opinion is important to us…. this site is for you. ❣

Could you help me Find my Perfect Ideal Home!
Please tell me what you're looking for in your new Ideal Home…I can help you find the newest and best homes on the market.
Need Help with the Right Mortgage?
See how you can save Thousands.

Have Questions?
Let us know what we can do to help you work your way through the Buying & Selling Puzzle.

Website Development, Production, and Content by Pam Sawyer @ Team Tag It Sold © 2017 All Rights Reserved