What's Causing the Home Price Appreciation Acceleration?
At the beginning of the year, industry forecasts called for home price appreciation to slow to about half of the double-digit increase we saw last year. The thinking was that inventory would increase from record-low levels and put an end to the bidding wars that have driven home prices up over the past twelve months. However, that increase in inventory has yet to materialize. The National Association of Realtors (NAR) reports that there are currently 410,000 fewer single-family homes available for sale than there were at this time last year.
This has forced those who made appreciation forecasts this past January to amend those projections. The Mortgage Bankers Association, Fannie Mae, Freddie Mac, the National Association of Realtors, and Zelman & Associates have all adjusted their numbers upward after reviewing first quarter housing data. Here are their original forecasts and their newly updated projections: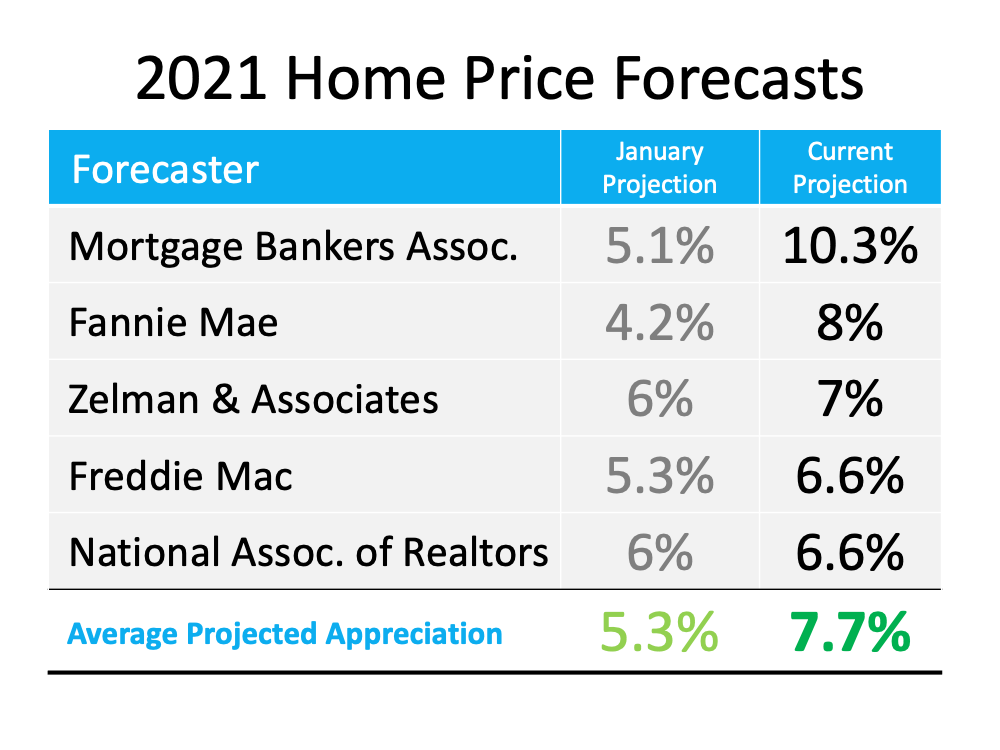 Even with the increases, the updated projections still don't reach the above 10% appreciation levels of 2020. However, a jump in the average projection from 5.3% to 7.7% after just one quarter is substantial. Demand will remain strong, so future appreciation will be determined by how quickly listing inventory makes its way to the market.
What Does It Mean for Interest Rates?
Freddie, Fannie, Mortgage Bankers Association, and National Association all have predicted mortgage interest rates will continue the 50-year low trend. Here is a graph with their predictions.
Home Purchase is Still Affordable!
Even though prices continue to appreciate, due to the low-interest rates, homes are still affordable.  How can that be? The graph below shows how affordable homes truly are.
Bottom Line
Entering 2021, there was some speculation that we might see price appreciation slow dramatically this year. Today, experts believe that won't be the case. Home values will remain strong throughout the year.
Helping You Build Your Future Wealth Through Real Estate
As we move forward…it's been tough as we navigated through all the changes. Putting your dream of a new home on HOLD shouldn't be one of them.  Now more than ever knowledge will be your power. Know the Market You're In and your Negotiation Power. Check out Categories for additional updates regarding the Market | Buying | Selling & My Blueprint to Your 🔑 to 🏡 Buying & Selling Success
 In Closing
If you have any questions, contact us: Chatbot 🤖 at the bottom.  Contact me by Email 📩 or my Cell 📲 @ 248-343-2459.  With all the doom and gloom of the virus, one thing history has shown us, this will NOT define us.  Stay safe! Please share your thoughts below or what future article you would like to see. Your opinion is important to us…. this site is for you ❣

Could you help me Find my Perfect Ideal Home!
Please tell me what you're looking for in your new Ideal Home…I can help you find the newest and best homes on the market.
Need Help with the Right Mortgage?
See how you can save Thousands.

Have Questions?
Let us know what we can do to help you work your way through the Buying & Selling Puzzle.

Website Development, Production, and Content by Pam Sawyer @ Team Tag It Sold © 2017 All Rights Reserved