Is now still a good time to sell your home in Metro Detroit? Find out why consumers say it's a good time to sell and move into a new home.
If you're a homeowner thinking about selling your house, you're probably looking for the best time to make your move. That means you're likely balancing a number of factors, like your changing needs, where you'll go when you sell, and today's mortgage rates in order to time it just right.
According to recent data, that sweet spot could already be here. The latest Home Purchase Sentiment Index (HPSI) by Fannie Mae finds that 76% of consumers believe now is a good time to sell.
The graph below shows the percentage of survey respondents who say it's a good time to sell a house. The big dip in March and April of 2020 reflects how consumer sentiment dropped at the beginning of the pandemic as uncertainty about the health crisis grew. Since then, the percentage has grown consistently as more people feel confident it's a good time to sell.
In fact, survey respondents think it's an even better time to sell a house today than they did in 2019, which was a strong year for the housing market. The latest survey results indicate one of the strongest peaks in seller sentiment in nearly three years (see graph below):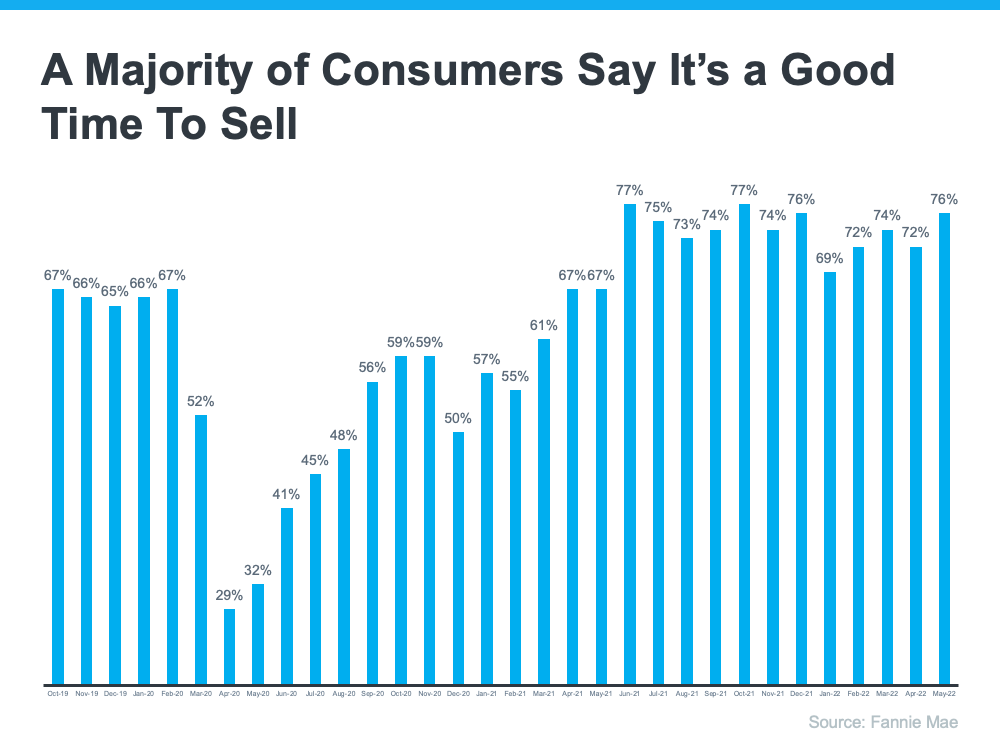 What Makes Today a Good Time To Sell?
One reason so many people think it's a good time to sell is because there are still more buyers in today's market than there are homes for sale. That's driving home prices up, making it a good time to sell your house.
And if you're on the fence about whether or not to sell because you don't know where you'll go once you do, know that you might have more options today than in previous months. That's because the number of homes coming onto the market has grown each month since the start of the year. When more homes come onto the market, it gives you more opportunities to find one that meets your changing needs.
Follow Your Home Prices and Trends by City in Live 3-year graphs and Inventory Trends

How to Sell Your Home for Top Dollar in a Changing Market for More Money💰
I'll walk you through each step on how to use influence to sell your home vs. Post and Pray. Post and Pray rely's on exposure only and the only way you are going to compete is by price, not value. 
Even in a Sellers' Market, Marketing Your Home is very important. Everyone knows McDonald's and they still market and advertise their products. They don't wait for you to come to them.  
You need to stay in front of all potential buyers. They may not even know they want to move.  I've sold many homes over the years to buyers that we not looking for or planning to move. So they were not working with a realtor or going on the public website either. They saw the value and paid top dollar because the home was perfect for them. 
Your 🔑 To Home Selling and Buying Success ~ Safe e-Guides
💥 Important 💥 Your Guides also have educational videos and links regarding where home prices are heading, mortgage rates, Housing Market Trends and more.
Watch Video for Sneak Peak
Don't muddle through the Home Buying and Selling Process. Buying a new home is a dream for all of us, and it's an emotional and stressful process.
It also involves the most significant financial transaction you probably will make in your lifetime. Your Buying Guide…will walk you through tips, strategies, and how to understand the numbers to strengthen your negotiation power.
Your Selling Guide…It will help you work through the selling process using the latest in high-tech market tools, so you make MORE Money. Our goal is to separate your home from the competition, keep Buyers focused on your house. The Selling Guide is very detailed and works step-by-step, so you're guaranteed Top Dollar for your home.
Yes, we've been handed a Mortgage Rate Curve Ball ~ Find Out How I Can Save You Thousands in Closing Cost  
💥 Important 💥 Find a lender that won't charge you for bank fees and will pay you to refinance with them when mortgage rates go down. If you don't have one, I do.
Watch the Video and Save
We are just in a little pump in the road for mortgage rates and you're in shock over the huge increase. As a solution to help you over the pump, as a Keller Williams agent I can help you save thousands in closing costs with our Keller Mortgage Zero Plus 3 ways.
1.When you buy you save thousands 2. You can offer potential buyers for your home Zero Plus so they can save thousands. This is a great incentive to keep them focused on your property and not your competition. 3. When mortgage rates go down you can save thousands again and lower your monthly payment…Win ~ Win.  It's your money, we need to put it to work for you, not the lender. NMLS # 140234
Bottom Line: Why Now is a Good Time to Sell Your Home
While the number of homes available for sale is growing and giving you more options for your move, inventory is still low overall. That could mean it's a great time for you to sell. If you're ready to address your changing needs and take advantage of today's favorable conditions, let's connect.
As we move forward, it's been challenging as we navigated through all the changes. Putting your dream of a new home on HOLD shouldn't be one of them. Now more than ever, knowledge will be your power. Know the Market You're In and your Negotiation Power. Check out Categories for additional updates regarding the Market | Buying | Selling
If You Need To Sell 1st… I Recommend

🛑

Doing This!
No 2 homes are alike, and agents need to 🛑 marketing ONE size fits all. We no longer have an exposure problem (internet). Your home is buried on public home search internet sites. The only way to compete on those platforms is the price. If you want more money, you need to apply Influence. Separate your home from the competition, so the Buyer sees value. Keeping them focused on your property and not getting lost in homes' inaccurate data on public internet sites is necessary. Having digital omnipresence on serval platforms is your key to success. Remember MORE INFLUENCE = MORE 💰. We have details on how you can utilize High Tech Marketing and Win!
Have Questions?
If you have any questions, contact us: Chatbot 🤖 at the bottom. Contact me by Email 📩 or my Cell 📲 @ 248-343-2459. Would you mind sharing your thoughts below or what future article you would like to see? Your opinion is important to us…. this site is for you.🤩 To Keep up to date request our 🏡 Chat Newsletter or Follow us on Facebook, Instagram, or YouTube