Is It a Good Time to Move? ~
When is it a good time to move in the Metro Detroit Mi area? ~
If you've been in your home for longer than five years, you're not alone. Are you thinking now may be a great time to move?  According to recent data from First American, homeowners are staying put much longer than historical averages (see graph below):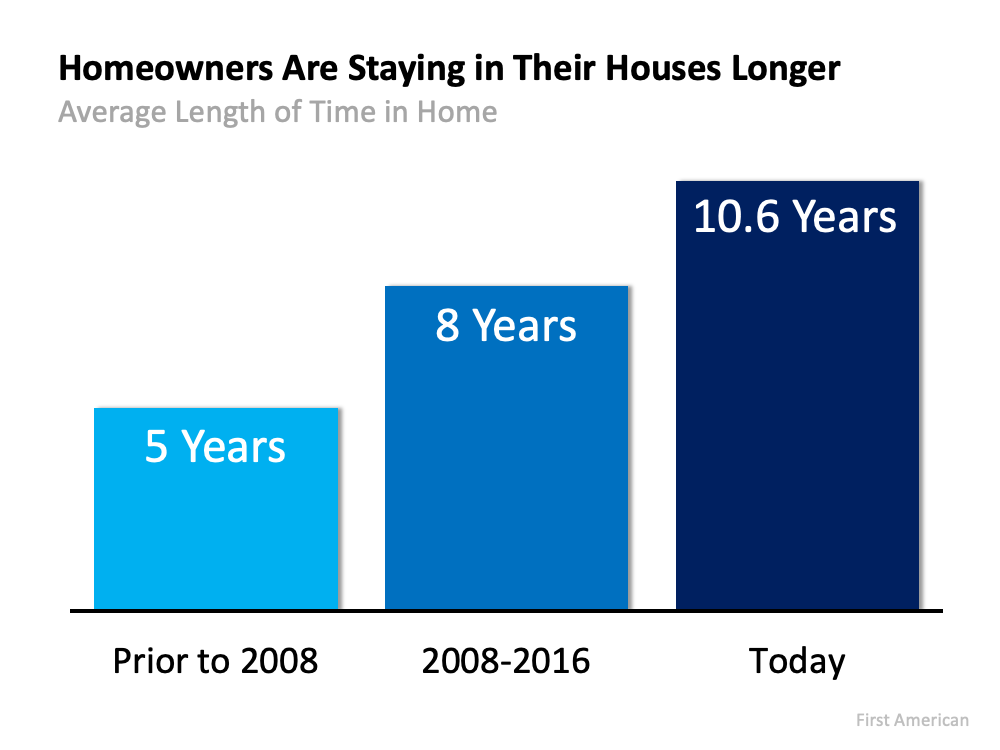 Let's Explore Tenure and Time to Move
As the graph shows, before 2008, homeowners sold their houses after an average of just five years. Today, that number has more than doubled to over 10 years. The housing industry refers to this as your tenure.
To really explore tenure, it's essential to understand what drives people to make a move. An article from The Balance explores some of the primary reasons individuals choose to sell their houses. It says:
"People who move for home-related reasons might need a larger home or a house that better fits their needs, . . . Financial reasons for moving include wanting a nicer home, moving to a newer home to avoid making repairs on the old one, or cashing in on existing equity."
If you've been in your home for longer than the norm, chances are you're putting off addressing one, if not several, of the reasons other individuals choose to move. If this sounds like you, here are a few things to consider:
Have your needs changed? It may be time to re-evaluate your home.
As the past year has shown, our needs can change rapidly. That means the longer you've been in your home, the more likely it is your needs have evolved. The Balance notes several personal factors that could lead to your home no longer meeting your needs, including relationship and job changes.
For example, many workers recently found out they'll be working remotely indefinitely. If that's the case for you, you may need more space for a dedicated home office. Other homeowners choose to sell because the number of people living under their roof changes. Now more than ever, we're spending more and more time at home. As you do, consider if your house really delivers what you need moving forward.
It's often financially beneficial to sell your house and move.
One of the most significant benefits of homeownership is the equity your home builds over time. If you've been in your house for several years, you may not realize how much equity you have. According to the latest Homeowner Equity Report from CoreLogic, homeowners gained an average of $33,400 in equity over the past year.
That equity, plus today's low mortgage rates, can fuel a significant upgrade when you sell your home and purchase a new one. Or, if you're looking to downsize, your equity can help provide a larger down payment and lower your monthly payments over the life of your next loan. No matter what, there are significant financial benefits to selling in today's market.
Get Your Home Buying & Selling Strategies in our E-Guide
Don't muddle through the home buying and selling process. Buying a new home is a dream for all of us, and it's an emotional and stressful process; it also involves the most significant financial transaction you probably will make in your lifetime.
Your Buyer guide
Your guide will help you buy your ideal home with confidence and save thousands in the process. You will be working with Selling Agents, loan officers, underwriters, title companies…1. Do you know the lingo? 2. What you should avoid after applying for your mortgage 3. Know your Negotiation Power 4. Get to know how agents think and handle negotiations if you find yourself in a multiple offer situation? 5. Read What they Right. Find out the answer by downloading your PDF E-book Buying Guide.
Your Seller Guide
Your guide will help you work through the selling process using the latest in high-tech market tools. Our goal is to separate your home from the competition, keep them focused on your house. The selling Guide is very detailed and works through step by step, so your guaranteed Top Dollar for your home.
Bottom Line Regarding a Time to Move
If you've been in your home for 5-10 years or more, now might be the time to explore your options. Today's low rates and your built-up equity could provide you with the opportunity to address your evolving needs. If you feel it's time to sell, let's connect. Curious what home appreciation could look like by the year 2025?
Peek into My Crystal Ball
As we move forward, it's been challenging as we navigated through all the changes. Putting your dream of a new home on HOLD shouldn't be one of them. Now more than ever, knowledge will be your negotiation power. There are 3 parts to making the most money on the sale of your property. 1. Know the Market You're In 2. High Tech Digital Marketing 3. My Blueprint to Your 🔑 to 🏡 Selling Success. No 2 homes are alike, and agents need to 🛑 marketing 1 size fits all. It's essential to separate your property from the competition. Equally important, you want to keep the buyer focused on your property and not get lost in the shuffle. Having a digital omnipresence on serval platforms is you 🔑 to your success.
Have Questions?
If you have any questions, contact us: Chatbot 🤖 at the bottom. Contact me by Email 📩 or my Cell 📲 @ 248-343-2459. Would you mind sharing your thoughts below or what future article you would like to see? Your opinion is important to us…. this site is for you.🤩 To Keep up to date, Follow us on Facebook, Instagram, or YouTube.

Could you help me Find my Perfect Ideal Home!
Please tell me what you're looking for in your new Ideal Home…I can help you find the newest and best homes on the market.
Need Help with the Right Mortgage?
See how you can save Thousands.

Have Questions?
Let us know what we can do to help you work your way through the Buying & Selling Puzzle.

Website Development, Production, and Content by Pam Sawyer @ Team Tag It Sold © 2017 All Rights Reserved