Homes for Sale Near Me 
Is There More Homes for Sale in Metro Detroit MI area
An important metric in today's residential real estate market is the number of homes available for sale. The shortage of available housing inventory is the major reason for the double-digit price appreciation we've seen in each of the last two years. It's why many would-be purchasers are frustrated with the bidding wars over the available homes. However, signs of relief are finally appearing.
According to data from realtor.com, active listings have increased over the last four months. They define active listings as:
"The active listing count tracks the number of for sale properties on the market, excluding pending listings where a pending status is available. This is a snapshot measure of how many active listings can be expected on any given day of the specified month."
Homes for Sale ~ Scroll and Search by City
What normally happens throughout the year?
Historically, housing inventory increases throughout the summer months start to tail off in the fall and then drops significantly over the winter. The graph below shows this trend, and the month active listings peaked in 2017, 2018, and 2019.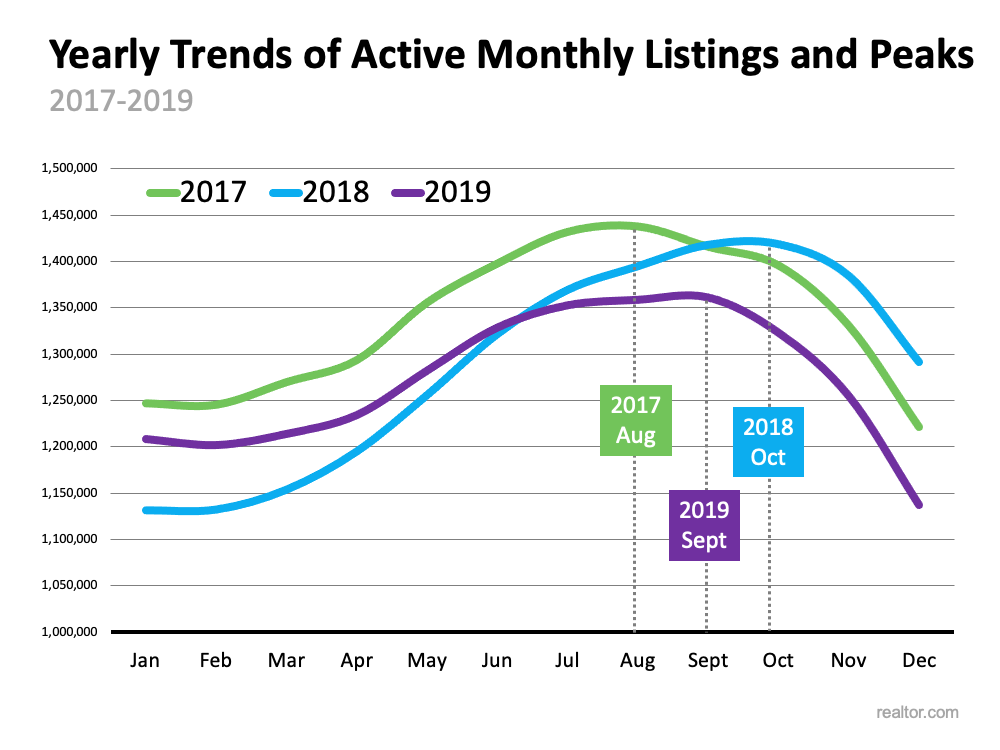 What happened last year?
Last year, the trend was different. Historical seasonality wasn't repeated in 2020 since many homeowners held off on putting their houses up for sale because of the pandemic (see graph below). In 2020, active listings peaked in April and then fell off dramatically for the remainder of the year.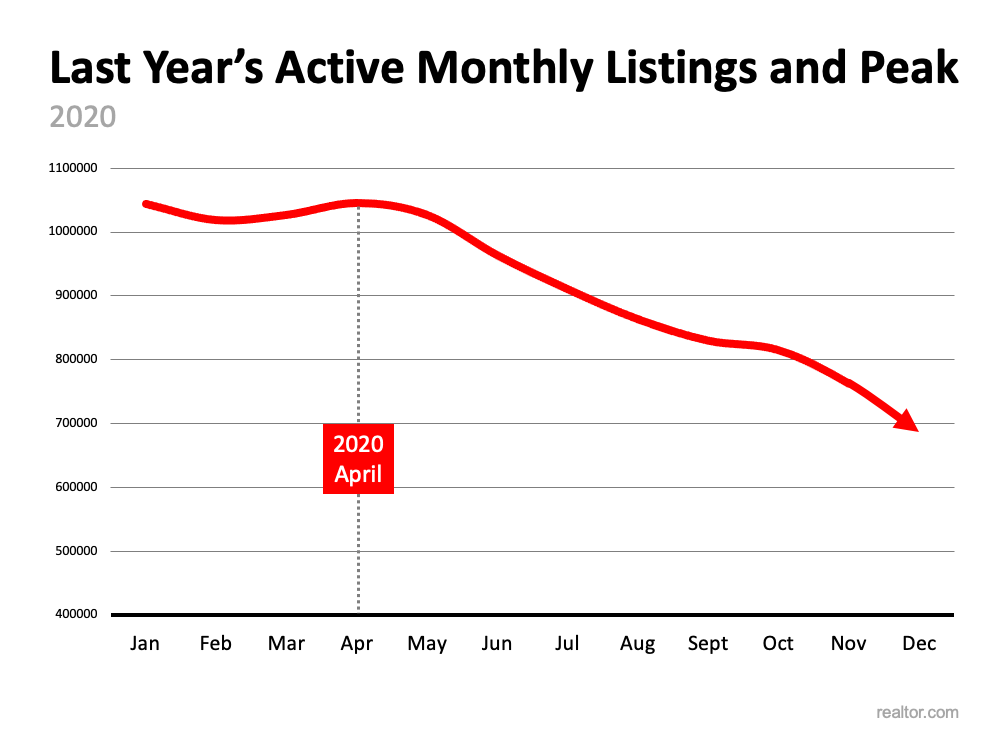 What's happening this year?
Due to the decline of active listings in 2020, 2021 began with record-low housing inventory counts. However, we've been building inventory over the last several months as more listings come to the market (see graph below):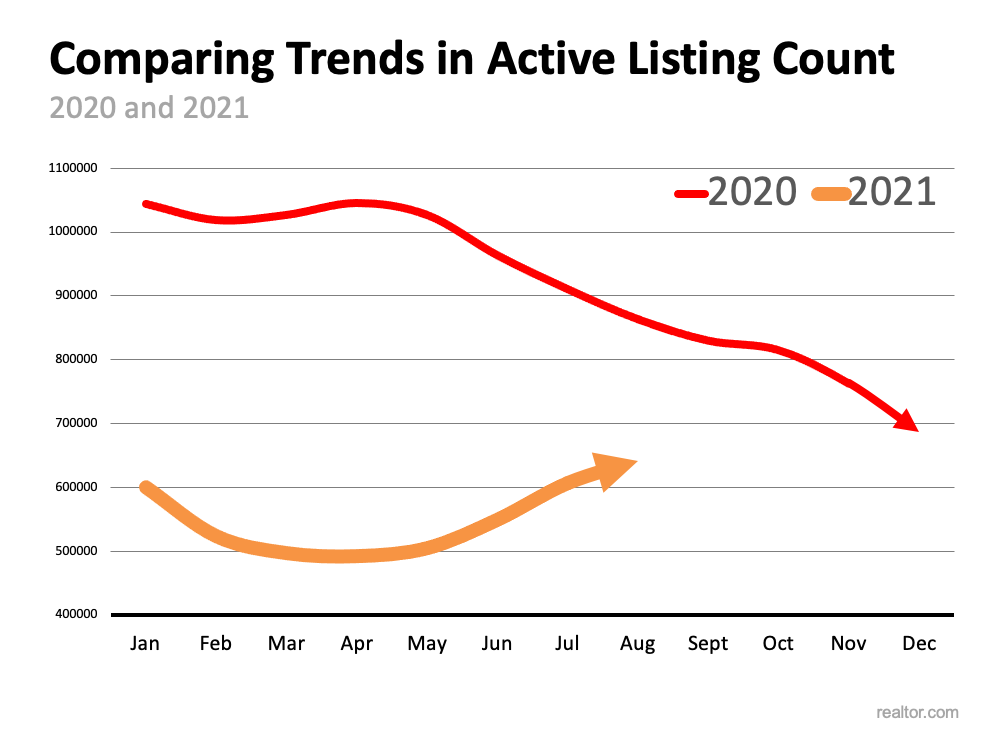 3 Main Reasons We'll See More Homes for Sale
There are three main reasons we may see listings continue to increase throughout this fall and into the winter.
Pent-up selling demand – Homeowners may be more comfortable putting their homes on the market as more and more Americans get vaccinated.
New construction is starting to take off – Though new construction is not included in the realtor.com numbers, as more new homes are built, current homeowners will have more options to consider when they sell. The lack of options has slowed many potential sellers in the past.
The end of forbearance will create some new listings – Most experts believe the end of the forbearance program will not lead to a wave of foreclosures for several reasons. The main reason is the level of equity homeowners currently have in their homes. Many homeowners will be able to sell their homes instead of going to foreclosure, which will lead to some additional listings on the market.
Bottom Line ~ When will we see more homes for sale
If you're in the market to buy a home, stick with it. New listings are becoming available every day. If you're thinking of selling your house, you may want to list your home before this additional competition comes to market.
Helping You Build Your Future Wealth Through Real Estate
As we move forward…it's been tough as we navigated through all the changes. Putting your dream of a new home on HOLD shouldn't be one of them.  Now more than ever, knowledge will be your power. Know the Market You're In and your Negotiation Power. Check out Categories for additional updates regarding the Market | Buying | Selling & My Blueprint is Your 🔑 to 🏡 Buying & Selling Success
 In Closing
If you have any questions, contact us: Chatbot 🤖 at the bottom.  Contact me by Email 📩 or my Cell 📲 @ 248-343-2459. Would you mind sharing your thoughts below or what future article you would like to see? Your opinion is important to us…. this site is for you.🤩 To Keep up to date Follow us on  Facebook, Instagram, or YouTube. 
Get Your Home Buying & Selling Strategies in our E-Guide
Don't muddle through the home buying process. Buying a new home is a dream for all of us. It's an emotional and stressful process, and it also involves the biggest financial transaction you probably will make in your lifetime.
Your home buyers guide will let you buy your ideal home with confidence and save thousands in the process. You will be working with Selling Agents, loan officers, underwriters, title companies…1. Do you know the lingo? 2. Do you know what to avoid after applying for your mortgage? 3. Do you know your Negotiation Power? 4. Do you know how your agent thinks and how they will handle negotiations if you find yourself in a multiple offer situation? Find out the answer by downloading your PDF E-book Buying Guide.

Could you help me Find my Perfect Ideal Home!
Please tell me what you're looking for in your new Ideal Home…I can help you find the newest and best homes on the market.
Need Help with the Right Mortgage?
See how you can save Thousands.

Have Questions?
Let us know what we can do to help you work your way through the Buying & Selling Puzzle.

Website Development, Production, and Content by Pam Sawyer @ Team Tag It Sold © 2017 All Rights Reserved