Planning to Move? You Can Still Secure a Low Mortgage Rate on Your Next Home
This year, mortgage rates have started to climb above recent record-breaking lows slowly. Many homeowners planning to move may feel like they've missed the chance to score a great rate on their next mortgage. In reality, there's still time to secure a rate far below the historical norm. Here's why.
After creeping up for seven consecutive weeks, average mortgage rates have dropped more recently (See graph below). With rates taking a slight dip over the past two weeks at the same time, the inventory of houses for sale is so low, homeowners today are sitting in the optimal seat to sell. What's the advantage of selling your house now? Securing a low mortgage rate on your next home.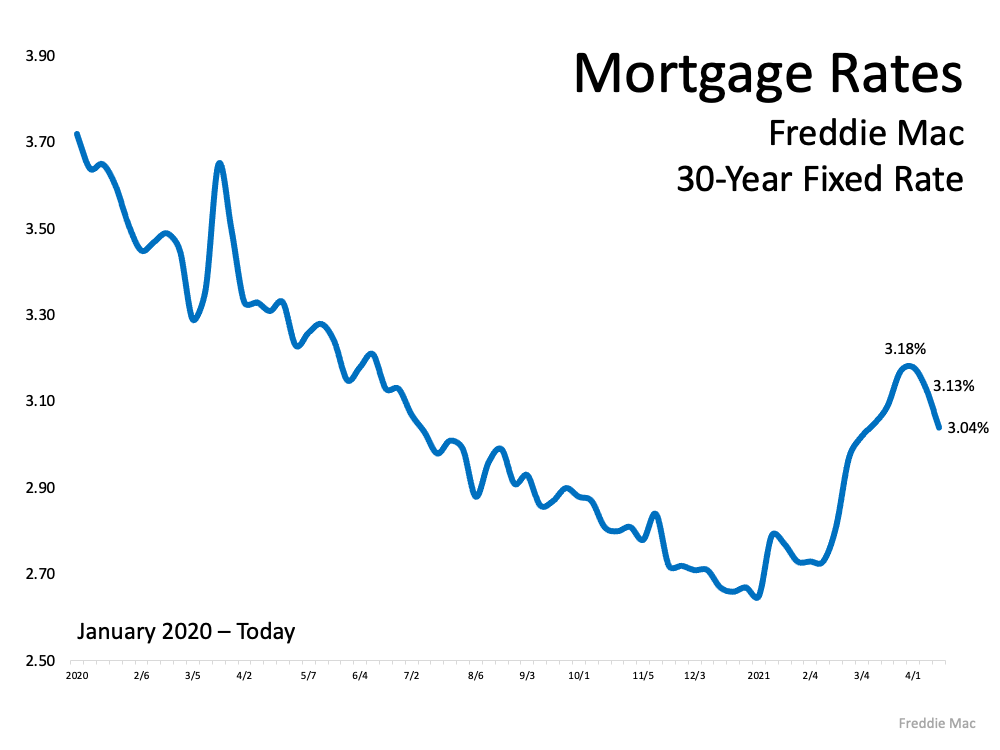 To take advantage of today's real estate market, experts encourage homeowners to act now before interest rates climb. Danielle Hale, Chief Economist at realtor.com, explains:
"…mortgage rates slid for a second week … but we don't expect rates to stay at this level for too long."
Hale continues to say:
"For sellers, getting in early optimizes odds of a quick sale at a good price before there's too much competition, but that means acting now … In this environment, sellers probably really can't go wrong, and that's especially true in the nation's hottest housing markets where homes are selling quickly and getting the greatest number of viewers online."
Most experts agree that rates will continue to trend upward. Sam Khater, Chief Economist at Freddie Mac, states:
"Despite the pause in mortgage rates recently, we expect them to increase modestly for the remainder of this year."
Besides, Freddie Mac recently released their Quarterly Forecast, which notes:
"We forecast that mortgage rates will continue to rise through the end of next year. We estimate the 30-year fixed mortgage rate will average 3.4% in the fourth quarter of 2021, rising to 3.8% in the fourth quarter of 2022." (See graph below):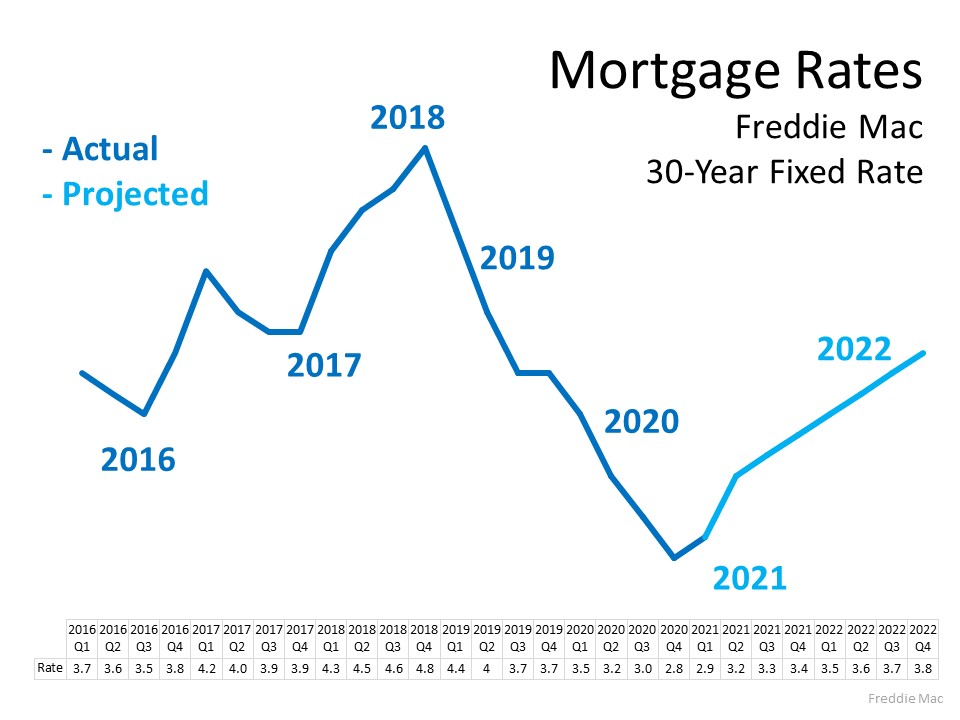 While buyers everywhere want to secure the lowest rate possible, it's important to remember that today's rates are still much lower than the historical norm. Odeta Kushi, Deputy Chief Economist at First American, emphasizes:
"While mortgage rates have trended up in recent months, they are still historically low, so relative to one year ago, housing actually is still more affordable and that's really thanks to this low mortgage rate environment we find ourselves in."
Know Your Purchasing Power
Step #1 ~ Do the research and know your Negotiation & Purchasing Power in  advance by "Knowing The Market Your In."
Bottom Line
If you're thinking of moving, don't miss the opportunity to score a great rate on your next home mortgage. Let's connect today so you can get your house ready to sell and find your dream home while mortgage rates are still low.
When You Sell, 🛑 STOP Doing This! 
No 2 homes are alike, and agents need to 🛑 marketing 1 size fits all. We no longer have an exposure problem (internet).  Your home is buried on public home search internet sites. The only way to compete on those platforms is the price.  If you want more money, you need to apply Influence.  Separate your home from the competition so the Buyer sees value. It's a must to keep them focused on your property and not get lost in homes' inaccurate data on the public internet sites. Having digital omnipresence on serval platforms is your key to success. Remember MORE INFLUENCE = MORE💰. We have details on how you can utilize High Tech Marketing and Win!
Helping You Build Your Future Wealth Through Real Estate
As we move forward…it's been tough as we navigated through all the changes. Putting your dream of a new home on HOLD shouldn't be one of them.  Now more than ever knowledge will be your power. Know the Market You're In and your Negotiation Power. Check out Categories for additional updates regarding the Market | Buying | Selling & My Blueprint to Your 🔑 to 🏡 Buying & Selling Success
 In Closing
If you have any questions, contact us: Chatbot 🤖 at the bottom.  Contact me by Email 📩 or my Cell 📲 @ 248-343-2459.  With all the doom and gloom of the virus, one thing history has shown us, this will NOT define us.  Stay safe! Please share your thoughts below or what future article you would like to see. Your opinion is important to us…. this site is for you ❣

Could you help me Find my Perfect Ideal Home!
Please tell me what you're looking for in your new Ideal Home…I can help you find the newest and best homes on the market.
Need Help with the Right Mortgage?
See how you can save Thousands.

Have Questions?
Let us know what we can do to help you work your way through the Buying & Selling Puzzle.

Website Development, Production, and Content by Pam Sawyer @ Team Tag It Sold © 2017 All Rights Reserved