Wondering where you'll move to if you sell your house today in Metro Detroit MI. Curious about what home moving options you have? This will help.

If you put a pause on your home search because you weren't sure where you'd go once you sold your house, it might be a good time to get back into the market. That's because today's market is undergoing a shift, and the supply of homes for sale is increasing as a result. That means you may have a better chance of finding a home that will meet your current needs. Here are some options to consider.
Buying an Existing Home Can Give You That Lived-in Charm
According to the National Association of Realtors (NAR), the supply of existing homes (a home that's been previously owned) has steadily increased since the beginning of the year. The graph below indicates inventory levels are rising, and that's largely due to more homes coming onto the market and the pace of sales slowing: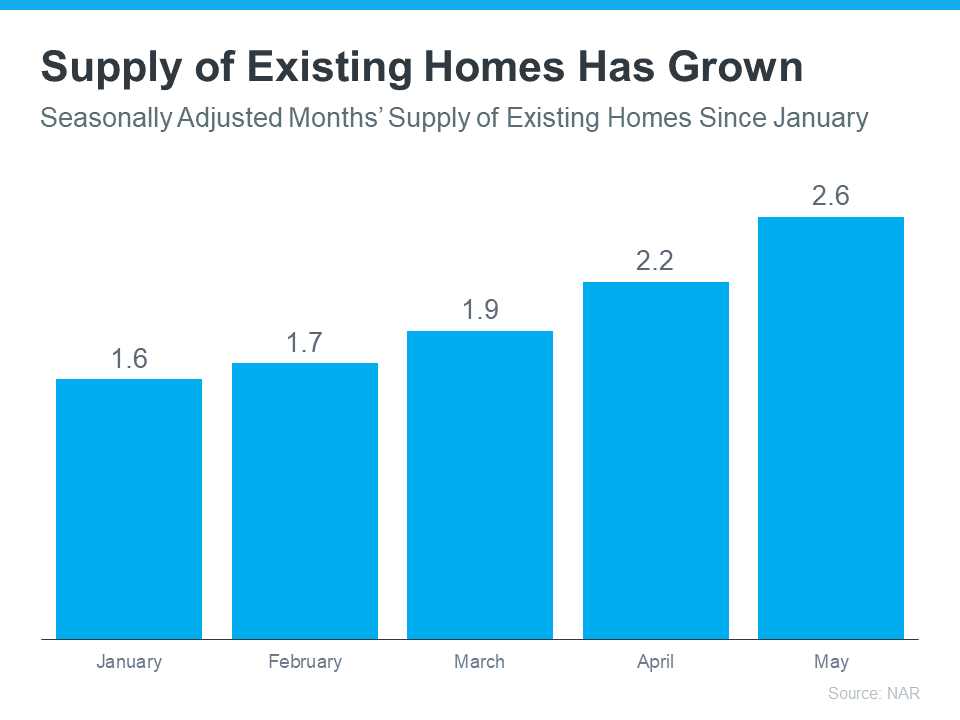 As the graph shows, if you're looking for a home with a lived-in charm, supply is rising, and that's great news for you.
Danielle Hale, Chief Economist for realtor.com, gives insight into why more homeowners are listing their homes and adding to the growing supply of existing homes today:
"Home sellers in many markets across the country continue to benefit from rising home prices and fast-selling homes. That's prompted a growing number of homeowners to sell homes this year compared to last, giving home shoppers much needed options. We've seen more homes come up for sale this year compared to last year . . ."
There are several benefits to buying an existing home. Many buyers want to purchase a home with history, and the character of older houses is hard to reproduce. Existing homes can often be part of an established neighborhood featuring mature landscaping that can give you additional privacy and boost your curb appeal.
Plus, timing can be a consideration as well. With an existing home, you can move in based on the timeline you agree to with the sellers, rather than building a new home and waiting for construction to finish. This is something to keep in mind, especially if you need to move sooner rather than later.
Just remember, while more sellers are listing their homes, supply is still low overall. That means you'll have more options to choose from as you search for your next home, but you'll still need to be prepared for a fast-moving market.
Purchasing a Newly Built or Under Construction Home Means Brand New Everything
Census data shows there's an increasing number of new homes available for sale. It includes homes that are under construction, soon to be completed, and fully built. As the graph below highlights, the supply of new homes for sale has also grown this year: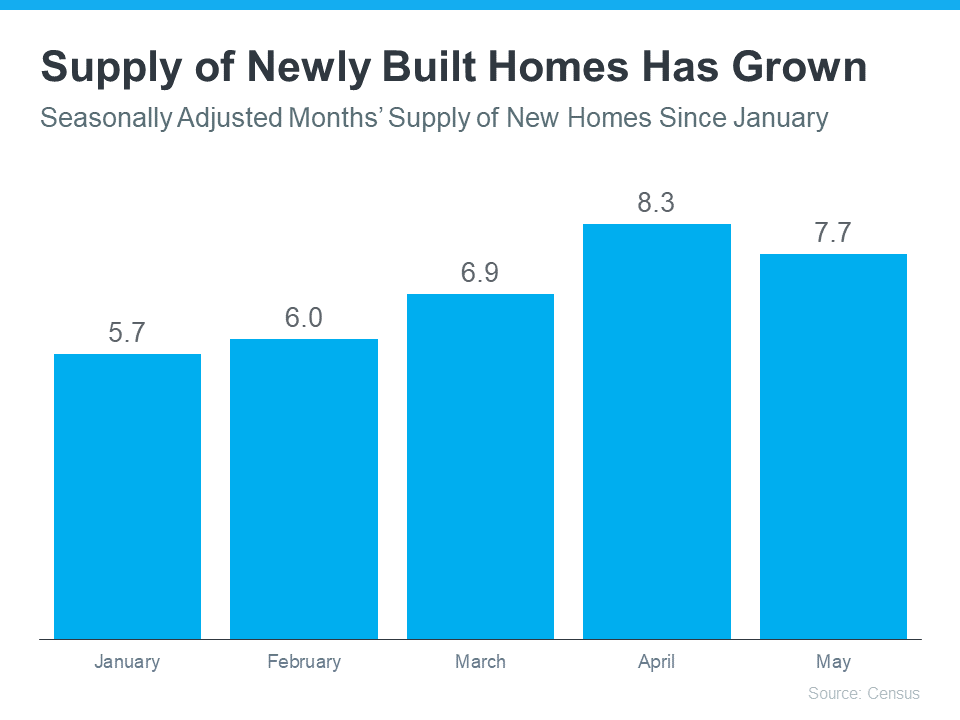 When building a new home, you can create your perfect living space and customize it to your lifestyle. That could mean everything from requesting energy-efficient options to specific design features. Plus, you'll have the benefit of all new appliances, windows, roofing, and more. These can all help lower your energy costs, which can add up to significant savings over time.
The lower maintenance that comes with a newer home is another great advantage. When you have a new home, you likely won't have as many little repairs to tackle, like leaky faucets, shutters to paint, and other odd jobs around the house. And with new construction, you'll also have warranty options that may cover portions of your investment for the first few years.
Keep in mind, that purchasing a new home could mean waiting a considerable amount of time before you can move. Robert Dietz, Chief Economist and Senior Vice President for Economics and Housing Policy at the National Association of Home Builders (NAHB), explains:
"New single-family home inventory remained elevated at a 7.7 months' supply. . . . However, only 8.3% of new home inventory is completed and ready to occupy. The remaining have not started construction (25.9%) or are currently under construction."
That's an important factor when making your decision and one you should discuss with a trusted real estate advisor. They'll help you think through all the pros and cons of both new and existing homes to help you arrive at your best decision.
Step #1 Find Out How You Can Save You Thousands in Closing Cost  
💥 Important 💥 Find a lender that won't charge you for bank fees and will pay you to refinance with them when mortgage rates go down. If you don't have one, I do.
We are just in a little pump in the road for mortgage rates and you're in shock over the huge increase. As a solution to help you over the pump, as a Keller Williams agent I can help you save thousands in closing costs with our Keller Mortgage Zero Plus 3 ways.
1. When you buy you save thousands 2. You can offer potential buyers for your home Zero Plus so they can save thousands. This is a great incentive to keep them focused on your property and not your competition. 3. When mortgage rates go down you can save thousands again and lower your monthly payment…Win ~ Win.  It's your money, we need to put it to work for you, not the lender. NMLS # 140234
Step #2 ~ Your 🔑 To Home Selling and Buying Success ~ Safe e-Guides
💥 Important 💥 Your Guides also have educational videos and links regarding where home prices are heading, mortgage rates, Housing Market Trends, and more.
Watch Video for Sneak Peak
Don't muddle through the Home Buying and Selling Process. Buying a new home is a dream for all of us, and it's an emotional and stressful process.
It also involves the most significant financial transaction you probably will make in your lifetime. Your Buying Guide…will walk you through tips, strategies, and how to understand the numbers to strengthen your negotiation power.
Your Selling Guide…It will help you work through the selling process using the latest in high-tech market tools, so you make MORE Money. Our goal is to separate your home from the competition, and keep Buyers focused on your house. The Selling Guide is very detailed and works step-by-step, so you're guaranteed Top Dollar for your home.
Step #3 💥Search Better Than a Realtor💥 on a Platform that was Designed by One.
Find Your ideal Home Here ~ Pre-loaded Home Search: Newly Listed ~ Coming Soon ~Luxury~ Waterfront ~ and More🤩
Another huge feature you can modify and look for homes Coming Soon only, or view homes that have been on the market X number of days. Maybe a 1st floor primary bedroom or office is important. You can even search by lot features like Finished Basement ~ Golf Frontage ~ Water Frontage ~ Acreage ~ Large private treed lot ~ Cul-de-Sac and More.
Your options are endless because I programmed it that way. Don't forget to create an account and save your favorites and you will receive updates on new listings or coming soon to your email inbox. You also have tech support via cell or online messenger. Let me know what I can do to help.
Bottom Line On What Options You Have When You Sell Your House
With the supply of homes for sale rising, you have options for your next home no matter what your preferences are. If you have questions or want help deciding what's best for you, let's connect and start the conversation today.
As we move forward, it's been challenging as we navigated through all the changes. Putting your dream of a new home on HOLD shouldn't be one of them. Now more than ever, knowledge will be your power. Know Your Local Home Prices and Trends by Ctiy and your Negotiation Power. Check out Categories for additional updates regarding the Market | Buying | Selling
If You Need To Sell 1st… I Recommend

🛑

Doing This!
No 2 homes are alike, and agents need to 🛑 marketing ONE size fits all. We no longer have an exposure problem (internet). Your home is buried on public home search internet sites. The only way to compete on those platforms is the price. If you want more money, you need to apply Influence. Separate your home from the competition, so the Buyer sees value. Keeping them focused on your property and not getting lost in homes' inaccurate data on public internet sites is necessary. Having digital omnipresence on serval platforms is your key to success. Remember MORE INFLUENCE = MORE 💰. We have details on how you can utilize High Tech Marketing and Win!
Have Questions?
If you have any questions, contact us: Chatbot 🤖 at the bottom. Contact me by Email 📩 or my Cell 📲 @ 248-343-2459. Would you mind sharing your thoughts below or what future article you would like to see? Your opinion is important to us…. this site is for you.🤩 To Keep up to date request our 🏡 Chat Newsletter or Follow us on Facebook, Instagram, or YouTube
Have a Question ~ Tech Support?