Multiple Offers are still likely over the Holidays 2021:
Multiple offers are still likely if you're thinking of selling your home in Metro Detroit MI over the holidays.~
Are you thinking this is a great time to move?  Not sure if you will have time to sell your house as the holiday draw near?  If so, consider this: even as the holiday season approaches, there are plenty of buyers out there. Buyers really want your house. Here's why selling this winter is a win for you.
We Still Have Low Inventory of Homes Is Causing Multiple Offers
Today's buyers are still dealing with a limited number of homes for sale. Thanks to continued low inventory, those buyers are competing with one another for their dream home. And when that happens, if your house is one of the few on the market, it will rise to the top of the pool.  It will be worth it in the end.
According to the latest data from the National Association of Realtors (NAR); the average seller received 3.7 offers on their house in September. For a view into what's happening at the state level, take a look at the map below: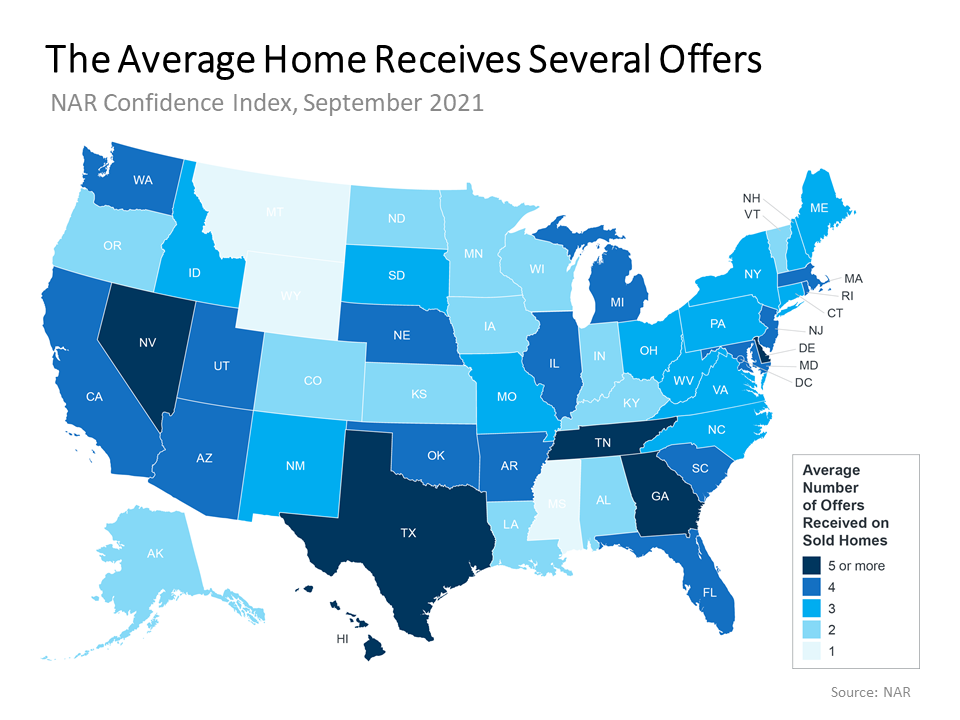 Nationwide, the average seller today is getting nearly four offers. That number is significant because it means you'll likely have multiple offers to pick from if you sell your house this season. To put things into perspective, no matter where your state falls, remember that you really only need one good offer to close the deal.
Multiple Offer is Still Strong 
Any offer you receive will likely be from a highly motivated buyer who's doing everything they can to beat the competition. The stakes for buyers are high. They've been looking for a house and they want to lock in their dream home before prices and mortgage rates rise further next year. Chances are, they'll get creative with the terms of their offer. Their offer could include waiving contingencies and offering over the asking price or both. This is great news for you.
If you're on the fence about when to sell, remember your house is a hot commodity this season. As other sellers take a break for the holidays with plans to re-list their homes in the new year, you can put your house in front of motivated buyers by making your move today. That means your house will be the center of attention, and likely the center of a bidding war too.
Housing Market Trends and Predictions by City
Every month we update the live 3-year live trends by city. Equally important is how long it takes homes to sell in your City and Price Range. You also have access to custom data for Sold Homes, so you don't have to rely on Public Websites Estimates. Easy access and communication, call or text 248-343-2459. It's essential if you're Buying or Selling is to Know the Market You're In and Your Negotiation Power.
Bottom Line
Selling now gives you even more opportunity to win big as buyers compete for your house in today's market. If you're curious about what your home value is, find out here. 
Simplifying Real Estate Through Education
As we move forward, it's been challenging as we navigated through all the changes. Putting your dream of a new home on HOLD shouldn't be one of them. Now more than ever, knowledge will be your power. Know the Market You're In and your Negotiation Power. Check out Categories for additional updates regarding the Market | Buying | Selling 
If You Need To Sell 1st…🛑 I Recommend STOP Doing This!
No 2 homes are alike, and agents need to 🛑 marketing 1 size fits all. We no longer have an exposure problem (internet). Your home is buried on public home search internet sites. The only way to compete on those platforms is the price. If you want more money, you need to apply Influence. Separate your home from the competition, so the Buyer sees value. Keeping them focused on your property and not getting lost in homes' inaccurate data on public internet sites is necessary. Having digital omnipresence on serval platforms is your key to success. Remember MORE INFLUENCE = MORE💰. We have details on how you can utilize High Tech Marketing and Win!
Peek into My Crystal Ball
This is the 3rd time I've been involved in a housing crisis in the real estate business. We will be watching for a shift as our economy and interest rates start bouncing back. There are 3 parts to making the most money on the sale of your property.
Metro Detroit Housing Market Update ~ Live 3-year Market Trends.
My Blueprint is Your 🔑 to 🏡 Buying & Selling Success~ Education is critical.
Prepare a marketing plan that influences buyers.~ High Tech Digital Marketing
Have Questions?
If you have any questions, contact us: Chatbot 🤖 at the bottom. Contact me by Email 📩 or my Cell 📲 @ 248-343-2459. Would you mind sharing your thoughts below or what future article you would like to see? Your opinion is important to us…. this site is for you.🤩 To Keep up to date request our 🏡 Chat Newsletter or Follow us on Facebook, Instagram, or YouTube.

Could you help me Find my Perfect Ideal Home!
Please tell me what you're looking for in your new Ideal Home…I can help you find the newest and best homes on the market.
Need Help with the Right Mortgage?
See how you can save Thousands.

Have Questions?
Let us know what we can do to help you work your way through the Buying & Selling Puzzle.

Website Development, Production, and Content by Pam Sawyer @ Team Tag It Sold © 2017 All Rights Reserved