The Market is Not Looking Like it Did in 2006
Today, some are afraid the real estate market is starting to look a lot like it did in 2006, just before the housing crash. One of the factors they're pointing to is the availability of mortgage money. Recent articles about the availability of low down payment loans and down payment assistance programs are causing fear that we're returning to the bad habits seen 15 years ago. Let's ease these concerns.
Several times a year, the Mortgage Bankers Association releases an index titled The Mortgage Credit Availability Index (MCAI). According to their website:
"The MCAI provides the only standardized quantitative index that is solely focused on mortgage credit. The MCAI is…a summary measure which indicates the availability of mortgage credit at a point in time."

Basically, the index determines how easy it is to get a mortgage. The higher the index, the more available mortgage credit becomes. Here's a graph of the MCAI dating back to 2004, when the data first became available: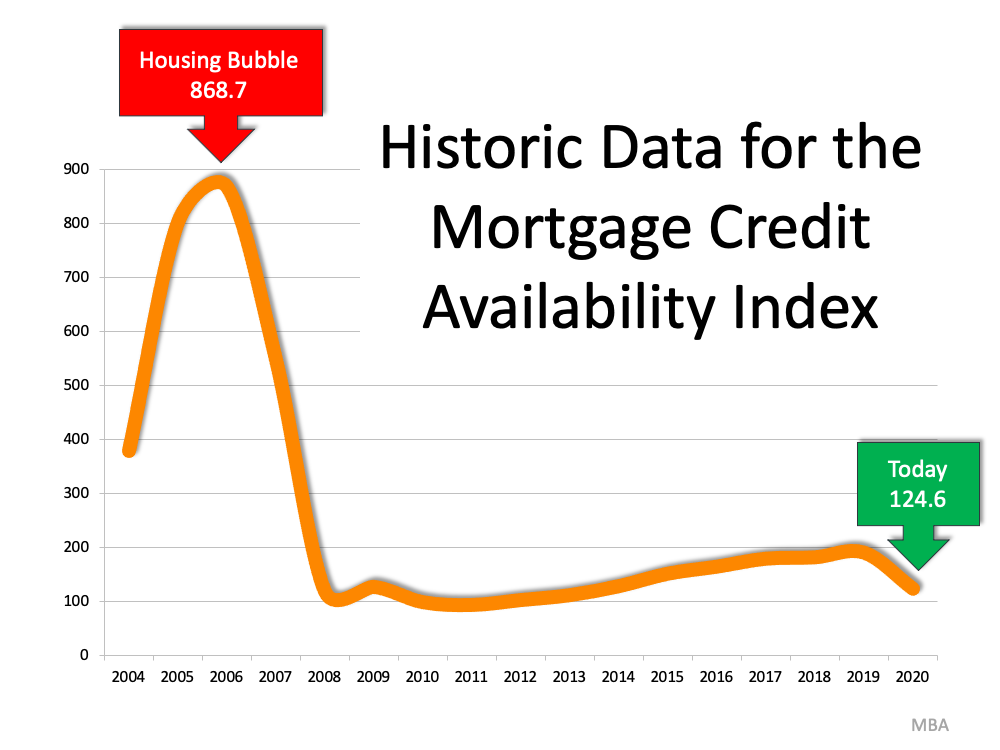 Mortgage Credit Availability Index
As we can see, the index stood at about 400 in 2004. Mortgage credit became more available as the housing market heated up, and then the index passed 850 in 2006. When the real estate market crashed, so did the MCAI (to below 100) as mortgage money became almost impossible to secure. Thankfully, lending standards have eased somewhat since. The index, however, is still below 150, which is about one-sixth of what it was in 2006.
Why did the index rage out of control during the housing bubble?
The main reason was the availability of loans with extremely weak lending standards. To keep up with demand in 2006, many mortgage lenders offered loans that put little emphasis on the borrower's eligibility. Lenders were approving loans without always going through a verification process to confirm if the borrower would likely be able to repay the loan.
Some of these loans offered attractive, low-interest rates that increased over time. The loans were popular because they could be obtained quickly and without the borrower having to provide documentation upfront. However, as the rates increased, borrowers struggled to pay their mortgages.
Today, lending standards are much tighter. As Investopedia explains, the risky loans given at that time are extremely rare today, primarily because lending standards have drastically improved:
"In the aftermath of the crisis, the U.S. government issued new regulations to improve standard lending practices across the credit market, which included tightening the requirements for granting loans."
An example of the relaxed lending standards leading up to the housing crash is the FICO® credit score associated with a loan. What's a FICO® score? The website myFICO explains:
"A credit score tells lenders about your creditworthiness (how likely you are to pay back a loan based on your credit history). It is calculated using the information in your credit reports. FICO® Scores are the standard for credit scores—used by 90% of top lenders."

During the housing boom
Many mortgages were written for borrowers with a FICO score under 620. Experian reveals that, in today's market, lenders are more cautious about lower credit scores:
"Statistically speaking, 28% of consumers with credit scores in the Fair range are likely to become seriously delinquent in the future…Some lenders dislike those odds and choose not to work with individuals whose FICO® Scores fall within this range."
There are definitely still loan programs that allow a 620 score. However, lending institutions overall are much more attentive about measuring risk when approving loans. According to Ellie Mae's latest Origination Insight Report, the average FICO® score on all loans originated in February was 753.
The graph below shows the billions of dollars in mortgage money given annually to borrowers with a credit score under 620.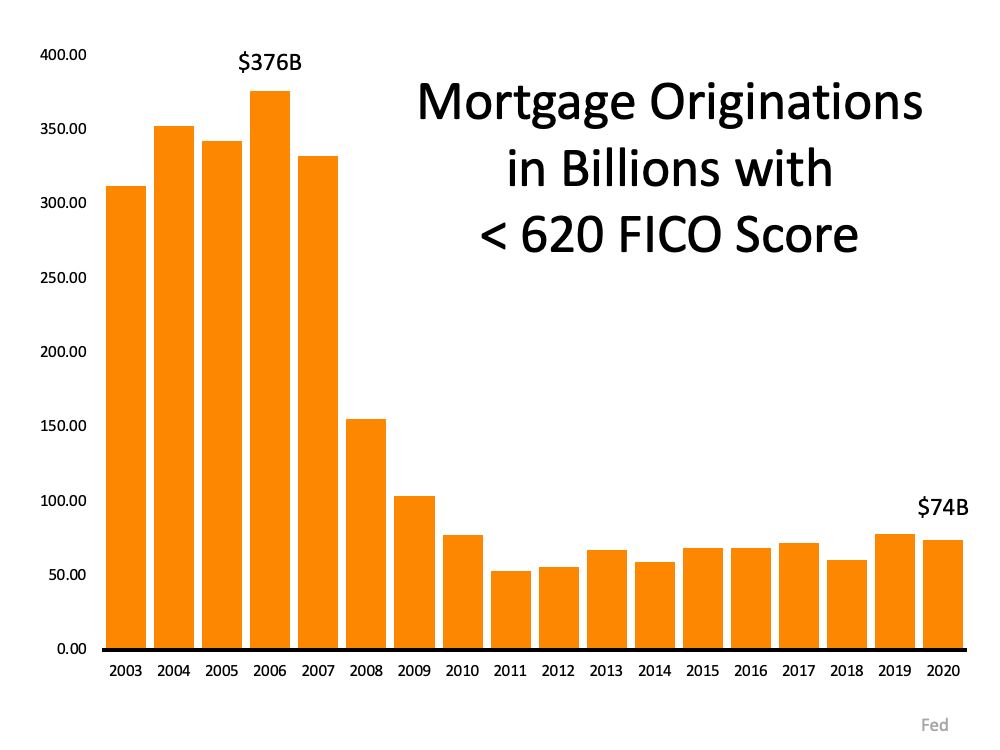 In 2006, mortgage entities originated $376 billion in loans for purchasers with a score under 620. Last year, that number was only $74 billion.
Bottom Line
In 2006, lending standards were much more relaxed, with little evaluation done to measure borrowers' potential to repay their loan. Today, standards are tighter, and the risk is reduced for both lenders and borrowers. These are two very different housing markets, so there's no need to panic over today's lending standards.
Helping You Build Your Future Wealth Through Real Estate
As we move forward…it's been tough as we navigated through all the changes. Putting your dream of a new home on HOLD shouldn't be one of them.  Now more than ever, knowledge will be your power. Know the Market You're In and your Negotiation Power. Check out Categories for additional updates regarding the Market | Buying | Selling & My Blueprint to Your 🔑 to 🏡 Buying & Selling Success
When You Sell, 🛑 STOP Doing This! 
No 2 homes are alike, and agents need to 🛑 marketing 1 size fits all. We no longer have an exposure (internet) problem.  Your home is buried on home search internet sites. The only way to compete on those platforms is the price.  If you want more money, you need to apply Influence.  Separate your home from the competition so the Buyer sees value. It's a must to keep them focused on your property and not get lost in homes' inaccurate data on the public internet sites.  Remember MORE INFLUENCE = MORE💰. We have details on how you can utilize High Tech Marketing and Win!
In Closing
If you have any questions, contact us: Chatbot 🤖 at the bottom.  Contact me by Email 📩 or my Cell 📲 @ 248-343-2459.  With all the doom and gloom of the virus, one thing history has shown us, this will NOT define us.  Stay safe! Please share your thoughts below or what future article you would like to see. Your opinion is important to us…. this site is for you. ❣

Could you help me Find my Perfect Ideal Home!
Please tell me what you're looking for in your new Ideal Home…I can help you find the newest and best homes on the market.
Need Help with the Right Mortgage?
See how you can save Thousands.

Have Questions?
Let us know what we can do to help you work your way through the Buying & Selling Puzzle.

Website Development, Production, and Content by Pam Sawyer @ Team Tag It Sold © 2017 All Rights Reserved