2 main reasons why now may be the best time to buy a home in Metro Detroit MI. The 2 graphs and links will help you decide if it's time to move.
There are more homes for sale today than at any time last year. So, if you tried to buy a home last year and were outbid or out-priced, now may be your opportunity. The number of homes for sale in the U.S. has been growing over the past four months as rising mortgage rates help slow the frenzy the housing market saw during the pandemic. Find out why we are not heading to a Housing Market Bubble ready to burst.
Lawrence Yun, Chief Economist at the National Association of Realtors (NAR), explains why the shifting market creates a window of opportunity for you:
"This is an opportunity for people with a secure job to jump into the market, when other people are a little hesitant because of a possible recession. . . They'll have fewer buyers to compete with."
Two Reasons There Are More Homes for Sale
The first reason the market is seeing more homes available for sale is the number of sales happening each month has decreased. This slowdown has been caused by rising mortgage rates and rising home prices, leading many to postpone or put off buying. The graph below uses data from realtor.com to show how active real estate listings have risen over the past four months as a result.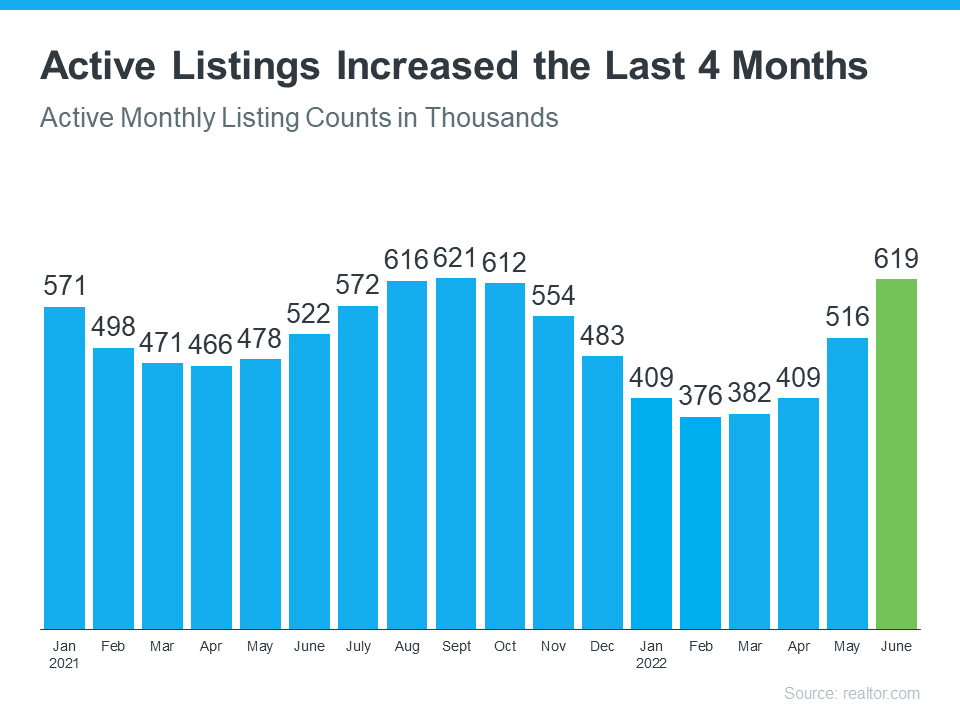 The second reason the market is seeing more homes available for sale is that the number of people selling their homes is also rising. The graph below outlines new monthly listings coming onto the market compared to last year. As the graph shows, for the past three months, more people have put their homes on the market than the previous year.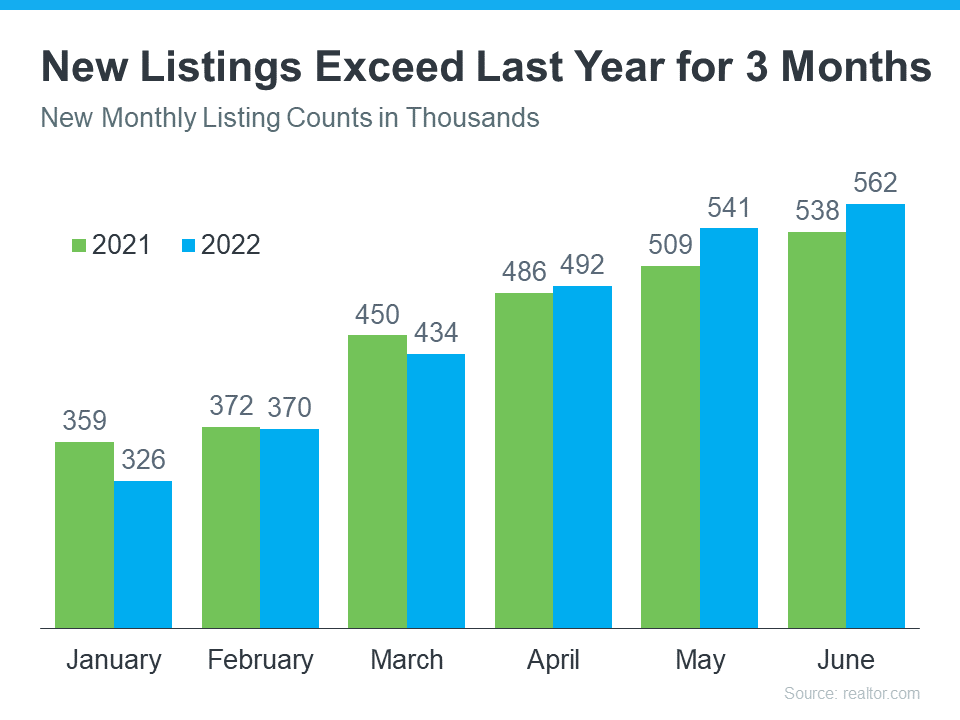 Metro Detroit Real Estate Home Prices and Trends by City
💥 Important 💥 This is Where You Track Home Prices and Housing Inventory Levels (Supply and Demand) updated monthly by the 15th.

Video Provided:
Whether you are Home Buying or Home Selling, this should be your starting point. Remember, the numbers in the graph and trends represent your money. Spend less when buying and make more when you sell.
It has everything you need to determine the Market You're In and review your city's 3-year live trends regarding home prices. Better yet, you can even review Sold properties and not rely on the online estimates. I've provided additional videos regarding the housing market and how you can benefit from all the tools on this page. Whether you're selling or buying real estate now or later. I recommend keeping up to date and protecting your real estate investment. It's essential to follow the Housing Market Trends for Metro Detroit and know The Market You're In, and it's the only way you'll know your true Negotiation Power.
Step #1 ~ Do You Homework to find the Best Lender and Program for You
💥 Important 💥 We've seen many changes lately with high mortgage rates and now lenders are designing special programs to help you and compete for your business… Great News!
✅ Do ~ Call around and check out and get quotes for rates and what type of programs different lenders have available. Give the lenders your FICA score to get quotes.
✅ Do ~Call around and check out and get quotes for rates and what type of programs different lenders have available. Give the lenders your FICA score to get quotes.
🛑 DON'T ~give out your Social Security Number as they will pull your credit. Wait until you select a lender and a program that works best for you then make an application. You are getting rough quotes for now based on the FICA score you obtained, it doesn't have to be exact for now. You're in the weeding-out phase of your search.
✅ DO ~ contact me with any question you may have via my cell at 248-343-2459
🙋‍♀️~ Not sure where to start? Get Your Do's and Don'ts during the loan process. Below are lenders I've worked with in the past that offer amazing programs and options. You can also check with your Bank or Credit Union (Alpha order: not based on preference.)
First State Bank – Manny Nino – Loan Officer 📲 Cell: 586-945-5203
Flagstar Bank – Ray Cela – Loan Officer/VP Sale 📲 Cell: 248-238-1849
Keller Mortgage – MaryAnn O'Brian – Loan Officer 📲 Cell: 843-368-7163
Step #2 ~ Your 🔑 To Home Selling and Buying Success ~ Safe e-Guides
💥 Important 💥 Your Guides also have educational videos and links regarding where home prices are heading, mortgage rates, Housing Market Trends, and more.
Watch Video for Sneak Peak
Don't muddle through the Home Buying and Selling Process. Buying a new home is a dream for all of us, and it's an emotional and stressful process.
It also involves the most significant financial transaction you probably will make in your lifetime. Your Buying Guide…will walk you through tips, strategies, and how to understand the numbers to strengthen your negotiation power.
Your Selling Guide…It will help you work through the selling process using the latest in high-tech market tools, so you make MORE Money. Our goal is to separate your home from the competition, and keep Buyers focused on your house. The Selling Guide is very detailed and works step-by-step, so you're guaranteed Top Dollar for your home.
Step #3 ~ 💥Search Better Than a Realtor💥 on a Platform that was Designed by One.
Find Your Ideal Home Here ~ Pre-loaded Home Search: Newly Listed ~ Coming Soon ~Luxury~ Waterfront ~ and More🤩
Create an account and save your favorites and email updates. Another huge feature you can modify and look for homes Coming Soon only, or view homes that have been on the market X number of days. Maybe a 1st floor primary bedroom or office is important. You can even search by lot features like Finished Basement ~ Golf Frontage ~ Water Frontage ~ Acreage ~ Large private treed lot ~ Cul-de-Sac and More.
Bottom Line Why Now May Be the Best Time to Buy a Home
The number of homes for sale across the country is growing, and that means more options for those thinking about buying a home. This is the opportunity many have been waiting for who were outbid or outpriced last year.
As we move forward, it's been challenging as we navigated through all the changes. Putting your dream of a new home on HOLD shouldn't be one of them. Now more than ever, knowledge will be your power. Know Your Local Home Prices and Trends by Ctiy and your Negotiation Power. Check out Categories for additional updates regarding the Market | Buying | Selling

If You Need To Sell 1st… I Recommend

🛑

Doing This!
No 2 homes are alike, and agents need to 🛑 marketing ONE size fits all. We no longer have an exposure problem (internet). Your home is buried on public home search internet sites. The only way to compete on those platforms is the price. If you want more money, you need to apply Influence. Separate your home from the competition, so the Buyer sees value. Keeping them focused on your property and not getting lost in homes' inaccurate data on public internet sites is necessary. Having digital omnipresence on serval platforms is your key to success. Remember MORE INFLUENCE = MORE 💰. We have details on how you can utilize High Tech Marketing and Win!
Have Questions?
If you have any questions, contact us: Chatbot 🤖 at the bottom. Contact me by Email 📩 or my Cell 📲 @ 248-343-2459. Would you mind sharing your thoughts below or what future article you would like to see? Your opinion is important to us…. this site is for you.🤩 To Keep up to date request our 🏡 Chat Newsletter or Follow us on Facebook, Instagram, or YouTube.
Have a Question ~ Tech Support?