Did you know that Real Estate is the best hedge against inflation in Metro Detroit, MI?
f you're following along with the news today, you've heard about rising inflation. Today, inflation is at a 40-year high. According to the National Association of Home Builders (NAHB):
"Consumer prices accelerated again in May as shelter, energy and food prices continued to surge at the fastest pace in decades. This marked the third straight month for inflation above an 8% rate and was the largest year-over-year gain since December 1981."
With inflation rising, you're likely feeling it impacts your day-to-day life as prices go up for gas, groceries, and more. These climbing consumer costs can put a pinch on your wallet and make you re-evaluate any big purchases you have planned to ensure they're still worthwhile.
If you've been thinking about purchasing a home this year, you're probably wondering if you should continue down that path or if it makes more sense to wait. While the answer depends on your situation, here's how homeownership can help you combat the rising costs that come with inflation.
Homeownership Helps You Stabilize One of Your Biggest Monthly Expenses
Investopedia explains that during a period of high inflation, prices rise across the board. That's true for things like food, entertainment, and other goods and services, even housing. Both rental prices and home prices are on the rise. So, as a buyer, how can you protect yourself from increasing costs? The answer lies in homeownership, buying up, or downsizing.
Buying a home allows you to stabilize what's typically your biggest monthly expense: your housing cost. When you have a fixed-rate mortgage on your home, you lock in your monthly payment for the duration of your loan, often 15 to 30 years. James Royal, Senior Wealth Management Reporter at Bankrate, says:
"A fixed-rate mortgage allows you to maintain the biggest portion of housing expenses at the same payment. Sure, property taxes will rise and other expenses may creep up, but your monthly housing payment remains the same. That's certainly not the case if you're renting."
So even if other prices increase, your housing payment will be a reliable amount that can help keep your budget in check. If you rent, you don't have that same benefit, and you won't be protected from rising housing costs.
Investing in an Asset That Historically Outperforms Inflation
While it's true rising home prices and higher mortgage rates mean that buying a house today costs more than it did even a few months ago, you still have an opportunity to set yourself up for a long-term win. That's because, in inflationary times, you want to be invested in an asset that outperforms inflation and typically holds or grows in value.
The graph below shows how the average home price appreciation outperformed the average inflation rate in most decades going all the way back to the seventies – making homeownership a historically strong hedge against inflation (see graph below):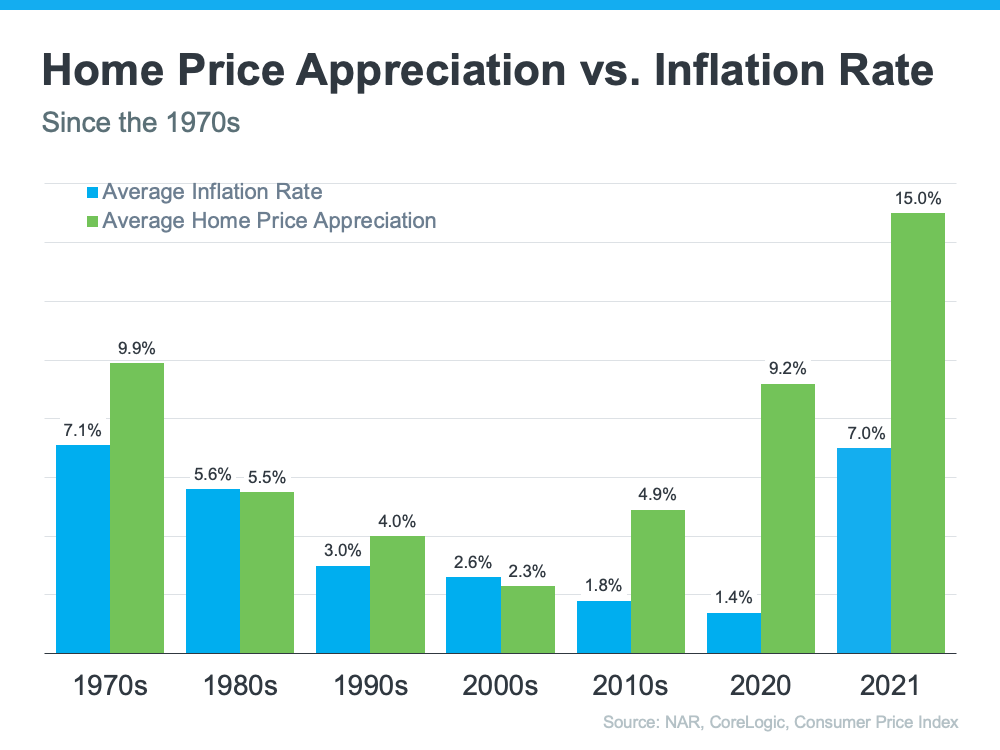 So, what does that mean for you? Today, experts forecast home prices will only go up from here thanks to the ongoing imbalance of supply and demand. Once you buy a house, any home price appreciation that does occur will grow your equity and your net worth. And since homes are typically assets that grow in value, you have peace of mind that history shows your investment is a strong one.
That means, if you're ready and able, it makes sense to buy today before prices rise further.
Step #1 ~ Find Out How You Can Save You Thousands in Closing Cost  
💥 Important 💥 Find a lender that won't charge you for bank fees and will pay you to refinance with them when mortgage rates go down. If you don't have one, I do.
Watch the Video and Save
We are just in a little pump in the road for mortgage rates and you're in shock over the huge increase. As a solution to help you over the pump, as a Keller Williams agent I can help you save thousands in closing costs with our Keller Mortgage Zero Plus 3 ways.
1.When you buy you save thousands 2. You can offer potential buyers for your home Zero Plus so they can save thousands. This is a great incentive to keep them focused on your property and not your competition. 3. When mortgage rates go down you can save thousands again and lower your monthly payment…Win ~ Win.  It's your money, we need to put it to work for you, not the lender. NMLS # 140234
Step #2 ~ Your 🔑 To Home Selling and Buying Success ~ Safe e-Guides
💥 Important 💥 Your Guides also have educational videos and links regarding where home prices are heading, mortgage rates, Housing Market Trends and more.
Watch Video for Sneak Peak
Don't muddle through the Home Buying and Selling Process. Buying a new home is a dream for all of us, and it's an emotional and stressful process.
It also involves the most significant financial transaction you probably will make in your lifetime. Your Buying Guide…will walk you through tips, strategies, and how to understand the numbers to strengthen your negotiation power.
Your Selling Guide…It will help you work through the selling process using the latest in high-tech market tools, so you make MORE Money. Our goal is to separate your home from the competition, and keep Buyers focused on your house. The Selling Guide is very detailed and works step-by-step, so you're guaranteed Top Dollar for your home.
Bottom Line: Real Estate is the Best Hedge Against

Inflation

Today
If you've been thinking about buying a home this year, it makes sense to act soon, even with inflation rising. That way you can stabilize your monthly housing cost and invest in an asset that historically outperforms inflation. If you're ready to get started, let's connect so you have expert advice on your specific situation when you're ready to buy a home.
As we move forward, it's been challenging as we navigated through all the changes. Putting your dream of a new home on HOLD shouldn't be one of them. Now more than ever, knowledge will be your power. Know the Market You're In and your Negotiation Power. Check out Categories for additional updates regarding the Market | Buying | Selling
If You Need To Sell 1st… I Recommend

🛑

Doing This!
No 2 homes are alike, and agents need to 🛑 marketing ONE size fits all. We no longer have an exposure problem (internet). Your home is buried on public home search internet sites. The only way to compete on those platforms is the price. If you want more money, you need to apply Influence. Separate your home from the competition, so the Buyer sees value. Keeping them focused on your property and not getting lost in homes' inaccurate data on public internet sites is necessary. Having digital omnipresence on serval platforms is your key to success. Remember MORE INFLUENCE = MORE 💰. We have details on how you can utilize High Tech Marketing and Win!
Have Questions?
If you have any questions, contact us: Chatbot 🤖 at the bottom. Contact me by Email 📩 or my Cell 📲 @ 248-343-2459. Would you mind sharing your thoughts below or what future article you would like to see? Your opinion is important to us…. this site is for you.🤩 To Keep up to date request our 🏡 Chat Newsletter or Follow us on Facebook, Instagram, or YouTube