Americans See Real Estate as a Better Investment Than Stocks or Gold
Last month,  the Federal Reserve Bank of New York noted that Americans believe buying a home is definitely or probably a better investment than buying stocks. Last week, a Gallup Poll reaffirmed those findings.
In an article on the current real estate market, Gallup reports:
"Gallup usually finds that Americans regard real estate as the best long-term investment among several options. Furthermore, seeing it as superior to stocks, gold, savings accounts and bonds. This year, 41% choose real estate as the best investment, up from 35% a year ago. Surprisingly, stocks took  a distant second."
Here's the breakdown: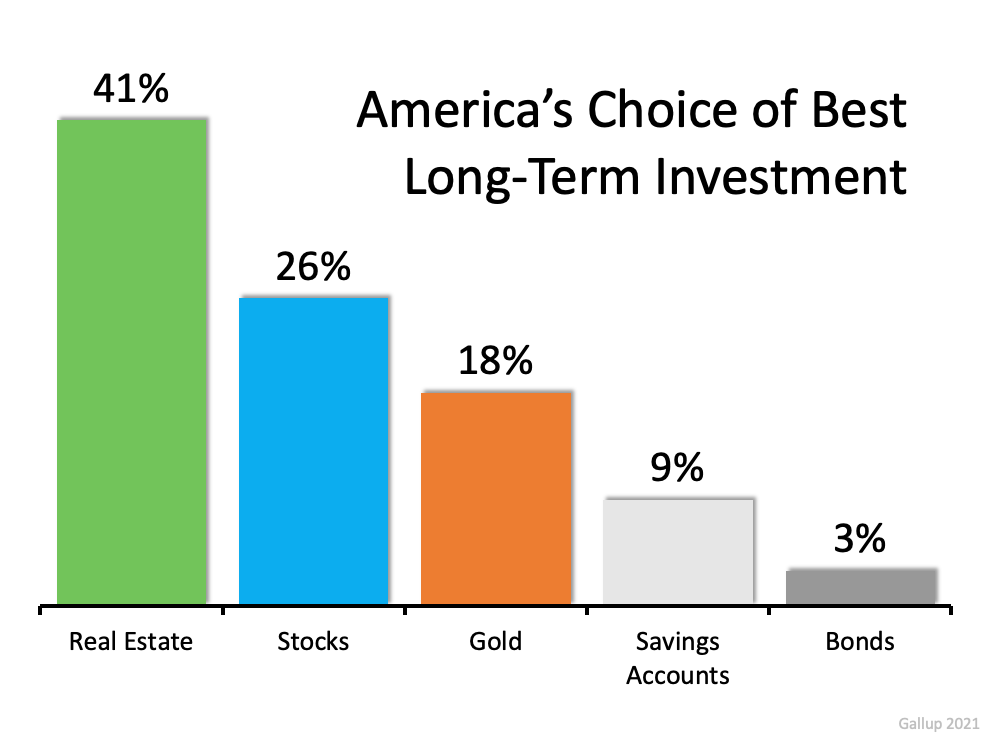 The article goes on to say:
"The 41% choosing real estate is the highest selecting any of the five investment options in the 11 years Gallup has asked this question."
Is real estate really a secure investment right now?
Some question American confidence in real estate as a good long-term investment right now. They fear that the build-up in home values may be mirroring what happened right before the housing crash a little more than a decade ago. However, according to Merrill Lynch, J.P. Morgan, Morgan Stanley, and Goldman Sachs, the current real estate market are strong and sustainable.
As Morgan Stanley explains to their clients in a recent Thoughts on the Market podcast:
"Unlike 15 years ago, the euphoria in today's home prices comes down to the simple logic of supply and demand. And we at Morgan Stanley conclude that this time the sector is on a sustainably, sturdy foundation . . . . This robust demand and highly challenged supply, along with tight mortgage lending standards, may continue to bode well for home prices. Higher interest rates and post pandemic moves could likely slow the pace of appreciation, but the upward trajectory remains very much on course."
Bottom Line
America's belief in the long-term investment value of homeownership has been, is, and will always be, very strong.
Helping You Build Your Future Wealth Through Real Estate
As we move forward…it's been tough as we navigated through all the changes. Putting your dream of a new home on HOLD shouldn't be one of them.  Now more than ever, knowledge will be your power. Know the Market You're In and your Negotiation Power. Check out Categories for additional updates regarding the Market | Buying | Selling & My Blueprint to Your 🔑 to 🏡 Buying & Selling Success
 In Closing
If you have any questions, contact us: Chatbot 🤖 at the bottom.  Contact me by Email 📩 or my Cell 📲 @ 248-343-2459.  With all the doom and gloom of the virus, one thing history has shown us, this will NOT define us.  Stay safe! Please share your thoughts below or what future article you would like to see. Your opinion is important to us…. this site is for you❣

Could you help me Find my Perfect Ideal Home!
Please tell me what you're looking for in your new Ideal Home…I can help you find the newest and best homes on the market.
Need Help with the Right Mortgage?
See how you can save Thousands.

Have Questions?
Let us know what we can do to help you work your way through the Buying & Selling Puzzle.

Website Development, Production, and Content by Pam Sawyer @ Team Tag It Sold © 2017 All Rights Reserved