Buying a home may make more financial sense than renting one in 2022. Find out what options works best for you now in Metro Detroit MI.
If rising home prices leave you wondering if it makes more sense to rent or buy a home in today's housing market, consider this. It's not just home prices that have risen in recent years – rental prices have skyrocketed as well. As a recent article from realtor.com says:
"The median rent across the 50 largest US metropolitan areas reached $1,876 in June, a new record level for Realtor.com data for the 16th consecutive month."
That means rising prices will likely impact your housing plans either way. But there are a few key differences that could make buying a home a more worthwhile option for you.
If You Need More Space, Buying a Home May Be More Affordable
What you may not realize is that, according to the latest data from realtor.com and the National Association of Realtors (NAR), it may actually be more affordable to buy than rent depending on how many bedrooms you need. The graph below uses the median rental payment and median mortgage payment across the country to show why.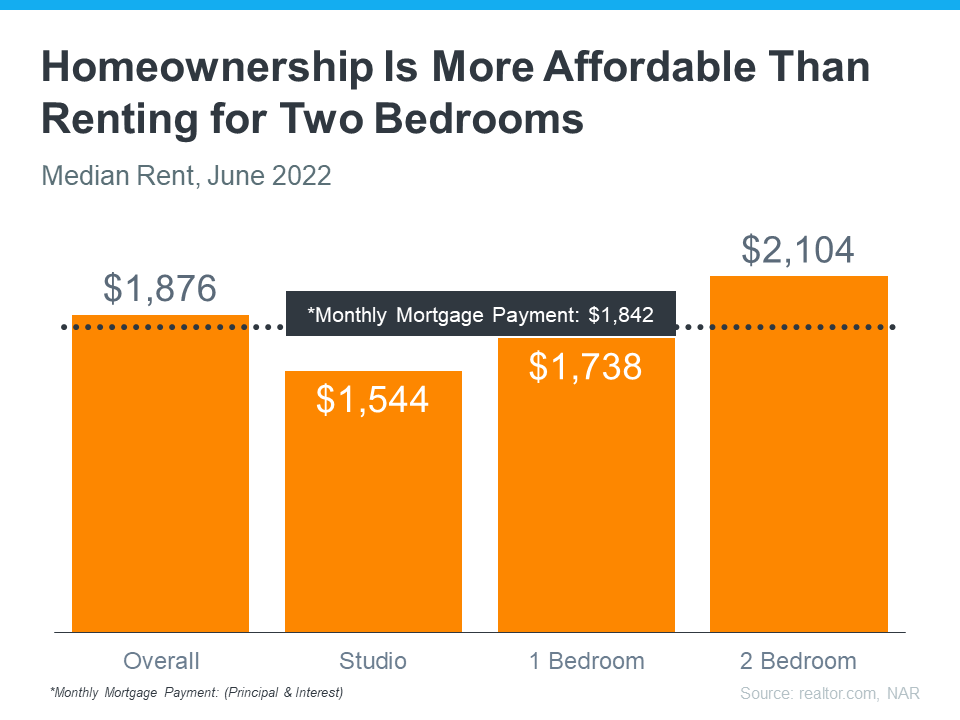 As the graph conveys, if you need two or more bedrooms, it may actually be more affordable to buy a home even as prices rise. While this doesn't take into consideration the interest deduction or other financial advantages that come with owning a home, it does help paint the picture that it may be more affordable to buy than rent for that unit size based on nationwide averages. So, if one of the factors motivating you to move is a desire for more space, this could be the added encouragement you need to consider homeownership.
Homeownership Also Provides Stability and a Chance To Grow Your Wealth
In addition to being more affordable depending on how many bedrooms you need, buying has two other key benefits: payment stability and equity.
When you buy a home, you lock in your monthly payment with your fixed-rate mortgage. And that's especially important in today's inflationary economy. With inflation, prices rise across the board for things like gas, groceries, and more. Locking in your housing payment, which is likely your largest monthly expense, can provide greater long-term stability and help shield you from those rising expenses moving forward. Renting doesn't provide that same predictability. A recent article from CNET explains it like this:
"…if you buy a house and secure a fixed-rate mortgage, that means that no matter how much prices or interest rates go up, your fixed payment will stay the same every month. That's an advantage over renting since there's a good chance your landlord will raise your rent to counter inflationary pressures." 
Not to mention, when you buy, you have the chance to build equity, which in turn grows your net worth. It works like this. As you pay down your home loan over time and as home values continue to appreciate, so does your equity. And that equity can make it easier to fuel a move into a future home if you decide you need a bigger home later on. Again, the CNET article mentioned above helps explain:
"Homeownership is still considered one of the most reliable ways to build wealth. When you make monthly mortgage payments, you're building equity in your home that you can tap into later on. When you rent, you aren't investing in your financial future the same way you are when you're paying off a mortgage."
Step #1 ~ Do You Homework to find the Best Lender and Program for You

💥 Important 💥 We've seen many changes lately with high mortgage rates and now lenders are designing special programs to help you and compete for your business… Great News!
✅ Do ~ Call around and check out and get quotes for rates and what type of programs different lenders have available. Give the lenders your FICA score to get quotes.
✅ Do ~Call around and check out and get quotes for rates and what type of programs different lenders have available. Give the lenders your FICA score to get quotes.
🛑 DON'T ~give out your Social Security Number as they will pull your credit. Wait until you select a lender and a program that works best for you then make an application. You are getting rough quotes for now based on the FICA score you obtained, it doesn't have to be exact for now. You're in the weeding-out phase of your search.
✅ DO ~ contact me with any question you may have via my cell at 248-343-2459
🙋‍♀️~ Not sure where to start? Get Your Do's and Don'ts during the loan process. Below are lenders I've worked with in the past that offer amazing programs and options. You can also check with your Bank or Credit Union (Alpha order: not based on preference.)
First State Bank – Manny Nino – Loan Officer 📲 Cell: 586-945-5203
Flagstar Bank – Ray Cela – Loan Officer/VP Sale 📲 Cell: 248-238-1849
Keller Mortgage – MaryAnn O'Brian – Loan Officer 📲 Cell: 843-368-7163
Step #2 ~ Your 🔑 To Home Selling and Buying Success ~ Safe e-Guides
💥 Important 💥 Your Guides also have educational videos and links regarding where home prices are heading, mortgage rates, Housing Market Trends, and more.
Watch Video for Sneak Peak
Don't muddle through the Home Buying and Selling Process. Buying a new home is a dream for all of us, and it's an emotional and stressful process.
It also involves the most significant financial transaction you probably will make in your lifetime. Your Buying Guide…will walk you through tips, strategies, and how to understand the numbers to strengthen your negotiation power.
Your Selling Guide…It will help you work through the selling process using the latest in high-tech market tools, so you make MORE Money. Our goal is to separate your home from the competition, and keep Buyers focused on your house. The Selling Guide is very detailed and works step-by-step, so you're guaranteed Top Dollar for your home.
Step #3 ~ 💥Search Better Than a Realtor💥 on a Platform that was Designed by One.
Find Your Ideal Home Here ~ Pre-loaded Home Search: Newly Listed ~ Coming Soon ~Luxury~ Waterfront ~ and More🤩
Create an account and save your favorites and email updates. Another huge feature you can modify and look for homes Coming Soon only, or view homes that have been on the market X number of days. Maybe a 1st floor primary bedroom or office is important. You can even search by lot features like Finished Basement ~ Golf Frontage ~ Water Frontage ~ Acreage ~ Large private treed lot ~ Cul-de-Sac and More.
Bottom Line: Renting vs Buying a Home Today
If you're trying to decide whether to keep renting or buy a home, let's connect to explore your options. With home equity and a shield against inflation on the line, it may make more sense to buy a home if you're able to.
As we move forward, it's been challenging as we navigated through all the changes. Putting your dream of a new home on HOLD shouldn't be one of them. Now more than ever, knowledge will be your power. Know Your Local Home Prices and Trends by Ctiy and your Negotiation Power. Check out Categories for additional updates regarding the Market | Buying | Selling
Have Questions?
If you have any questions, contact us: Chatbot 🤖 at the bottom. Contact me by Email 📩 or my Cell 📲 @ 248-343-2459. Would you mind sharing your thoughts below or what future article you would like to see? Your opinion is important to us…. this site is for you.🤩 To Keep up to date request our 🏡 Chat Newsletter or Follow us on Facebook, Instagram, or YouTube
Have a Question ~ Tech Support?