Many homeowners have put home selling on hold. Now they are thinking should I sell my house now in 2023 in Metro Detroit MI and not wait?
Many of today's homeowners bought or refinanced their homes during the pandemic when mortgage rates were at history-making lows. Since rates doubled in 2022, some of those homeowners put their plans to move on hold, not wanting to lose the low mortgage rate they have on their current house. And while today's rates have started coming down from last year's peak, they're still higher than they were a couple of years ago.
Mortgage Rates Today
Today, 93% of outstanding mortgages have a rate at or below 6%. That means a strong majority of homeowners with mortgages have a rate below what they'd get if they moved right now. But if you're a homeowner in that position, remember that mortgage rates aren't the only thing to consider when making a move. Your mortgage rate is important, but there are plenty of reasons you may still need or want to move. RealTrends explains:
"Sellers who don't have to move won't be moving. The most common sellers will be: Homeowners downsizing . . . people moving to get more space, [households] looking for better schools…etc."
Home Owners Top Reasons to Sell
So, if you're on the fence about selling your house, consider the other reasons homeowners are choosing to make a move. A recent report from the National Association of Realtors (NAR) breaks down why homeowners have decided to sell over the past year: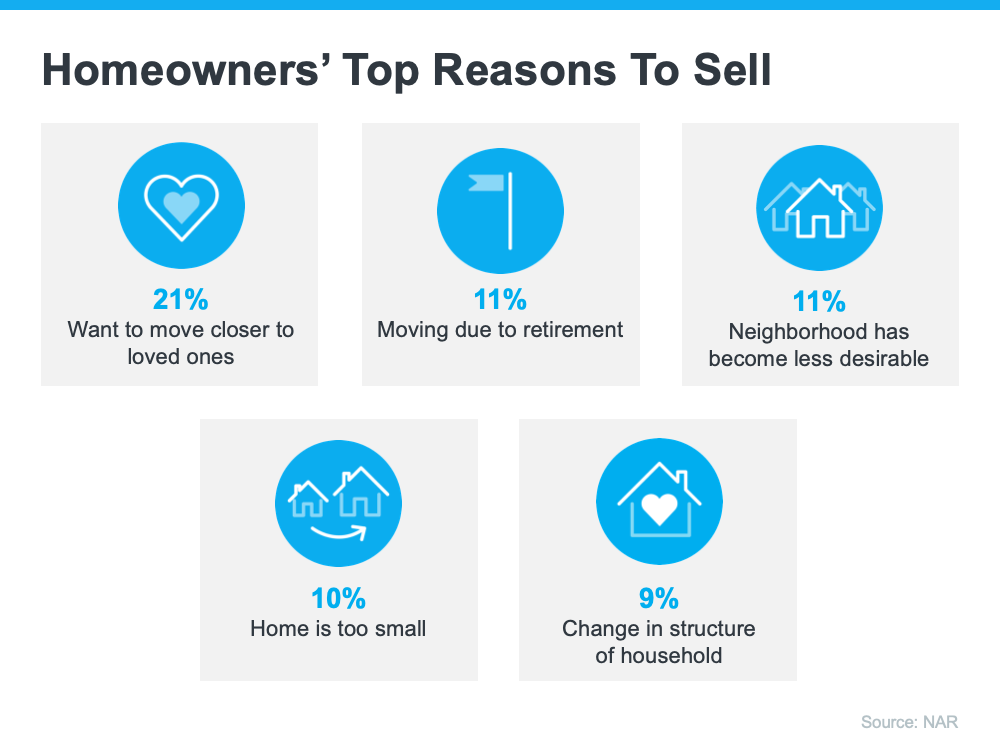 As the visual shows…
The most commonly cited reasons for selling were the desire to move closer to loved ones, followed by moving due to retirement, and their neighborhood becoming less desirable. Additionally, the need for more space factored in, as did a change in household structure.
If you also find yourself wanting a change in location or needing space your current house just can't provide, it may be time to sell.
What you want and need in a home can be reason enough to move. To find out what's right for you, work with a trusted real estate professional who will offer advice and expert guidance throughout the process. They'll be able to lay out all your options – giving you what you need to make a confident decision.
So What Are the Experts Saying About the Housing Market?
Cristian deRitis, Deputy Chief Economist, Moody's Analytics:
"The current state of the housing market is that it is certainly in transition."
"Housing is going to ease up. I think 2023 will be a turnaround year."
"Mortgage rates have fallen in the recent past weeks, so I'm very hopeful that the worst in home sales is probably coming to an end."
". . . it appears a turning point for housing lies ahead. In the coming quarters, single-family home building will rise off of cycle lows as mortgage rates are expected to trend lower and boost housing affordability."
Bottom Line: Should I Sell My House Now
When deciding whether or not to move, you have a lot to consider. There are plenty of non-financial reasons to factor in. Let's connect today to weigh the benefits of selling your house. If you're thinking about making a move this year, a turnaround in the housing market could be exactly what you've been waiting for. Let's connect to talk about the latest trends in our area.
If you find this information useful, like it and share it with your friends and family.
Step #1~

Marketing How to Sell Your Home for More Money
💥 Important 💥 Know how to separate your home from the competition
I'll walk you through each step on how to use Influence to Sell for Top Dollar 💰 vs. Post and Pray on Price. Post and Pray rely on exposure only from the Multiple Listing Service, Zillow, and Realtor. Com's.
Increase Your Marketing to Increase Your Buyer Pool
The only way you are going to compete with the other homes for sale on these platforms is by price, not value. Even in a Sellers' Market, Marketing your Home is very 💥important💥 Think Amazon…getting your home in front of buyers looking for what you are selling. You need to stay in front of all potential buyers.
Step #2 ~

Your

🔑 To Home Selling and Buying Success ~ Safe e-Guides
💥 Important 💥 Your Guides also have educational videos and links regarding where home prices are heading, mortgage rates, Housing Market Trends, and more.
Watch the Video for Sneak Peak

▶
Don't muddle through the Home Buying and Selling Process. Buying a new home is a dream for all of us, and it's an emotional and stressful process.
Step #3

 ~ Where are Home Prices Heading?
💥 Important 💥 Know Your Numbers…It represents your Money! This is Where You Track Home Prices and Housing Inventory Levels (Supply and Demand) by City, & updated monthly by the 15th. You have direct access to all data from the Multiple Listing Service because I programmed it that way 🤩
Whether you are Home Buying or Home Selling, this should be your starting point. Remember, the numbers in the graph and trends represent your MONEY💰 I just finished a blog post regarding the importance of tracking home prices.
As a programmer, you have full access to everything in the multiple listing service on my website. You don't need a realtor to access the data. Before you start working through the 5 steps, start with understanding the difference between Price-Driven Approach vs Value-Driven Approach… then cick button below and work through the 5 steps.
As we move forward, it's been challenging as we navigated through all the changes. Putting your dream of a new home on HOLD shouldn't be one of them. Now more than ever, knowledge will help you set up your  Negotiation Power. Check out Categories for additional updates regarding the Market | Buying | Selling
Scroll Down for Testimonials
Have a Question ~ Tech Support?
☎ ~

+1 (248) 343-2459
📩 Email
teamtagitsold.com
Website Development, Production, and Content by Pam Sawyer @ Team Tag It Sold © 2017 All Rights Reserved