With all the talk of the Housing Bubble, Inflation, and Recession, these headlines are pretty scary. Should you Buy a House or Sell a House during a recession is a good idea in Metro Detroit? First, we need to find out how a Recession affects Real Estate. 
A recession does not equal a housing crisis. That's the one thing that every homeowner today needs to know. Everywhere you look, experts are warning we could be heading toward a recession, and if true, an economic slowdown doesn't mean homes will lose value.
The National Bureau of Economic Research (NBER) defines a recession this way:
"A recession is a significant decline in economic activity spread across the economy, normally visible in production, employment, and other indicators. A recession begins when the economy reaches a peak of economic activity and ends when the economy reaches its trough. Between trough and peak, the economy is in an expansion."
To help show that home prices don't fall every time there's a recession, take a look at the historical data. There have been six recessions in this country over the past four decades. As the graph below shows, looking at the recessions going all the way back to the 1980s, home prices appreciated four times and depreciated only two times. So, historically, there's proof that when the economy slows down, it doesn't mean home values will fall or depreciate.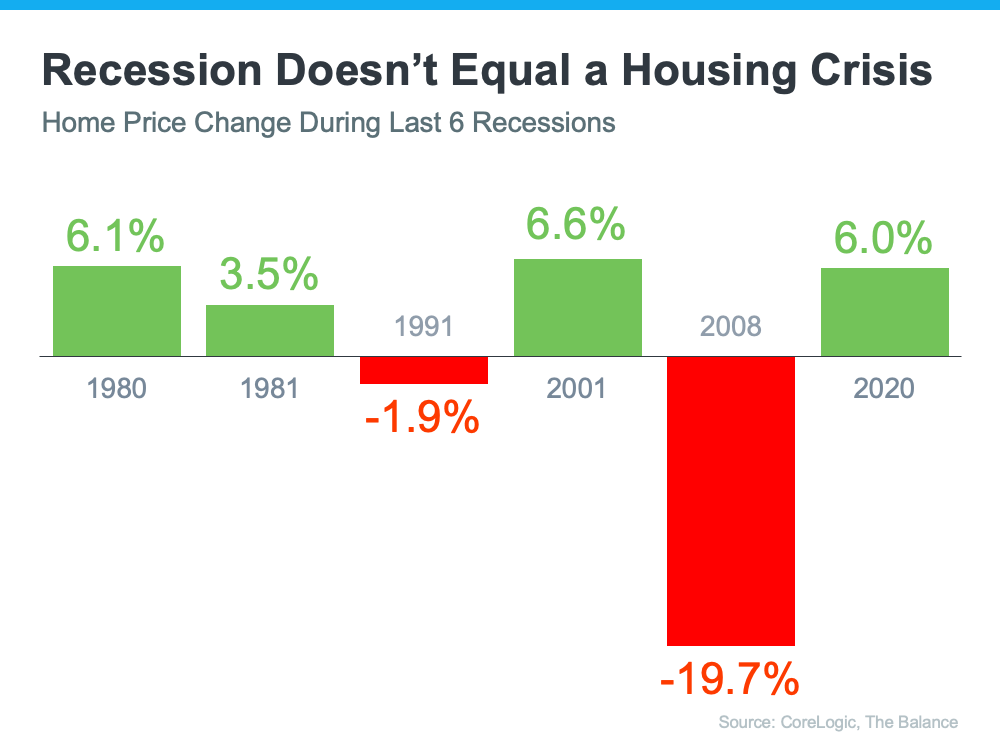 The first occasion on the graph when home values depreciated was in the early 1990s when home prices dropped by less than 2%. It happened again during the housing crisis in 2008 when home values declined by almost 20%. Most people vividly remember the housing crisis in 2008 and think if we were to fall into a recession we'd repeat what happened then. First, let's review if we are even in a Housing Bubble Ready to Burst.  The fundamentals are very different today than they were in 2008. So, we shouldn't assume we're heading down the same path.
How Does the Increase in Mortgage Rates Affect  Home Price and Home Sales
We will not know the true impact of the increase in mortgage rates for a few months. Right now with the Feds raising the interest rates, stock market corrections are causing the 10-year Treasury Yield to bounce around and mortgage rates to do the same. Remember, Mortgage Rates follow the 10-year Treasury Yield, not the Federal Reserve interest rates.

Your 🔑 To Home Selling and Buying Success ~ Safe e-Guides
Watch Video for Sneak Peak
Don't muddle through the Home Buying and Selling Process. Buying a new home is a dream for all of us, and it's an emotional and stressful process.
It also involves the most significant financial transaction you probably will make in your lifetime. Your Buying Guide…will walk you through tips, strategies, and how to understand the numbers to strengthen your negotiation power.
Your Selling Guide…It will help you work through the selling process using the latest in high-tech market tools, so you make MORE Money. Our goal is to separate your home from the competition, keep Buyers focused on your house. The Selling Guide is very detailed and works step-by-step, so you're guaranteed Top Dollar for your home.
Direct Access to the MLS ~ Homes for Sale ~ Newly Listed ~Coming Soon and More 🤩
As a programmer, you now have direct access to the Multiple Listing Service so you can search BETTER than a Realtor. Better yet, you can customize your features.🤩
Another huge feature you can modify and look for homes Coming Soon only, or view homes that have been on the market X numbers of days. Maybe a 1st floor primary bedroom or office is important. You can even search by lot features like ~ Golf Frontage ~ Water Frontage ~ Acreage ~ Large private treed lot or even a Cul-de-Sac. Your options are endless because I programmed it that way. You also have tech support via cell or online messenger. Let me know what I can do to help.
Bottom Line: If the future holds a Recession Should You Buy a House?
For now, we're not in a recession in this country, but it doesn't mean homes will lose value if one is coming. History proves a recession doesn't equal a housing crisis. If you're worried about a repeat of "08", then watch the video and graphs regarding "If We Are In A Housing Bubble Ready to Pop. 
As we move forward, it's been challenging as we navigated through all the changes. Putting your dream of a new home on HOLD shouldn't be one of them. Now more than ever, knowledge will be your power. Know the Market You're In and your Negotiation Power. Check out Categories for additional updates regarding the Market | Buying | Selling
If You Need To Sell 1st… I Recommend

🛑

Doing This!
No 2 homes are alike, and agents need to 🛑 marketing ONE size fits all. We no longer have an exposure problem (internet). Your home is buried on public home search internet sites. The only way to compete on those platforms is the price. If you want more money, you need to apply Influence. Separate your home from the competition, so the Buyer sees value. Keeping them focused on your property and not getting lost in homes' inaccurate data on public internet sites is necessary. Having digital omnipresence on serval platforms is your key to success. Remember MORE INFLUENCE = MORE 💰. We have details on how you can utilize High Tech Marketing and Win!
Have Questions?
If you have any questions, contact us: Chatbot 🤖 at the bottom. Contact me by Email 📩 or my Cell 📲 @ 248-343-2459. Would you mind sharing your thoughts below or what future article you would like to see? Your opinion is important to us…. this site is for you.🤩 To Keep up to date request our 🏡 Chat Newsletter or Follow us on Facebook, Instagram, or YouTube