While there are multiple factors causing some uncertainty, including the conflict overseas, rising inflation, and the first-rate increase from the Federal Reserve in over three years — the housing market seems to be relatively immune.
Here's a look at what experts say you can expect this spring.
1. Mortgage Rates Will Climb
Freddie Mac reports the 30-year fixed mortgage rate has increased by more than a full point in the past six months. For more insights watch the video. 
And despite some mild fluctuation in recent weeks, experts believe rates will continue to edge up over the next 90 days. As Freddie Mac says:
"The Federal Reserve raising short-term rates and signaling further increases means mortgage rates should continue to rise over the course of the year."
If you're a first-time buyer or a seller thinking of moving to a home that better fits your needs, realize that waiting will likely mean you'll pay a higher mortgage rate on your purchase. And that higher rate drives up your monthly payment and can really add up over the life of your loan.
2. Housing Inventory Will Increase
There may be some relief coming for buyers searching for a home to purchase. Realtor.com recently reported that the number of newly listed homes has grown in each of the last two months. Also, the National Association of Realtors (NAR) just announced the months' supply of inventory increased for the first time in eight months. The inventory of existing homes usually grows every spring, and it seems, based on recent activity, that the next 90 days could bring more listings to the market.
If you're a buyer who has been frustrated with the limited supply of homes available for sale, it looks like you could find some relief this spring. However, be prepared to act quickly if you find the right home.
If you're a seller, listing now instead of waiting for this additional competition to hit the market makes sense. Your leverage in any negotiation during the sale will be impacted as additional homes come to market.
3. Home Prices Will Rise
Prices are always determined by supply and demand. Though the number of homes entering the market is increasing, buyer demand remains very strong. As realtor.com explains in their most recent Housing Report:
"During the final two weeks of the month, more new sellers entered the market than during the same time last year. . . . However, with 5.8 million new homes missing from the market and millions of millennials at first-time buying ages, housing supply faces a long road to catching up with demand."
What does that mean for you? With the demand for housing still outpacing supply, home prices will continue to appreciate. Many experts believe the level of appreciation will decelerate from the high double-digit levels we've seen over the last two years. That means prices will continue to climb, just at a more moderate pace. Most experts are predicting home prices will not depreciate.
Spring Housing Market Predictions 2022: Will Increase Mortgage Rates Cause Home Prices To Fall?
While some people may believe a 1% increase in mortgage rates will impact demand so dramatically that home prices will have to fall, experts say otherwise. Doug Duncan, Senior Vice President and Chief Economist at Fannie Mae, says:
"What I will caution against is making the inference that interest rates have a direct impact on house prices. That is not true."
Freddie Mac studied the impact that mortgage rates increasing by at least 1% has had on home prices in the past. Here are the results of that study: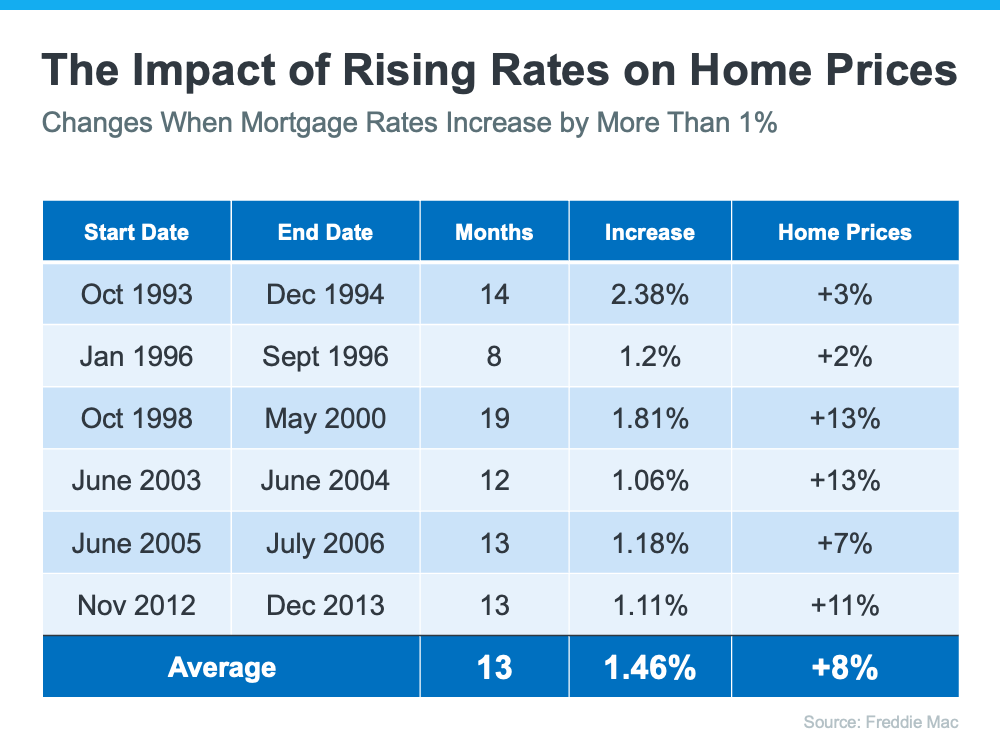 As the chart shows, mortgage rates jumped by at least 1% six times in the last thirty years. In each case, home values increased.
So again, if you're a first-time buyer or a repeat buyer, waiting to buy likely means you'll pay more for a home later in the year (as compared to its current value).
So Where Are Prices Going in Your City? Find Out!
👈👈👈 Detailed Video on how to work through each step of the Housing Market Prices and Trends. What's going to be important is to follow up for April Trends. 
With Mortgage Rates Skyrocketing it will be important to follow up. We could see major market changes moving forward. You'll find Real Estate goes through cycles, and my Chrystal Ball is telling me what we knew needs to be thrown out and start looking at the data and trends for a market shift or it may be a pivot. 
Safe PDF Spring Guides with all your Home Buying and Home Selling Tips and Strategies in one place
 

Watch Video for Sneak Peak 👉👉👉
Don't muddle through the Home Buying and Selling Process. Buying a new home is a dream for all of us, and it's an emotional and stressful process.
It also involves the most significant financial transaction you probably will make in your lifetime. Your Buying Guide…will walk you through tips, strategies, and how to understand the numbers to strengthen your negotiation power.
Your Selling Guide…It will help you work through the selling process using the latest in high-tech market tools, so you make MORE Money. Our goal is to separate your home from the competition, keep Buyers focused on your house. The Selling Guide is very detailed and works step-by-step, so you're guaranteed Top Dollar for your home.
 Bottom Line: Spring Housing Market Predictions 2022
3 Trends to Watch
Mortgage rates will continue to rise
The selection of homes available for sale will modestly improve
Home prices will continue to appreciate, the prediction is it will be at a slightly slower pace.
This report and video is updated by the 15th of each month. I recommend knowing the Market You're In and watching the video and working through each step in the blog post. I guarantee if you do, you'll know more about the housing market and how it will affect you. If you're thinking of buying, act now before mortgage rates and home prices increase further. Remember, you can always refinance once mortgage rates go down.  If you're thinking of selling, your best bet may be to sell soon so you can beat the increase in competition that's about to come to market.
As we move forward, it's been challenging as we navigated through all the changes. Putting your dream of a new home on HOLD shouldn't be one of them. Now more than ever, knowledge will be your power. Know the Market You're In and your Negotiation Power. Check out Categories for additional updates regarding the Market | Buying | SellingThis 
If You Need To Sell 1st… I Recommend

🛑

Doing This!
No 2 homes are alike, and agents need to 🛑 marketing ONE size fits all. We no longer have an exposure problem (internet). Your home is buried on public home search internet sites. The only way to compete on those platforms is the price. If you want more money, you need to apply Influence. Separate your home from the competition, so the Buyer sees value. Keeping them focused on your property and not getting lost in homes' inaccurate data on public internet sites is necessary. Having digital omnipresence on serval platforms is your key to success. Remember MORE INFLUENCE = MORE 💰. We have details on how you can utilize High Tech Marketing and Win!
Have Questions?
If you have any questions, contact us: Chatbot 🤖 at the bottom. Contact me by Email 📩 or my Cell 📲 @ 248-343-2459. Would you mind sharing your thoughts below or what future article you would like to see? Your opinion is important to us…. this site is for you.🤩 To Keep up to date request our 🏡 Chat Newsletter or Follow us on Facebook, Instagram, or YouTube