See What Experts Are Saying About New Homes Coming to Market ~
If you're thinking of buying a home, there really is no time like the present. With today's low mortgage rates, you have a great opportunity to get more home for your money. The challenge is inventory. Like you, many buyers want to capitalize on these market conditions. Furthermore, it's leading to more buyer competition and bidding wars.
If you're having a hard time finding a home to buy, it may be time to talk to your trusted real estate advisor about a newly built home. Early indicators show new-home construction is beginning to ramp up. While new homes alone won't fix all of the inventory challenges, this does mean you'll soon have more options as you search for a home. As a buyer, a newly built home may be exactly what you're looking for. Your home is brand new, and with builder customization options, it's uniquely yours from the ground up.
Here's what industry experts are saying about new homes coming to market:
Nadia Evangelou, Senior Economist and Director of Forecasting at the National Association of Realtors (NAR), says recent research could indicate upward momentum in new home construction.
According to that research, housing starts reached their highest level since 2006 in March of this year. That's an encouraging sign for the new construction industry. While they dipped slightly in April, Evangelou reiterates that the level of housing construction is heading in a positive direction.
"…we are currently building 24% more homes than we typically have built in April in the last couple of decades. Thus, housing construction is trending upward.  With housing starts likely to reach 1.6 million for all of 2021 and rise further to 1.7 million in 2022."
As new data pours in, it further confirms this trend. According to the latest Monthly New Residential Construction report from the U.S. Census Bureau, housing increases even more in May.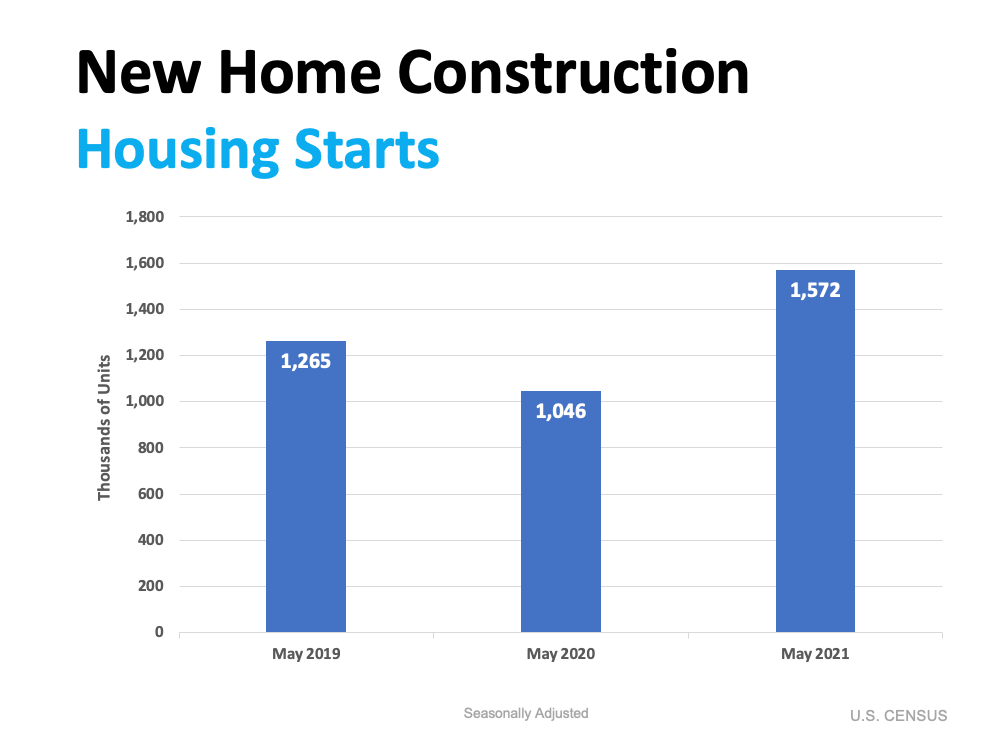 Robert Dietz, Chief Economist and Senior Vice President of Economics and Housing Policy for the National Association of Home Builders. (NAHB)
"It is also worth noting that the number of single-family homes are permitted to start building homes. This has  continued to increase in May, rising to 142,000 units."
This insight that there's also an uptick in single-family homes permitted serves as an additional sign that more new homes lie ahead. It's important to realize that the construction doesn't have to start on these homes before you may be able to purchase one. According to the Monthly New Residential Sales Report from the U.S. Census Bureau, many new homes are selling before construction even begins (see graph below):
These signs are all good news for housing inventory. And as the recent challenges of rising lumber prices and dwindling lumber supply begin to improve, builders will be able to increase their production even more in the months ahead.
Bottom Line
While the inventory challenges we're facing today won't be solved overnight,  Let's connect to discuss finding your dream home and the newly built homes available in our area.
Helping You Build Your Future Wealth Through Real Estate
As we move forward…it's been tough as we navigated through all the changes. Putting your dream of a new home on HOLD shouldn't be one of them.  Now more than ever, knowledge will be your power. Know the Market You're In and your Negotiation Power. Check out Categories for additional updates regarding the Market | Buying | Selling & My Blueprint is Your 🔑 to 🏡 Buying & Selling Success
 In Closing
If you have any questions, contact us: Chatbot 🤖 at the bottom.  Contact me by Email 📩 or my Cell 📲 @ 248-343-2459.  With all the doom and gloom of the virus, one thing history has shown us, this will NOT define us.  Stay safe! Would you mind sharing your thoughts below or what future article you would like to see? Your opinion is important to us…. this site is for you.🤩

Could you help me Find my Perfect Ideal Home!
Please tell me what you're looking for in your new Ideal Home…I can help you find the newest and best homes on the market.
Need Help with the Right Mortgage?
See how you can save Thousands.

Have Questions?
Let us know what we can do to help you work your way through the Buying & Selling Puzzle.

Website Development, Production, and Content by Pam Sawyer @ Team Tag It Sold © 2017 All Rights Reserved