What Is the #1 Financial Benefit of Homeownership?
There are many financial and non-financial benefits of homeownership.  The greatest financial one is wealth creation. Homeownership has always been the first rung on the ladder that leads to forming household wealth.
"Homeownership has cemented its role as part of the American Dream. More importantly, providing families with a place that is their own and an avenue for building wealth over time. This 'wealth' is built, in large part, through the creation of equity…Building equity through your monthly principal payments and appreciation is a critical part of homeownership that can help you create financial stability."
Odeta Kushi, Deputy Chief Economist at First American, also notes:
"The wealth-building power of homeownership shows that home is not only where your heart is, but also where your wealth is…For the majority of households that transition into homeownership, the most recent data reinforces that housing is one of the biggest positive drivers of wealth creation."
Last week, CoreLogic released their latest Homeowner Equity Insights Report. The report reveals the surge in wealth created over the last twelve months through increased home equity. The report makes five key points:
Roughly 38% of all homes are mortgage-free
The average equity gain of mortgaged homes in the last year was $26,300
The current average equity of mortgaged homes is greater than $200,000
There was a 16.9% increase in total homeowner equity
Total homeowner equity reached over $1.5 trillion
Here's a map that shows the equity gains by state: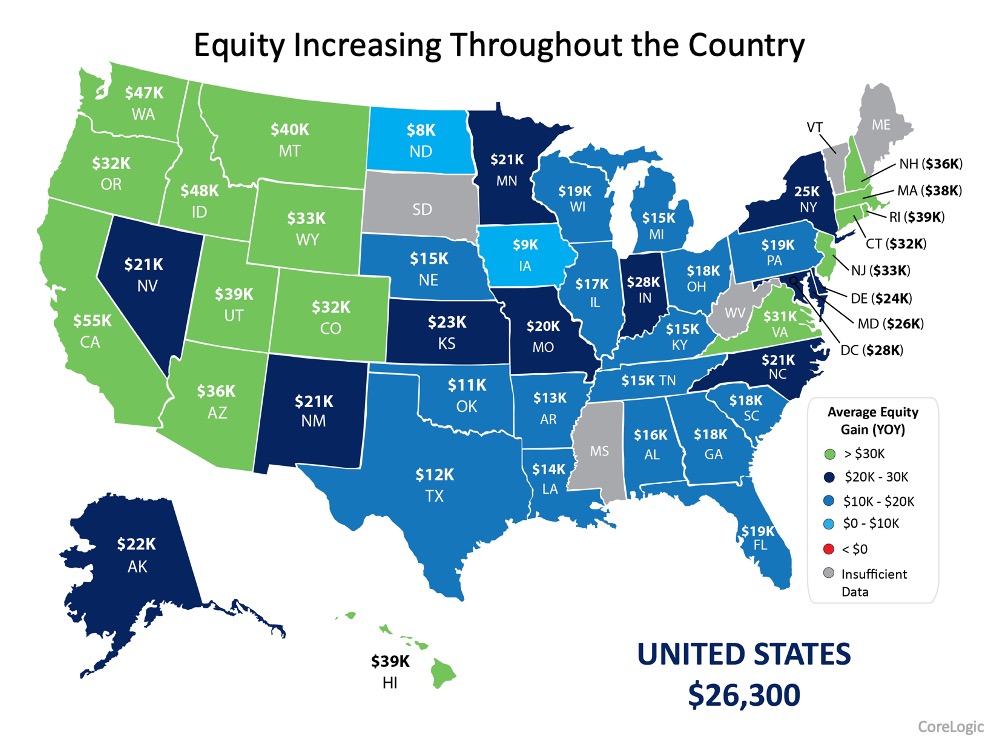 Increasing equity gives homeowners the power to better manage the pandemic's challenges, especially those spending more time at home. In the report, Frank Nothaft, Chief Economist for CoreLogic, explains:
"This equity growth has enabled many families to finance home remodeling, such as adding an office or study, further contributing to last year's record level in home improvement spending."
The financial advantage homeowners have has not gone unnoticed. In the same report, Frank Martell, President and CEO of CoreLogic states:
"This growing bank of personal wealth that homeownership affords was noticed by many but in particular for first-time buyers who want a piece of the cake."
Increasing wealth benefits more than just homeowners.
Last year, the Rosen Consulting Group released a report outlining the benefits of homeownership. In that report, they explained what an increase in net worth – which they call the "wealth effect" – means to the economy:
"In economic literature, the wealth effect is a term used to describe the fact that individuals have a tendency to increase their spending habits when their actual or perceived wealth increases. For homeowners, the latent savings achieved by building equity in their home. The growth in home values over time both contribute to increased net worth. Through the wealth effect, this in turn translates to households having a greater ability and willingness to spend money. That spending increase spurs business activity. More importantly,provides a positive multiplier that creates jobs and income throughout the economy."
Bottom Line
Homeownership builds wealth through equity, and this creates a positive impact for homeowners and their communities. Let's connect today if you're ready to invest in a home of your own.
Helping You Build Your Future Wealth Through Real Estate
As we move forward…it's been tough as we navigated through all the changes. Putting your dream of a new home on HOLD shouldn't be one of them.  Now more than ever, knowledge will be your power. Know the Market You're In and your Negotiation Power. Check out Categories for additional updates regarding the Market | Buying | Selling & My Blueprint to Your 🔑 to 🏡 Buying & Selling Success
 In Closing
If you have any questions, contact us: Chatbot 🤖 at the bottom.  Contact me by Email 📩 or my Cell 📲 @ 248-343-2459.  With all the doom and gloom of the virus, one thing history has shown us, this will NOT define us.  Stay safe! Please share your thoughts below or what future article you would like to see. Your opinion is important to us…. this site is for you. ❣

Could you help me Find my Perfect Ideal Home!
Please tell me what you're looking for in your new Ideal Home…I can help you find the newest and best homes on the market.
Need Help with the Right Mortgage?
See how you can save Thousands.

Have Questions?
Let us know what we can do to help you work your way through the Buying & Selling Puzzle.

Website Development, Production, and Content by Pam Sawyer @ Team Tag It Sold © 2017 All Rights Reserved