Reasons to Sell Your Home This Fall
Is Fall a good time to sell your home
If you're trying to decide when to sell your house, there may not be a better time to list than right now. The ultimate sellers' market we're in today won't last forever. If you're thinking of making a move, here are four reasons to put your house up for sale sooner rather than later.
1. Your House Will Likely Sell Quickly
According to the Realtors Confidence Index released by the National Association of Realtors (NAR), homes continue to sell quickly – on average; they're selling in just 17 days. As a seller, that's great news for you.
Average days on market is a strong indicator of buyer demand. And if homes are selling quickly, buyers have to be more decisive and act fast to submit their offer before other buyers swoop in.
2. Buyers Are Willing To Compete for Your House
In addition to selling quickly, homes are receiving multiple offers. That same survey shows sellers see an average of 4.5 offers, and they're competitive ones. The graph below shows how the average number of offers right now compares to previous years: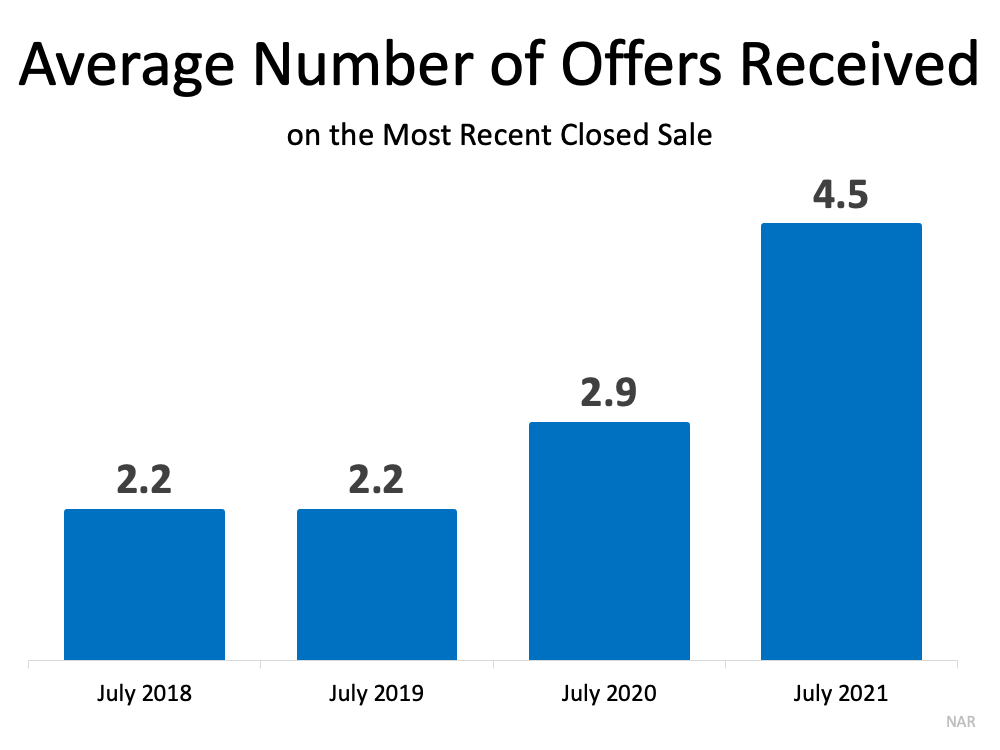 Buyers today know bidding wars are a likely outcome, and they're coming prepared with their best offer in hand. Receiving several offers on your house means you can select the one that makes the most sense for your situation and financial well-being.
3. When Supply Is Low, Your House Is in the Spotlight
One of the most significant challenges for motivated buyers is the current inventory of homes for sale. Though it's improving, it remains at near-record lows. The chart below shows how today's low inventory stacks up against recent years. The lighter the blue is in the chart, the lower the housing supply.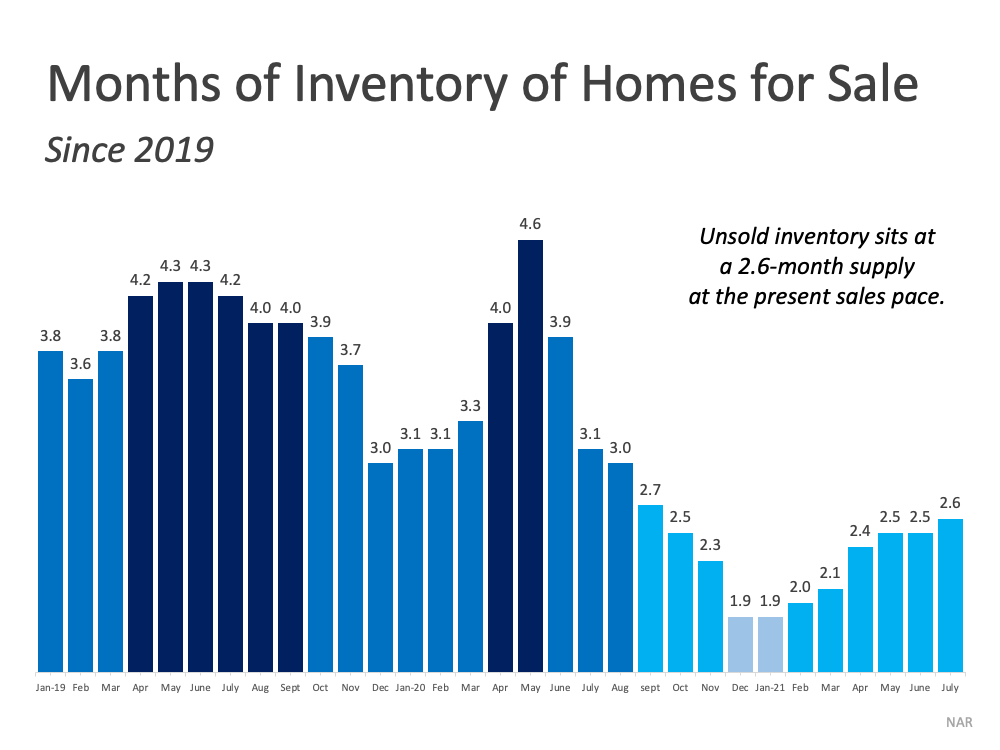 If you're looking to take advantage of buyer demand and get the most attention for your house, selling now before more listings come to the market might be your best option.
4. If You're Thinking of Moving Up, Now May Be the Time
If your current home no longer meets your needs, it may be the perfect time to make a move. Today, homeowners are gaining a significant amount of wealth through growing equity. You can leverage that equity, plus current low mortgage rates, to power your move now. But these near-historic low rates won't last forever.
Experts forecast interest rates will rise. In their forecast, Freddie Mac says:
"While we forecast rates to increase gradually later in the year, we don't expect to see a rapid increase. At the end of the year, we forecast 30-year rates will be around 3.4%, rising to 3.8% by the fourth quarter of 2022."
When rates rise, even modestly, it'll impact your monthly payment and, by extension, your purchasing power.
Bottom Line ~ Is Fall a good time to Sell Your Home
Don't delay. The combination of housing supply challenges, low mortgage rates, and extremely motivated buyers gives sellers a unique opportunity this season. If you're thinking about making a move, let's chat about why it makes sense to list your house now.
When You Sell, 🛑 STOP Doing This! 
No 2 homes are alike, and agents need to 🛑 marketing 1 size fits all. We no longer have an exposure problem (internet).  Your home is buried on public home search internet sites. The only way to compete on those platforms is the price.  If you want more money, you need to apply Influence.  Separate your home from the competition so the Buyer sees value. It's a must to keep them focused on your property and not get lost in homes' inaccurate data on the public internet sites. Having digital omnipresence on serval platforms is your key to success. Remember MORE INFLUENCE = MORE💰. We have details on how you can utilize High Tech Marketing and Win!
Peek into My Crystal Ball
Seeing this is my 3rd time I've been involved in a housing crisis in the real estate business. We will be watching for a shift as our economy and interest rates start bouncing back. There are 3 parts to making the most money on the sale of your property. 
Know the Market You're In ~ Live 3-year Market Trends.
My Blueprint is Your 🔑 to 🏡 Buying & Selling Success~ Education is key.
Prepare a marketing plan that influences buyers.~ High Tech Digital Marketing
  In Closing
If you have any questions, contact us: Chatbot 🤖 at the bottom.  Contact me by Email 📩 or my Cell 📲 @ 248-343-2459. Would you mind sharing your thoughts below or what future article you would like to see? Your opinion is important to us…. this site is for you.🤩
Get Your Home Buying & Selling Strategies in our E-Guide
Don't muddle through the home buying process. Buying a new home is a dream for all of us. It's an emotional and stressful process, and it also involves the biggest financial transaction you probably will make in your lifetime.
Your home buyers guide will let you buy your ideal home with confidence and save thousands in the process. You will be working with Selling Agents, loan officers, underwriters, title companies…1. Do you know the lingo? 2. Do you know what to avoid after applying for your mortgage? 3. Do you know your Negotiation Power? 4. Do you know how your agent thinks and how they will handle negotiations if you find yourself in a multiple offer situation? Find out the answer by downloading your PDF E-book Buying Guide.

Could you help me Find my Perfect Ideal Home!
Please tell me what you're looking for in your new Ideal Home…I can help you find the newest and best homes on the market.
Need Help with the Right Mortgage?
See how you can save Thousands.

Have Questions?
Let us know what we can do to help you work your way through the Buying & Selling Puzzle.

Website Development, Production, and Content by Pam Sawyer @ Team Tag It Sold © 2017 All Rights Reserved