Did Your Dream Home Just Come on the Market? Now more than ever it's important to have a plan in advance when you buy your dream home. Know more about Metro Detroit Real Estate Market below.

For the first time in a long time, the number of newly listed homes is beginning to rise. In their latest monthly release, realtor.com reveals the number of existing homes entering the market has increased for two months in a row (this comes after six months of declines). Here's a graph showing the monthly new listings going back to January of last year. The green bars indicate the first gains since June.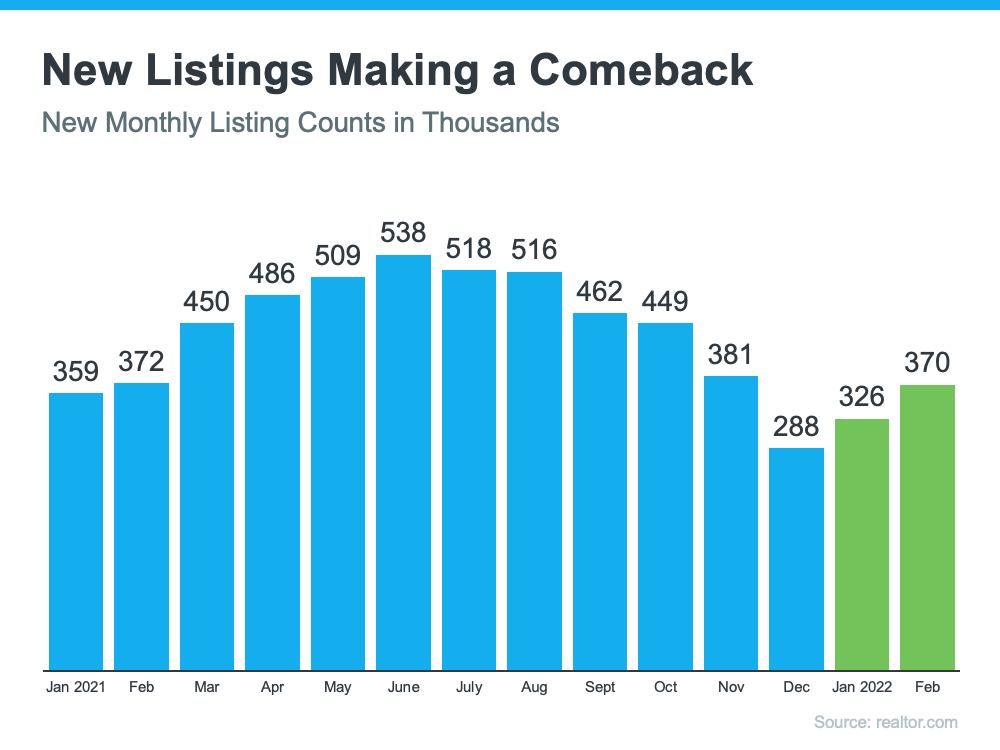 However, buying demand is still outpacing the housing supply.
Though the increase in homes coming to the market is great news for prospective homebuyers, the number of buyers is still outpacing the number of homes available for sale. As realtor.com explains in their latest report:
"During the final two weeks of the month, more new sellers entered the market than during the same time last year. . . . However, with 5.8 million new homes missing from the market and millions of millennials at first-time buying ages, housing supply faces a long road to catching up with demand."
In fact, according to the latest ShowingTime Showing Index, which tracks the average number of appointments received on active listings during the month, buyer demand was greater this January than any other January in the last five years (see graph below):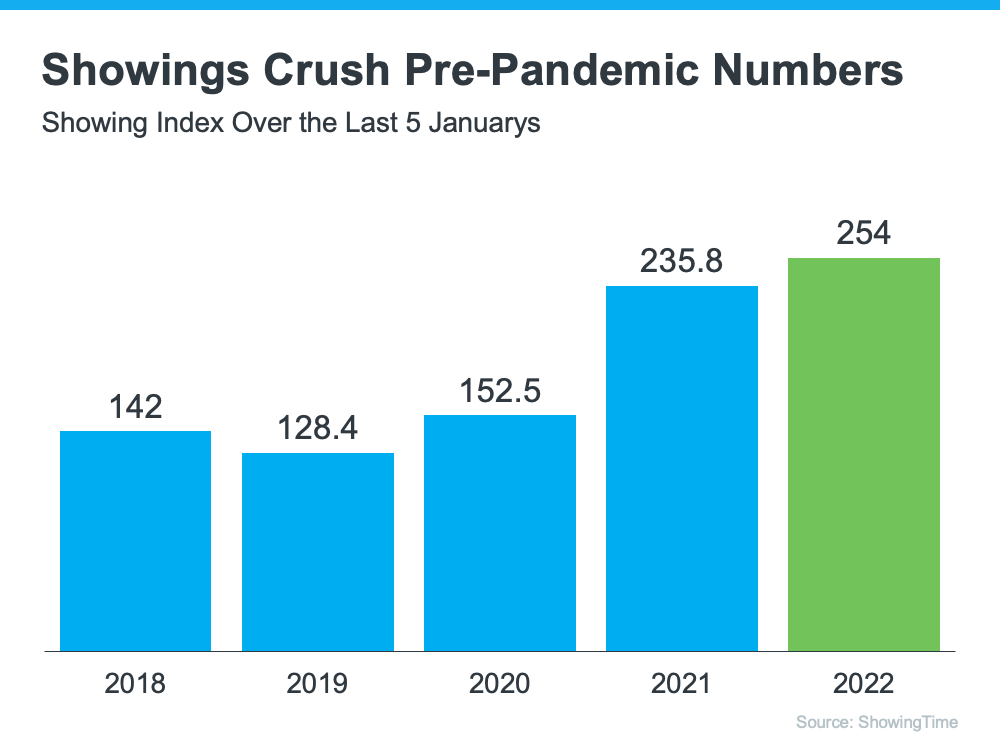 This prompted ShowingTime to say:
"The latest data from ShowingTime . . . shows a surge in home buyer demand in January. . . . This enormous activity occurred in a month when buyer activity typically slows and followed a historic 2021, where buyer demand across the country was extraordinarily strong."
What does that mean for you?
Basically, as homes come to the market, they are quickly being purchased by eagerly awaiting buyers. So even though the number of newly listed homes is increasing, the number of active listings is still shrinking every month because buyers are purchasing homes almost as soon as they come up for sale. That means listings are coming on and off the market so fast that they don't carry over to be counted in the active listing numbers the following month. Here's a graph showing the number of active listings each month since last January using data released by realtor.com:
This graph shows that the number of active listings has decreased for each of the last five months even though the number of newly listed homes has increased over the last two months.
Your 🔑 To Home Selling and Buying Success ~ Safe PDF Guides
👈👈👈

Watch Video for Sneak Peak
Don't muddle through the Home Buying and Selling Process. Buying a new home is a dream for all of us, and it's an emotional and stressful process.
It also involves the most significant financial transaction you probably will make in your lifetime. Your Buying Guide…will walk you through tips, strategies, and how to understand the numbers to strengthen your negotiation power.
Your Selling Guide…It will help you work through the selling process using the latest in high-tech market tools, so you make MORE Money. Our goal is to separate your home from the competition, keep Buyers focused on your house. The Selling Guide is very detailed and works step-by-step, so you're guaranteed Top Dollar for your home.
Want to Save Thousands When You Apply for Your Loan?
Watch the Video 👉👉👉
See how you can save thousands on your mortgage. It's your money, so we need to put it to work for you. We have our favorite and best loan officer to assist you and answer all your questions.
Unlike some other lenders, Keller Mortgage isn't spending millions on marketing and advertising. Therefore, we pass those savings on to you by offering no fees and a low rate. Plus $1,000 Cash Credit at closing for loans $150k or more! Contact my Cell with any questions at 248-343-2459 or 👇👇👇 request help below.
Bottom Line When You Buy Your Dream Home
Whether you're looking to upgrade to a home that will better suit your lifestyle or looking to purchase your first house, let's connect so you can stay updated on what's happening in your area. And be prepared to move immediately if a home fitting your needs hits the market. Your dream home may be one of those new listings that just became available, but if you don't act quickly, it could be gone tomorrow.
Simplifying Real Estate Through Education
As we move forward, it's been challenging as we navigated through all the changes. Putting your dream of a new home on HOLD shouldn't be one of them. Now more than ever, knowledge will be your power. Know the Market You're In and your Negotiation Power. Check out Categories for additional updates regarding the Market | Buying | Selling
If You Need To Sell 1st… I Recommend

🛑

Doing This!
No 2 homes are alike, and agents need to 🛑 marketing ONE size fits all. We no longer have an exposure problem (internet). Your home is buried on public home search internet sites. The only way to compete on those platforms is the price. If you want more money, you need to apply Influence. Separate your home from the competition, so the Buyer sees value. Keeping them focused on your property and not getting lost in homes' inaccurate data on public internet sites is necessary. Having digital omnipresence on serval platforms is your key to success. Remember MORE INFLUENCE = MORE 💰. We have details on how you can utilize High Tech Marketing and Win!
Have Questions?
If you have any questions, contact us: Chatbot 🤖 at the bottom. Contact me by Email 📩 or my Cell 📲 @ 248-343-2459. Would you mind sharing your thoughts below or what future article you would like to see? Your opinion is important to us…. this site is for you.🤩 To Keep up to date request our 🏡 Chat Newsletter or Follow us on Facebook, Instagram, or YouTube