Home Buyers Trends for 2022: 
What Home Buyers want now in Metro Detroit MI area ~ 
What Do Home Buyers Want
The rise in remote work is changing what many Americans want in their homes. Many companies are choosing to delay reopening or go remote full-time, and today's buyers are looking for homes with more space to support their work needs.
As a seller, if you no longer need the extra room you have in your home, rest assured some buyers do.
Remote Work Is Here To Stay
Remote work remains a reality for many Americans. A recent poll from Garter, Inc. shows many organizations have not yet returned their offices:
". . . 66% of organizations are delaying reopening their offices due to new COVID-19 variants."
Pricewaterhouse Coopers
And it's not just companies choosing to remain remote for the time being – workers are seeking more flexibility. According to research from PricewaterhouseCoopers, nearly one-fifth of employees want to be fully remote in the future. The study also finds that many people are leaving jobs to seek out remote work opportunities:
"Among employees looking for new jobs, almost one in ten say it's because they moved away from the office while working remotely and don't want to go back on-site."
More Remote Work Means a Greater Need for Home Offices
That's leading today's buyers to prioritize finding homes with more space so they can comfortably work from home. The 2021 Home Design Trends Survey from the American Institute of Architects finds that 69% of surveyed individuals still want at least one office at home. However, it also shows that more people are looking for multiple spaces in their home for remote work and virtual meetings (see graph below):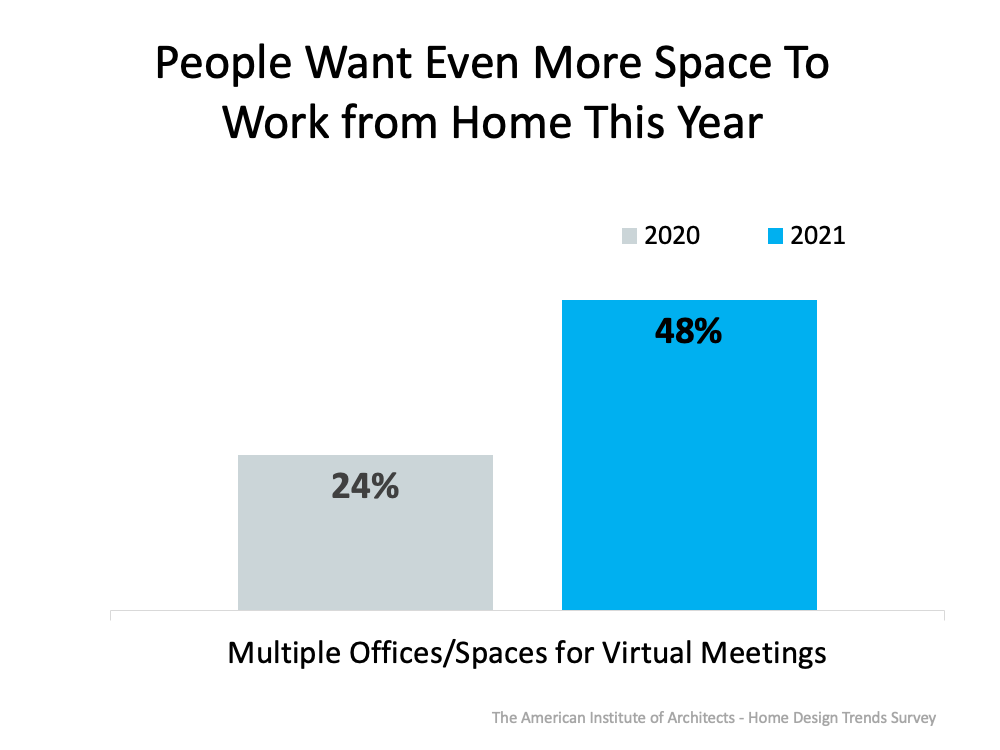 What Does This Mean for You?
If your house has extra space that you no longer need, buyers are interested, and now may be the perfect time to sell.
Your trusted real estate advisor can help you highlight many of the most sought-after features in your listing, including home offices. On the other hand, if you have an extra room without a purpose, consider staging it as an area where remote work can happen. Your agent can help you with this as well by evaluating and preparing your space for potential buyers. They'll make recommendations for how to stage the room, where to draw the eye, and what other sellers are doing to make their houses stand out.
Get Your Home Buying & Selling Strategies in our E-Guide
Don't muddle through the home buying and selling process. Buying a new home is a dream for all of us, and it's an emotional and stressful process; it also involves the most significant financial transaction you probably will make in your lifetime.
Your Buyer guide
Your guide will help you buy your ideal home with confidence and save thousands in the process. You will be working with Selling Agents, loan officers, underwriters, title companies…1. Do you know the lingo? 2. What you should avoid after applying for your mortgage 3. Know your Negotiation Power 4. Get to know how agents think and handle negotiations if you find yourself in a multiple offer situation? 5. Read What they Right. Find out the answer by downloading your PDF E-book Buying Guide.
Your Seller Guide
Your guide will help you work through the selling process using the latest in high-tech market tools. Our goal is to separate your home from the competition, keep them focused on your house. The selling Guide is very detailed and works through step by step, so your guaranteed Top Dollar for your home.
Home Buyers Wants ~  Bottom Line
More buyers are looking for homes to support multiple home offices with the continued rise in remote work. If you have an extra room you're no longer using, consider selling. Let's connect today to discuss the unique features in your house and how you can capitalize on any extra space to appeal to today's buyers.
When You Sell, 🛑 STOP Doing This!
No 2 homes are alike, and agents need to 🛑 marketing 1 size fits all. We no longer have an exposure problem (internet). Your home is buried on public home search internet sites. The only way to compete on those platforms is the price. If you want more money, you need to apply Influence. Separate your home from the competition, so the Buyer sees value. Keeping them focused on your property and not getting lost in homes' inaccurate data on public internet sites is necessary. Having digital omnipresence on serval platforms is your key to success. Remember MORE INFLUENCE = MORE💰. We have details on how you can utilize High Tech Marketing and Win!
Peek into My Crystal Ball
This is the 3rd time I've been involved in a housing crisis in the real estate business. We will be watching for a shift as our economy and interest rates start bouncing back. There are 3 parts to making the most money on the sale of your property.
Know the Market You're In ~ Live 3-year Market Trends.
My Blueprint is Your 🔑 to 🏡 Buying & Selling Success~ Education is critical.
Prepare a marketing plan that influences buyers.~ High Tech Digital Marketing
Have Questions?
If you have any questions, contact us: Chatbot 🤖 at the bottom. Contact me by Email 📩 or my Cell 📲 @ 248-343-2459. Would you mind sharing your thoughts below or what future article you would like to see? Your opinion is important to us…. this site is forHome B

Could you help me Find my Perfect Ideal Home!
Please tell me what you're looking for in your new Ideal Home…I can help you find the newest and best homes on the market.
Need Help with the Right Mortgage?
See how you can save Thousands.

Have Questions?
Let us know what we can do to help you work your way through the Buying & Selling Puzzle.

Website Development, Production, and Content by Pam Sawyer @ Team Tag It Sold © 2017 All Rights Reserved