Diving Deep into Today's Biggest Homebuyers Concerns
What are today's biggest homebuyers concerns in Metro Detroit MI?
Last week, Fannie Mae released their Home Purchase Sentiment Index (HPSI). Though the survey showed 77% of respondents believe it's a "good time to sell," it also confirms what many are sensing: an increasing number of Americans believe it's a "bad time to buy" a home. The percentage of those surveyed saying it's a "bad time to buy" hit 64%, up from 56% last month and 38% last July.
The latest HPSI explains:
"Consumers also continued to cite high home prices as the predominant reason they are putting their home buying and selling on hold.  While all surveyed segments have expressed greater negativity toward homebuying over the last few months, renters  demonstrated an even steeper decling in home buying. It's likely that affordability concerns are more greatly affecting those who aspire to be first-time homeowners than other consumer segments."
#1 Homebuyers Concerns – The Market Conditions that impact Home Affordability.
A mortgage payment is determined by the price of the home and the mortgage rate on loan used to purchase it. Lately, monthly mortgage payments have gone up for buyers for two key reasons: Mortgage rates have increased from 2.65% this past January to 2.9%, and home prices have increased by 15.4% over the last 12 months.
Based on these rising factors, a home may be less affordable today, but it doesn't mean it's not affordable.
Three weeks ago, ATTOM Data released their second-quarter 2021 U.S. Home Affordability Report, which explained the significant ownership costs on the typical home.
"Still, the latest level is within the 28 percent standard lenders prefer for how much homeowners should spend on mortgage payments, home insurance and property taxes."
In the same report, Todd Teta, Chief Product Officer with ATTOM, confirms:
"Average workers across the country can still manage the major expenses of owning a home, based on lender standards."
Monthly mortgage payments are indeed greater than they were last year (as the ATTOM data shows), but they're not unaffordable when compared to the previous 30 years. While payments have increased dramatically during that several-decade span. Furthermore,  if we adjust for inflation, today's mortgage payments are 10.7% lower than they were in 1990.
What's that mean for you? While you may not get the homebuying deal someone you know got last year, that doesn't mean you shouldn't still buy a home. Here are your alternatives to buying and the trade-offs you'll have with each.
Alternative 1: I'll rent instead.
Some may consider renting as the better option. However, the monthly cost of renting a home is skyrocketing. According to the July National Rent Report from Apartment List:
"…So far in 2021, rental prices have grown a staggering 9.2%. To put that in context, in previous years growth from January to June is usually just 2 to 3%. After this month's spike, rents have been pushed well above our expectations of where they would have been had the pandemic not disrupted the market."
If you continue to rent, chances are your rent will keep increasing at a fast pace. That means you could end up spending significantly more of your income on your rental as time goes on, which could make it even harder to save for a home.
Alternative 2: I'll wait it out.
Others may consider waiting for another year and hoping that purchasing a home will be less expensive then. Let's look at that possibility.
We've already established that a monthly mortgage payment is determined by the price of the home and the mortgage rate. A lower monthly payment would require one of those two elements to decrease over the next year. However, experts are forecasting the exact opposite:
The Mortgage Bankers Association (MBA) projects mortgage rates will be at 4.2% by the end of next year.
The Home Price Expectation Survey (HPES), a survey of over 100 economists, investment strategists, and housing market analysts, calls home prices to increase by 5.12% in 2022.
Based on these projections, let's see the possible impact on a monthly mortgage payment: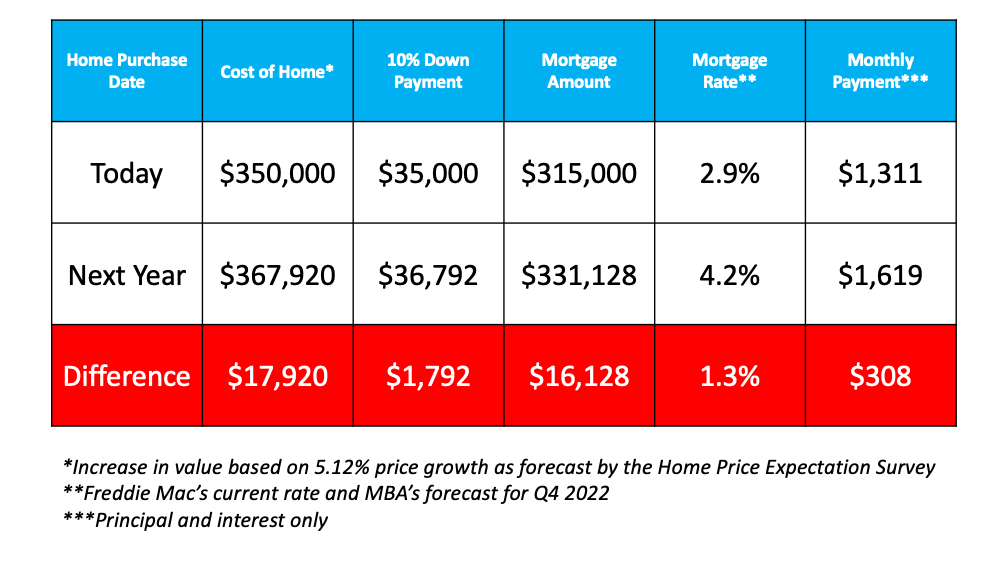 Why Waiting Will Cost You More When Mortgage Rates Go Up
By waiting until next year, you'd potentially pay more for the home, need a larger down payment, pay a higher mortgage rate, and pay an additional $3,696 each year over the life of the mortgage. Why? Interest rates are still at a 50 year low, and even with the homes costing more, your payments are still manageable.
Important ~ If You Don't Know the Trends, It Could Cost You More
This report comes out once a month, and it breaks down the 4 steps of the housing market trends and predictions.
Step 1  ~ Is Knowing the housing market on the national level.  You have access to the 30+ page PowerPoint slides in a safe PDF download showing trends and predictions.
Step 2 ~ Know the Market in your  City.  You'll have access to 3-year live trends and the month supply on market, and this will strengthen your negotiation power.
Step 3 ~ Review Sold Home by City Search.
Step 4 ~ Request your Fall Home Buying and Selling Guides

Bottom Line ~ Biggest Homebuyers Concerns
While you may have missed the absolute best time to buy a home, waiting any longer may not make sense. Mark Fleming, Chief Economist at First American, says it best:
"Affordability is likely to worsen before it improves, so try to buy it now, if you can find it."
Helping You Build Your Future Wealth Through Real Estate
As we move forward, it's been challenging as we navigated through all the changes. Putting your dream of a new home on HOLD shouldn't be one of them.  Now more than ever, knowledge will be your power. Know the Market You're In and your Negotiation Power. Check out Categories for additional updates regarding the Market | Buying | Selling & My Blueprint is Your 🔑 to 🏡 Buying & Selling Success
 In Closing
If you have any questions, contact us: Chatbot 🤖 at the bottom.  Contact me by Email 📩 or my Cell 📲 @ 248-343-2459. Would you mind sharing your thoughts below or what future article you would like to see? Your opinion is important to us…. this site is for you.🤩 To Keep up to date, Follow us on  Facebook, Instagram, or YouTube. 
Get Your Home Buying & Selling Strategies in our E-Guide
Don't muddle through the home buying and selling process. Buying a new home is a dream for all of us, and it's an emotional and stressful process; it also involves the most significant financial transaction you probably will make in your lifetime.
Your Buyer guide
Your guide will help you buy your ideal home with confidence and save thousands in the process. You will be working with Selling Agents, loan officers, underwriters, title companies…1. Do you know the lingo? 2. What you should avoid after applying for your mortgage 3. Know your Negotiation Power 4. Get to know how agents think and how they will handle negotiations if you find yourself in a multiple offer situation? 5. Read What they Right. Find out the answer by downloading your PDF E-book Buying Guide.
Your Seller Guide
Your guide will help you work through the selling process using the latest in high-tech market tools. Our goal is to separate your home from the competition, keep them focused on your house, so you are guaranteed top dollar.

Could you help me Find my Perfect Ideal Home!
Please tell me what you're looking for in your new Ideal Home…I can help you find the newest and best homes on the market.
Need Help with the Right Mortgage?
See how you can save Thousands.

Have Questions?
Let us know what we can do to help you work your way through the Buying & Selling Puzzle.

Website Development, Production, and Content by Pam Sawyer @ Team Tag It Sold © 2017 All Rights Reserved