Sellers Are Ready and Waiting for Improvements
One of the biggest questions in real estate today is, "When will sellers return to the housing market?" An ongoing shortage of home supply has created a hyper-competitive environment for hopeful buyers, leading to the ultimate sellers' market. However, as the economy continues to improve and more people get vaccinated, more homeowners are thinking about putting their home on the market. 
As a Homeowner, You Have Options
Whether your a 1st-time home buyer or a homeowner, you're in the same boat.  There is a shortage of homes available for sale. If you're thinking about selling and can't find your ideal home, I recommend you list anyways and put a couple of contingencies in place. 1. Let the buyers know upfront contingent upon you finding & negotiating a home of your choice within x days.  2. You could sell & close on your home and lease it back.  That way, when your ideal home is on the market, you can present a great offer knowing you have a buyer or already sold your home.  Who doesn't like a  Win ~ Win!
Residential real estate markets have been contending with an imbalance of strong demand, meeting insufficient supply for over a year. This imbalance was further exacerbated by the COVID pandemic starting in March 2020 and continuing into the spring of 2021.
George Ratiu, Senior Economist at realtor.com, shares:
"The results of a realtor.com survey . . . showed that one-in-ten homeowners plans to sell this year, with 63 percent of those, looking to list in the next 6 months. Just as encouragingly, close to two-thirds of sellers plan to sell their homes at prices under $350,000, which would offer a tremendous boost to affordable housing for first-time buyers."
Fannie May
The Home Purchase Sentiment Index(HPSI) by Fannie Mae recently noted the percentage of consumer respondents who say it's a good time to sell a home increased from 61% to 67%. Doug Duncan, Senior Vice President and Chief Economist at Fannie Mae, indicates: 
"Consumer positivity regarding home-selling conditions nearly matched its all-time high." (See graph below):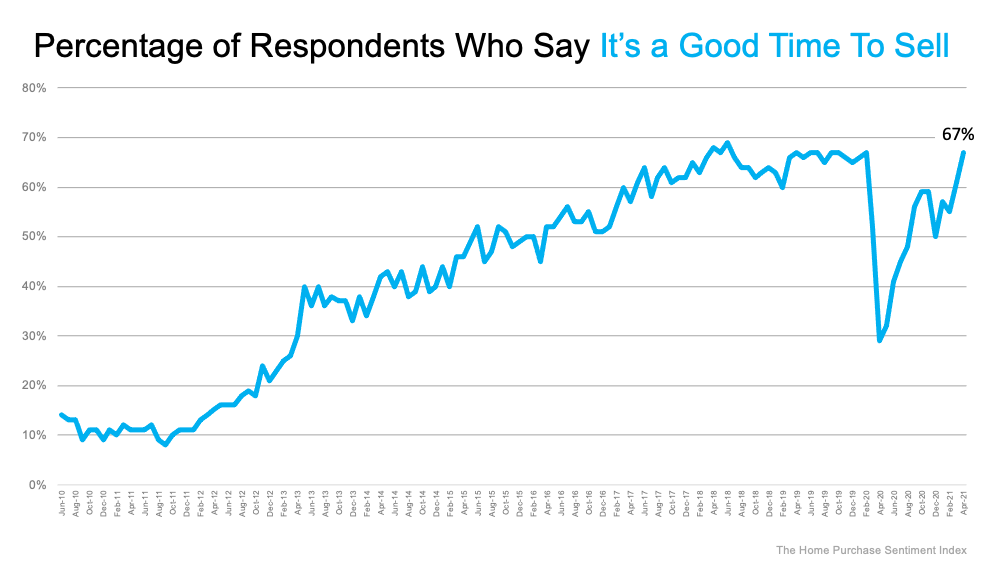 Fannie Mae isn't the only expert group noticing a rise in the percentage of people thinking about selling.
Pulsenomics
They are an independent research firm, and they index product development regarding housing confidence.  They measure the real estate markets nationally, regionally, and in metropolitan areas.  This is their latest survey.
Bottom Line
If you're considering selling your house, don't wait for more competition to pop up in your neighborhood. Let's connect today to explore the benefits and options of selling your house now before more homes come to the market.Home
Helping You Build Your Future Wealth Through Real Estate
As we move forward…it's been tough as we navigated through all the changes. Putting your dream of a new home on HOLD shouldn't be one of them.  Now more than ever, knowledge will be your power. Know the Market You're In and your Negotiation Power. Check out Categories for additional updates regarding the Market | Buying | Selling & My Blueprint to Your 🔑 to 🏡 Buying & Selling Success
When You Sell, 🛑 STOP Doing This! 
No 2 homes are alike, and agents need to 🛑 marketing 1 size fits all. We no longer have an exposure problem (internet).  Your home is buried on public home search internet sites. The only way to compete on those platforms is the price.  If you want more money, you need to apply Influence.  Separate your home from the competition, so the Buyer sees value. It's a must to keep them focused on your property and not get lost in homes' inaccurate data on the public internet sites. Having digital omnipresence on serval platforms is your key to success. Remember MORE INFLUENCE = MORE💰. We have details on how you can utilize High Tech Marketing and Win!
In Closing
If you have any questions, contact us: Chatbot 🤖 at the bottom.  Contact me by Email 📩 or my Cell 📲 @ 248-343-2459.  With all the doom and gloom of the virus, one thing history has shown us, this will NOT define us.  Stay safe! Please share your thoughts below or what future article you would like to see. Your opinion is important to us…. this site is for you❣

Could you help me Find my Perfect Ideal Home!
Please tell me what you're looking for in your new Ideal Home…I can help you find the newest and best homes on the market.
Need Help with the Right Mortgage?
See how you can save Thousands.

Have Questions?
Let us know what we can do to help you work your way through the Buying & Selling Puzzle.

Website Development, Production, and Content by Pam Sawyer @ Team Tag It Sold © 2017 All Rights Reserved