Home Foreclosures Update:
Will we see more home foreclosures in Metro Detroit MI this year?
With forbearance plans coming to an end, many are concerned the housing market will experience a wave of foreclosures. Furthermore, if you're worried about a similar time when the housing bubble burst 15 years ago. Here are a few reasons why that won't happen.
There are fewer homeowners in trouble this time.
After the last housing crash, about 9.3 million households lost their homes to a foreclosure, short sale, or because they gave it back to the bank.
As stay-at-home orders were issued early last year, the fear was the pandemic would similarly impact the housing industry. Many projected up to 30% of all mortgage holders would enter the forbearance program, and in reality, only 8.5% actually did, and that number is now down to 2.2%.
As of last Friday, the total number of mortgages still in forbearance stood at 1,221,000. That's far fewer than the 9.3 million households that lost their homes just over a decade ago.
Most of the mortgages in forbearance have enough equity to sell their homes.
Due to rapidly rising home prices over the last two years, of the 1.22 million homeowners currently in forbearance, 93% have at least 10% equity in their homes. This 10% equity is significant because it enables homeowners to sell their homes and pay the related expenses instead of facing the hit on their credit that a foreclosure or short sale would create.
The remaining 7% might not have the option to sell, but if the entire 7% of those 1.22 million homes went into foreclosure, that would total about 85,400 mortgages. To give that number context, here are the annual foreclosure numbers for the three years leading up to the pandemic:
2017: 314,220
2018: 279,040
2019: 277,520
The probable number of foreclosures coming out of the forbearance program is nowhere near the number of foreclosures that impacted the housing crash 15 years ago. It's less than one-third of any of the three years before the pandemic.
The current market can absorb Home Foreclosures coming to the market
When foreclosures hit the market back in 2008, there was an oversupply of houses for sale, and it's exactly the opposite today. In 2008, there was over a nine-month supply of listings on the market, and today, that number is less than a three-month supply Nationally. Our numbers for Macomb and Oakland County average about a 1.6-month supply. Here's a graph showing the difference between the two markets on theNational level.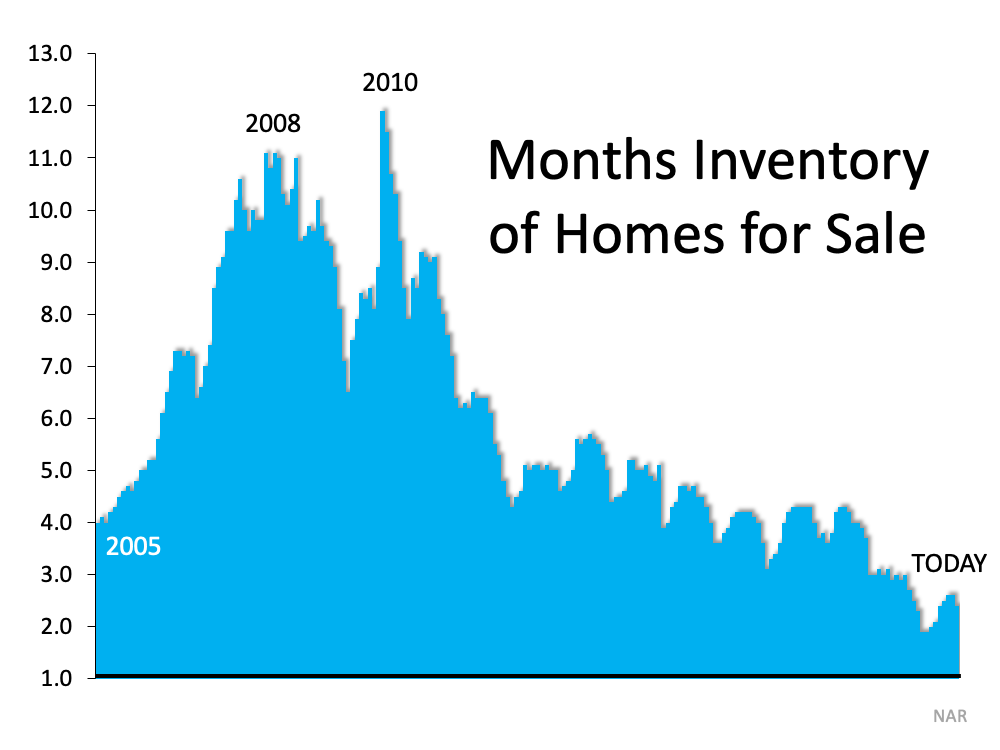 Housing Supply Inventory for Metro Detroit 
The market since spring 2020 has experienced a massive problem with not enough homes for sale. Furthermore, causing considerable pain with buyers trying to outbid each other to capitalize on the 50-year low of interest rates. This caused the 3rd problem; home prices jumped month over month. Based on the new appraisal laws, we won't see homes underwater and homeowners walking away from their homes. They will list and sell their homes and take their money with them. For more details on the local market, visit Know the Market You're In. 

Bottom Line for Home Foreclosures Update
The data indicates why Ivy Zelman, founder of the major housing market analytical firm Zelman and Associates, was on point when she stated:
"The likelihood of us having a foreclosure crisis again is about zero percent."
So, if you're a buyer hoping to see the market flood with homes for sale at a reduced price, it probably won't happen.  If you're a seller and you are fearful that the home equity gains will be lost due to the burst of a housing bubble, rest assured you're ok too. We are in a much better place than we were during the "Crash of 08."
Peek into My Crystal Ball
As we move forward, it's been challenging as we navigated through all the changes. Putting your dream of a new home on HOLD shouldn't be one of them. Now more than ever, knowledge will be your negotiation power. There are 3 parts to making the most money on the sale of your property. 1. Know the Market You're In 2. High Tech Digital Marketing 3. My Blueprint to Your 🔑 to 🏡 Selling Success. No 2 homes are alike, and agents need to 🛑 marketing 1 size fits all. It's essential to separate your property from the competition. Equally important, you want to keep the buyer focused on your property and not get lost in the shuffle. Having a digital omnipresence on serval platforms is you 🔑 to your success.
Have Questions?
If you have any questions, contact us: Chatbot 🤖 at the bottom. Contact me by Email 📩 or my Cell 📲 @ 248-343-2459. Would you mind sharing your thoughts below or what future article you would like to see? Your opinion is important to us…. this site is for you.🤩 To Keep up to date request our 🏡 Chat Newsletter or Follow us on Facebook, Instagram, or YouTube.

Could you help me Find my Perfect Ideal Home!
Please tell me what you're looking for in your new Ideal Home…I can help you find the newest and best homes on the market.
Need Help with the Right Mortgage?
See how you can save Thousands.

Have Questions?
Let us know what we can do to help you work your way through the Buying & Selling Puzzle.

Website Development, Production, and Content by Pam Sawyer @ Team Tag It Sold © 2017 All Rights Reserved